9/6-Christiansen, Allen, Leuenberger 1st three @ Big Red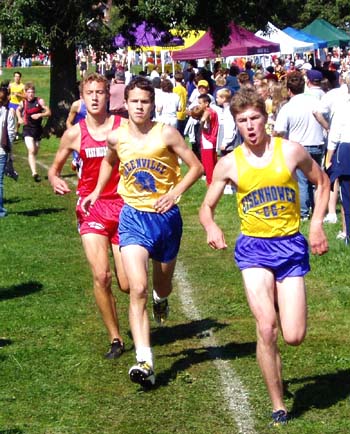 Leuenberger, Christiansen and Allen just after the mile mark. (photo by Kerry Barry)
Jed Christiansen of Greenville holds off the strong challenges of Grant Allen of Eisenhower, and Josiah Leuenberger of West Middlesex. But it is Quaker Valley that posts the team win by just two (85-87) over Eisenhower behind the 4th place finish of Zach Thomas. Greenville 3rd with 100, and West Middlesex 4th with 118 Points.
In the other Red Division (larger AA schools), Anna Hoffman of Mohawk is first in 19:28, with Slippery Rock taking 1st with 83 points behind the 5th place finish of Erin Cranmer-Hart.
Youngsville took the boys' White (smaller AA schools) division and West Middlesex captured the girls title.