PIAA State Champs-AA Girls Race Story
AA Girls - Dallas 49 and Hamburg sr Adriene Beltz 19:03 win easily.
PIAA State Champs-Boys AAA Race Story
PIAA State Champs-Girls AAA Race Story
PIAA State Champs-Boys AA Race Story
Adriane Beltz of Hamburg, spent the better part of a year overcoming physical setbacks to post her finest high school race and the AA state championship. Dallas came in from District 2 to stop the Wyomissing streak at four.
Beltz didn't even qualify for States in 2002 after medalling in 13th in 20001. "I didn't qualify last year because I had undiagnosed allergies, asthma, an iron deficiency, and vocal cord dysfunction. It took three seasons, winter, spring and summer to finally work everything out. They only discovered the last problem a week before the first race of this season. So by the grace of God I am here.
Her race strategy was to take the lead on the first hill "because hills are my strong point and I just tried to keep pushing." When she reached the second significant hill approaching two miles, she wasn't sure how it was going to go. "I got to the top of that and I felt so horrible, but I knew if I felt horrible, they felt horrible, so I just told myself I gotta finish."
Dallas (2) 49 2 8 10 13 16 17 60 20:30 1:25 2 Wellsboro (4) 69 5 7 12 22 23 49 88 20:38 1:18 3 Wyomissing (3) 106 6 19 21 27 33 114 119 20:58 1:34 4 Gwynedd Mercy (1) 177 9 In the team race, Gwynedd-Mercy's Katie Vernon, one of the favorites, made it past two miles, but did not finish. The Monarchs finished 4th behind Dallas, Wellsboro and four-time defending champ Wyomissing. St. Basil, which didn't advance a team to states because they were 2nd in District 1, had all three team members medal. Junior Lynn Morelli was 8th in 19:36, frosh sister Christine was 9th a second back, and fellow frosh Kathleen Davies was 25th in 20:24.
The performance just proves a point by Matt Samuel, the coach of the winning Dallas squad, who took over the XC program this season, after coaching T&F at Dallas the past three years. "We knew there were so many great teams. In our state, particularly in AA, it's one of the best divisions in the country, as far a distance running goes. Just look at teams like Gwynedd-Mercy, Wyomissing, Wellsboro, Elk County Catholic." Samuel credited coaches from those schools for their support and good wishes for helping him this year. "We thought we had a shot at it. Just with what we had coming back, as well as how tough the girls are."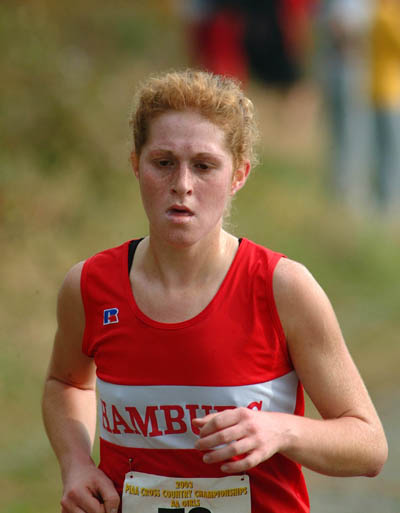 Beltz led from the opening hill to the finish.