3/13-Hannon, Sparks, Whiting, Carroll, CR North win titles @ Nike Indoor Nationals
Three Pennsylvania state champions (and one that would have been if we ran their event, won all-American honors AND national titles at the Nike Indoor Nationals in Landover, Maryland.
Erin Hannon, the multi-sport talent from Bradford, captured the High Jump, clearing 5-08.75. She also finished 5th in the Triple Jump, leaping 38-08.25. Eric Sparks not only cleared 16-00 feet for the first time ever in the Pole Vault, the height won him a championship. In the 4xMile, Council Rock North ran 18-00.05. And Ryan Whiting, the top thrower in the US this indoor season, needed his final throw to pass two competitors, winning the national title at 65-01.25. More Wednesday...
Whiting cut it close, winning on the last throw. (photo by John Dye)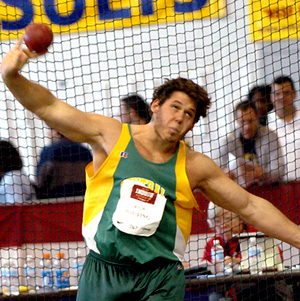 All-American Performances listed below -- for a complete list of PA performances, CLICK HERE
BOYS
4x400
5 Downingtown East TC 3:28.24
4x800
2 Germantown Academy 7:58.08
7 Archbishop Carroll Hs-Pa 8:06.48
4xMile
1 Council Rock North TC 18:00.05
3 Cedar Cliff TC 18:10.63
4 Archbishop Carroll Hs-Pa 18:11.01
High Jump
2 Juan Cave 05 Voorhees, NJ 2.10m 6-10.75
1.95 2.00 2.05 2.10 2.15
O XO O XXO XXX
4 Ryan Fritz 05 Parkesburg, PA 2.05m 6-08.75
1.95 2.00 2.05 2.10
XXO O XO XXX
Pole Vault
1 Eric Sparks 05 hermitage, PA 4.88m 16-00.00
4.28 4.43 4.58 4.73 4.88 4.98
Long Jump
3 Wendell Simpkins 05 Concordville, PA 7.00m 22-11.75
5.75m FOUL 7.00m FOUL 6.81m 6.75m
Triple Jump
3 Wendell Simpkins 05 Concordville, PA 14.43m 47-04.25
FOUL FOUL 14.43m FOUL 14.15m FOUL
Shot Put
1 Ryan Whiting 05 Harrisburg, PA 19.84m 65-01.25
18.05m 18.35m 18.80m 18.85m 18.52m 19.84m
5 Rob Rankin 05 pittsburgh, PA 17.90m 58-08.75
17.65m 17.07m 16.11m 17.73m 16.51m 17.90m
P P O XO XO XXX
Boys Indoor Pentathlon
3 Duane Hynes 05 Warrington, PA 3628R
Boys 1 Mile Run Freshman
3 Elliot Rhodes 08 Philadelphia, PA 4:30.20
Boys 4x200 Meter Relay Midget
1 Mt. Airy TC 1:50.82
Boys 4x400 Meter Relay Midget
1 Mt. Airy TC 4:10.30M


GIRLS
60 Meter Dash
Finals
3 Janessa Murphy 05 Frazer, PA 7.62 (7.64 Trials 7.61 Semis)
Girls 200 Meter Dash
3 Krista Simkins 05 Ambler, PA 24.65 (Semis 24.69q)
Girls 4x400 Meter Relay
6 Irish Road TC 4:03.00
Girls 4x800 Meter Relay
3 Upper St Clair TC 9:32.21
5 North Penn TC 9:37.32
6 Cardinal O'Hara Hs-Girls 9:38.91
Girls Distance Medley
4 Saint Basil Academy 12:17.78
Girls 4x1 Mile Relay
4 Saint Basil Academy 21:39.26
Girls High Jump
1 Erin Hannon 06 Bradford, PA 1.75m 5-08.75
1.60 1.65 1.70 1.75 1.80
O O XO O XXX
6 Nicole Smith 05 Erie, PA 1.60m 5-03.00
1.60 1.65
O XXX
Girls Pole Vault
2 Lindsay Regan 06 Easton, PA 3.90m 12-09.50
3.40 3.55 3.70 3.80 3.90 4.00
P O O O O XXX
4 Caitlin Hewitt 06 Greensburg, PA 3.80m 12-05.50
3.40 3.55 3.70 3.80 3.90
XO O XXO O XXX
Girls Triple Jump
5 Erin Hannon 06 Bradford, PA 11.79m 38-08.25
11.79m 11.61m 11.70m 11.45m 11.53m 11.50m
6 Nicole Smith 05 Erie, PA 11.75m 38-06.75
11.75m 11.60m 11.14m 11.49m 11.58m 11.26m
Girls Shot Put
6 Becky Eisenhauer 05 Lebanon, PA 13.01m 42-08.25
12.60m 12.28m 12.51m 12.24m 12.73m 13.01m

Girls Indoor Pentathlon
6 Amy Backel 05 Dillsburg, PA 3212
Girls 1 Mile Run Freshman
6 Christine Smith 08 West Chester, PA 5:18.96