12/23 WKND: West Catholic girls rally behind teammate after family tragedy
NOTE: Race Photos and Link to Photo Gallery Below and in Right Hand Column
Photo Gallery by Don Rich of 12/23 DVGTCA Meet #4 @ Ursinus College

Diandra Witherspoon hands off to anchor LaTavia Thomas.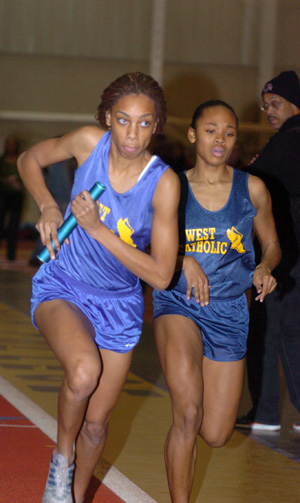 The holidays were a chance for some to get some rest and get ready for the busy January and February indoor challenges. For others, it was a chance to experiment with relay combos. Or, it was an opportunity to get that state qualifying performance out of the way. But for the West Catholic team, it was an opportunity to help a teammate cope with a family tragedy. There were five meets, including the first two Philadelphia Catholic League offerings, and three in the boys/girls coaches associations in the Philly region.
On Sunday, December 18th, sophomore Diandra Witherspoon was to be with her family celebrating the birthday of her stepfather, former Central star Jeff Dallas. But tragedy struck, as Dallas suffered a heart attack and died. Witherspoon did not race at the 12/20 PCL Girls meet. But by Friday night, she wanted to return to her team. As the girls and coach Lenny Jordan traveled to Ursinus College for the Friday night meet, the team suggested that Diandra run a leg of the 4x400, and that the race be dedicated to her stepfather. The place and time are reported below and in the results. The memory of a team coming together for a teammate should last for a long time.
12/20: PCL Girls Meet #1 @ Haverford College: West Catholic's Kniesha Sheard is getting off to an incredible start in her final indoor campaign. She won three events, including the 55 Hurdles in 8.5, the 55 Dash in 7.3, and a 26.2 to take the win over teammage Latavia Thomas by 3-tenths of a second in the 200. Thomas easily won the 400, gong 58.4, with teammate Christiana Taylor 2nd in 61.3. Taylor also took 2nd in the 55 Hurdles, running a 9.3. Hallihan's Shanae Thomas took two events, the Triple Jump with a leap of 36-03.25 and the Long Jump, going 15-10.
12/21: PCL Boys Meet #1 @ Haverford College: McDevitt's Careyi Smith was a double winner, taking the 55 Hurdles in 7.9 and long-jumping 20-00.50. Cardinal O'Hara swept the 3000's top three spots, with Matt Willard going 9:25.7, Ed Buck 2nd in 9:28.3 and Charlie McNulty 3rd in 9.28.5. And Neumann's relays were winners, with the 4x200 going 1:36.7 and the 4x400 notching a 3:40.4.
12/23: DVGTCA Meet #4 @ Ursinus College: In addition to contributing to her team's relays, senior Latavia Thomas ran a quick 2:14.0 800 - a time even more impressive because she did it virtually alone after 200 meters. Methacton sophomore Ryann Krais had a big night, taking the 400 in 57.2 and helping bring her team back in the next to last heat of the 4x400, securing a 4th place overall behind West Catholic's 4:03.5, run in the final heat. And soph Karen Shump continued her domination and streak of over-40 foot throws in the Shot Put with a winning toss of 42-00.50.
12/23: TFCAGP Division 1 Meet #4 @ Haverford College: William Tennent's Jay Pittenger upped the ante in the High Jump, clearing 6-06. Cardinal O'Hara won the DMR in 10:57.2, with LaSalle close behind in 10:58.0. Simon Gratz easily captured the Sprint Medley in 3:39.8. North Penn ran 8:09.9 to take the 4x800. And Bensalem won the 4x400 in 3:32.1, while North Penn went 1:34.4 to take the 4x200.
12/23: TFCAGP Division 2 Meet #4 @ Haverford College: The DMR was fast as Archbishop Carroll, anchored by Chris Tilger, ran 10:44.0, the fastest time in PA this season. Downingtown East was 2nd at 10:52.1, with Strath Haven 3rd at 10:55.4. Penn Wood's Spring Medley went 3:47.9 to hold off Strath Haven by less than a second, with Phoenixville just a second back from that. And Chestnut Hill's Tom Samph went 8.3 to win the 60 Hurdles.

Photo Gallery by Don Rich of 12/23 DVGTCA Meet #4 @ Ursinus College

LaTavia Thomas goes 2:14 in the 800.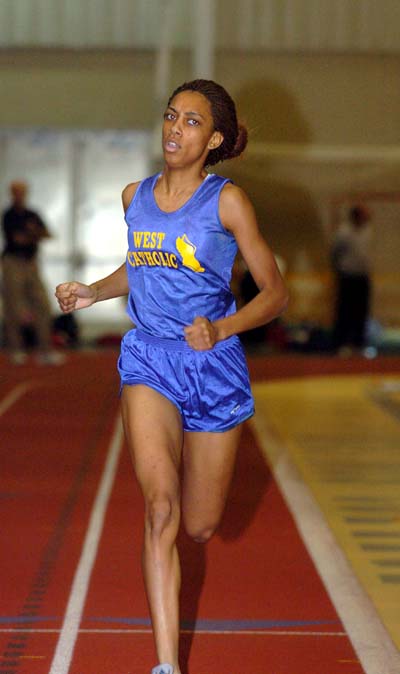 Ryann Krais winning the 400 in 57.2.

Karen Shump throws 42-00.50.