It's senior vs. frosh as Jen Gray uses her 59 speed to hold off rising star Sam McMillan of Hershey in the 1600, both clocked under 5:11.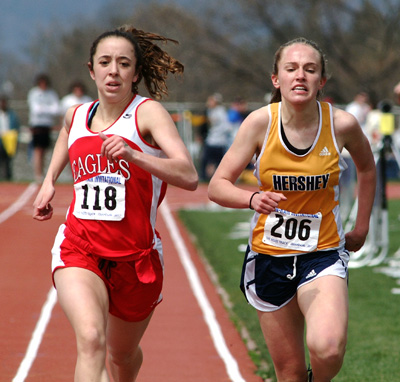 Good food, good weather, great performances abound: As Donna Dye noted after her visit to the XC State meet in November, "they know how to eat in Pennsylvania." And the Pan-Ram Invitaitonal at the great 8-lane track at Harrisburg's Central Dauphin HS was no exception. The burgers were charcoaling, the sun was blazing. But most of all, the performances were cooking as the 16th Pan-Ram Invite enjoyed great weather and a bunch of meet records. Alabama-bound Jen Gray, Cumberland Valley, set two individual meet records, but had to hold off an unexpected and spirited 1600 race from Hershey freshman Sam McMillan. Gray ran 5:10.39, McMillan 5:10.65. When asked abut his frosh star, Hershey coach Kevin Stover sheepishly replied, "I guess my secret's out." Gray also helped the Eagles win the one lap relay, maybe even surprising themselves a bit, posting a 4:07.19. Gray's 2:19.44 800 was run without any nearby competition. Central Dauphin junior Maria Truskey ran a PR 11:03.48 for 3200. Milton Hershey sophomore Abigail Johnson had a great day too, winning the 200 in 25.78 and the 400 in 57.17.
Ryan Jones ran the open 800 and clocked a top PA time of 1:56.60.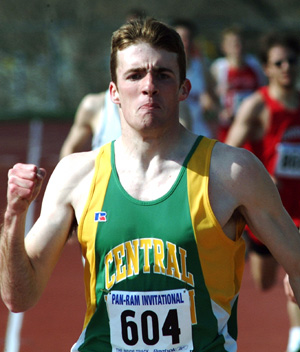 Ryan Jones led a quick 800 as three guys went under 2 minutes. Jones' 1:56.60 is the top in the state. For the second week in a row, the Central Dauphin 4x800 broke eight minutes. But this quartet was without Jones, so the time is particularly significant. Harrisburg's 4x400 got an early lead and pushed the pace to a 3:25.62. Brian Fuller spent the winter on the CV swim team, and has been running his way into shape. Looks like they'll be good for the Penn Relays' DMR after teammate Jon Fultiniti barely held off a charging Fuller in the 1600, going 4:20.98 to Fuller's 4:21.14. Fuller noted that the two really don't care who wins between them, "as long as we run good times." Fulginiti will likely run the opening 1200 leg at Penn, with Fuller anchoring. Jeff Porter of Carlisle out-dueled Harrisburg's Andre Hicks to win the High Jump on fewer misses. Both cleared 6-08 in a changing wind. Hicks also ran on the winning 4x100 and finished 2nd in the 200 in 23.12 behind Central Dauphin's Jordan Mitchell. Cedar Cliff's Steve Bilous won the Jav with a throw of 186-09. And Central Dauphin's Ryan Whiting won the Shot Put (60-02) and won the Discus with a throw of 172-05.
Girls Action Pix from 4/10 Pan-Ram Invitational @ Central Dauphin
Boys Action Pix from 4/10 Pan-Ram Invitational @ Central Dauphin
Photo Gallery of 4/10 Pan-Ram Invitational @ Central Dauphin HS - Part One
Photo Gallery of 4/10 Pan-Ram Invitational @ Central Dauphin HS - Part Two
Photo Gallery of 4/10 Pan-Ram Invitational @ Central Dauphin HS - Part Three