The US#10 Cedar Cliff Colts won the Race of Champions today at the Great American Cross Country Festival in North Carolina, knocking off US#6 Mountain View UT, which was 3rd. Colt's #1 man Pat Caulfield was 14th in (photo by John Dye). In the same race, Sam Luff of Emmaus took 5th in 15:39. In the girls ROC, St. Basil took 5th, while Cedar Cliff was 8th. Running as an individual. Unionville's Katie Thaeder was 27th. Cedar Cliff #1 Janelle Young took 21st, while Basil's Lynn Morelli was 24th. In the Seeded Invitational, West Chester Henderson's girls were 2nd, with Megan Durkee 8th overall. Tamaqua's Alexa Griffiths was 6th in the race. In the Seeded Boys, Henderson took 8th. And in the Small School races, LaSalle took first in a mini-PCL showdown against Archbishop Carroll, who was 2nd. LaSalle's Sean McGinley took 2nd overall in 16:05. In the Girls Small Schools race, Archbishop Carroll took 6th.
NOTE: PA RESULTS BELOW PHOTOS
"Take the downhills hard and survive the uphills" helps Cedar Cliff win the Great American ROC"
Cedar Cliff's Pat Caulfield was 14th in the ROC (Photo by John Dye).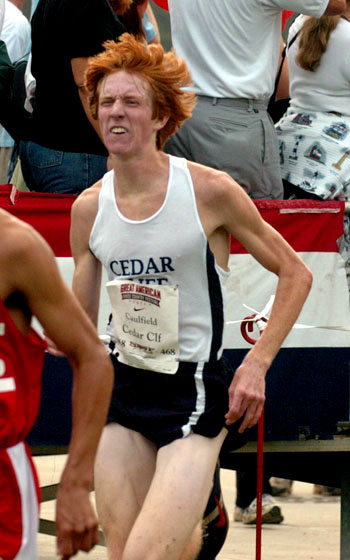 Cedar Cliff presents their ROC champions trophy. (Photo by Donna Dye).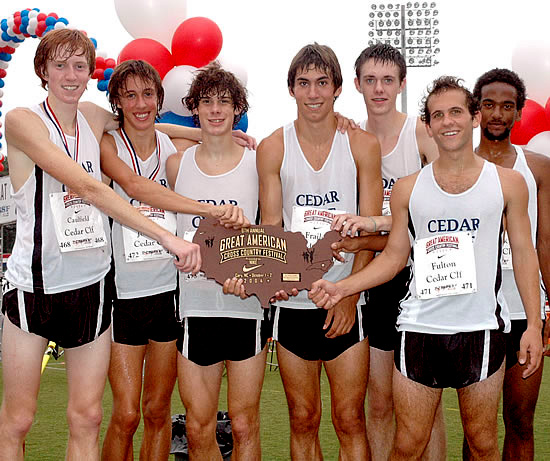 West Chester Henderson took 2nd in the Seeded Invitational (Photo by Donna Dye).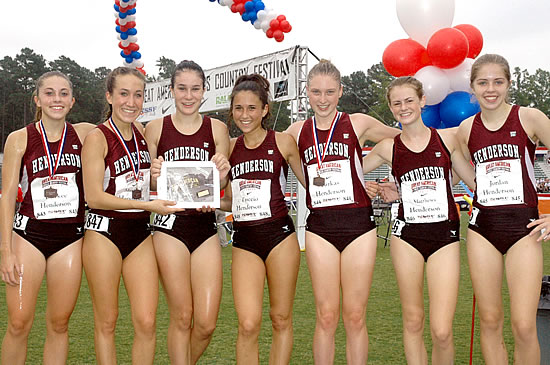 Race of Champions
Cedar Cliff
Emmaus Sam Luff
5 Sam Luff 05 Emmaus HS 5:02.0 15:38.30
1 Cedar Cliff HS 149 11 19 25 46 48 66 88
Total Time: 1:21:55.28
Average: 16:23.06
2 John Randolph Tucker HS 173 3 8 16 33 113 138
Total Time: 1:21:29.29
Average: 16:17.86
3 Mountain View HS 176 9 21 41 43 62 73 104
Total Time: 1:22:21.14
Average: 16:28.23
14 Pat Caulfield 05 Cedar Cliff HS 5:09.1 16:00.13 11
24 Tim Johnson 05 Cedar Cliff HS 5:14.1 16:15.81 19
30 Justin Keller 06 Cedar Cliff HS 5:15.3 16:19.46 25
52 Corey Creek 06 Cedar Cliff HS 5:21.5 16:38.61 46
54 Mike Fulton 05 Cedar Cliff HS 5:22.3 16:41.27 48
72 Bill Frailey 06 Cedar Cliff HS 5:28.4 x17:00.14 66
96 Tyler Longenecker 05 Cedar Cliff HS 5:34.4 x17:18.75 88

Race of Champions
Cedar Cliff
former NE#4 St. Basil
Unionville's Katie Thaeder
5 Saint Basil Academy 202 13 25 40 43 81 134 144
Total Time: 1:39:00.36
Average: 19:48.08
8 Cedar Cliff HS 246 11 34 65 66 70 104 106
Total Time: 1:40:05.70
Average: 20:01.14
21 Janelle Young 05 Cedar Cliff HS 6:00.8 18:40.81 11
24 Lynn Morelli 05 Saint Basil Academy 6:03.4 18:48.79 13
27 Katie Thaeder 05 Unionville HS 6:06.0 18:56.87
39 Christina Morelli 07 Saint Basil Academy 6:15.7 19:27.23 25
48 Kassie Meholick 07 Cedar Cliff HS 6:23.5 19:51.27 34
54 Kathleen Davies 07 Saint Basil Academy 6:26.1 19:59.52 40
57 Rachel Morelli 06 Saint Basil Academy 6:27.1 20:02.55 43
9 Jess Shuman 06 Cedar Cliff HS 6:36.0 20:30.28 65
80 Katie Topalian 05 Cedar Cliff HS 6:36.1 20:30.36 66
84 Caitlin Wood 05 Cedar Cliff HS 6:36.9 20:32.98 70
96 Kelsey Kohler 06 Saint Basil Academy 6:39.9 20:42.27 81
120 Lauren Tucci 06 Cedar Cliff HS 6:47.9 x21:07.04 104
122 Rachel Marchand 07 Cedar Cliff HS 6:48.2 x21:08.03 106
150 Laura O'Donnell 05 Saint Basil Academy 7:05.6 x22:02.14 134
160 Kate Conroy 06 Saint Basil Academy 7:18.2 x22:41.39 144

Seeded Invitational
West Chester Henderson
Tamaqua's Alexa Griffiths
1 Columbia HS 60 4 5 13 18 20 36 67
Total Time: 1:40:23.91
Average: 20:04.79
2 Henderson Hs-Girls 104 6 7 23 33 35 56 60
Total Time: 1:42:07.12
Average: 20:25.43
6 Alexa Griffiths 07 Tamaqua Area HS 6:21.1 19:43.79
8 Megan Durkee 06 Henderson Hs-Girls 6:23.2 19:50.48 6
9 Marissa Murtaugh 05 Henderson Hs-Girls 6:25.1 19:56.27 7
25 Karen Farkas 07 Henderson Hs-Girls 6:37.1 20:33.55 23
35 Danielle Tuccio 05 Henderson Hs-Girls 6:43.0 20:51.90 33
37 Amy Jordan 07 Henderson Hs-Girls 6:44.0 20:54.92 35
58 Allison Bushey 05 Henderson Hs-Girls 6:52.8 x21:22.33 56
62 Julie Matthews 06 Henderson Hs-Girls 6:55.7 x21:31.51 60

Seeded Invitational for Boys
Archbishop Carroll
West Chester Henderson
8 Henderson Hs-Boys 204 26 27 39 46 66 87 120
Total Time: 1:25:33.82
Average: 17:06.77
30 Jordan Shelton 06 Henderson Hs-Boys 5:25.8 16:52.15 26
31 Kevin McGoldrick 06 Henderson Hs-Boys 5:25.9 16:52.45 27
46 Ravi Raj 05 Henderson Hs-Boys 5:30.1 17:05.47 39
53 Steve Forbes 07 Henderson Hs-Boys 5:32.0 17:11.23 46
74 Tom Espedal 06 Henderson Hs-Boys 5:38.8 17:32.52 66
96 Chris Aldrich 06 Henderson Hs-Boys 5:47.6 x17:59.77 87
130 Mike Goodale 06 Henderson Hs-Boys 6:05.7 x18:56.16 120

Small School boys
LaSalle
Carroll
1 LaSalle College HS 44 2 6 7 14 15 26 29
Total Time: 1:23:29.03
Average: 16:41.81
2 Archbishop Carroll HS 96 8 10 19 28 31 33 56
Total Time: 1:25:58.49
Average: 17:11.70
2 Sean McGinley 05 LaSalle College HS 5:10.6 16:04.72 2
7 Patrick Jeffers 06 LaSalle College HS 5:21.2 16:37.65 6
8 Robert McCullough 06 LaSalle College HS 5:22.3 16:41.27 7
9 Chris Tilger 06 Archbishop Carro 5:23.3 16:44.43 8
12 John Savoy 05 Archbishop Carro 5:26.6 16:54.61 10
16 Timothy Heck 07 LaSalle College HS 5:28.8 17:01.44 14
17 Timothy Shea 05 LaSalle College HS 5:29.6 17:03.95 15
21 Ryan Kincade 05 Archbishop Carro 5:32.6 17:13.29 19
28 Daniel O'Toole 05 LaSalle College HS 5:35.7 x17:22.95 26
30 Ron Feher Archbishop Carro 5:38.4 17:31.29 28
31 Edward Bonnevie 07 LaSalle College HS 5:38.7 x17:32.04 29
33 Tom Corcoran 06 Archbishop Carro 5:39.6 17:34.87 31
35 Pat Savoy 05 Archbishop Carro 5:41.3 x17:40.17 33
58 Will Buchanon 05 Archbishop Carro 5:56.2 x18:26.39 56

Small School girls race
Archbishop Carrol
6 Archbishop Carroll HS 157 16 18 38 39 46 52 88
Total Time: 1:47:55.40
Average: 21:35.08
18 Amanda Cosfol 07 Archbishop Carro 6:41.0 20:45.87 16
21 Rachelle Yankovich 07 Archbishop Carro 6:44.2 20:55.74 18
42 Libbi Rettew 06 Archbishop Carro 7:04.5 21:58.80 38
43 Cooie Rettew 07 Archbishop Carro 7:04.8 21:59.60 39
49 Emily Paffett Archbishop Carro 7:09.9 22:15.39 46
56 Reese Eichman 06 Archbishop Carro 7:13.2 x22:25.65 52
96 Lindsay Loughgry Archbishop Carro 8:08.6 x25:18.02 88