This frosh is chasing her own big dreams - quickly.
She has already walked away from the sport for a brief period. She has competed and trained off and on from the time she was eight years old. She has run a 17:42 5k on the road. A 22:04 6k in cross. She has played a lead role in a community theatre production. She spends much of her free time caring for and riding her horse Rose. Her favorite runner is her dad. And she just turned 14. But this year, this young runner is focused on something else. This December, she would like nothing more than to run that race in San Diego known as Foot Lockers and to be known as one of the top 32 female high school harriers in the US.
Running 17:42 in March, 2004
at the St. Patrick's Day 5k in Baltimore.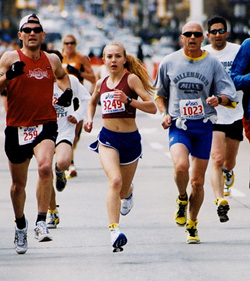 Her last name should be familiar to anyone who has followed running. It's Spence. As in Steve Spence, 1992 Olympian and 1991 World Championships Bronze medalist in the Marathon. And her mom, Kirsten, who didn't run competitively in college, nonetheless has a PR of 17:00 for 5k.
This runner's first name is Neely. And she is a competitive, fast, focused, chip-off-the-old starting blocks (yes, intended).
Genes, you say. Well, admittedly, heredity helps. But running well is about something more. Hard work. Confidence. Focus. Goal-setting. And competitiveness. And that she gets honestly. Neely has a similar personality to her famous father. Friendly. Genuine. And encouraging. But only when he's not racing. Then all bets are off. It's a race, and the purpose of a race is to win.
So Neely has set some high goals for herself in this, her freshman year. She wants to run in the high school championship race. She'd like to surpass her mother's 5k PR. She has some advantages, as well as some disadvantages.
The fact that she is homeschooled has a lot to do with both. The disadvantage? On the surface, it's the fact that she won't get to run with a team. But not to worry. Her father is the coach of Shippensburg University's men's and women's programs, and Neely finds training with the young women to be to her liking. "Some of the girls take me under their wing and accept me. And I really enjoy that." And once a week, local runners, Shippensburg athletes and alum show up at the Spence household for a run. It's rolling hills and lots of company. Training partners coming to you is not a bad way to get motivated.
Her 22:04 on 9/25/04 at Paul Short
was 48th best of all college women
racing there that day (Photo by Bob Rodgers)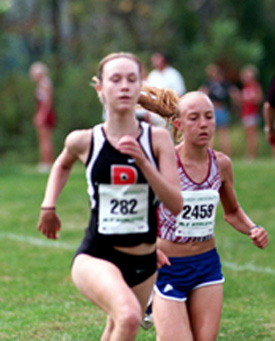 In her first cross country race this season, she finished 4th in the College Women's Open at the Paul Short Run on September 25th, going 22:04 for 6k, which was the 48th best time of the day with teams like Tennessee, Villanova, Columbia, William & Mary and Georgetown in the D1 race. The week before at the Philadelphia Distance Run 5k, she placed 17th overall and was the 1st female finish, going 18:07 off a 6:01 first mile when her dad told her to stop jogging.
In a lot of ways, Neely is probably not that much different from other runners her age. It's not just the running she loves. "I like a lot of things about it. I like new shoes, and collecting t-shirts from all the races. I like the friendships that I've made. I enjoy going out for a run by myself, and just having that time, but I also enjoy running with a group. And I enjoy setting goals, and then doing what is needed to achieve those goals."
But in other ways, she is different. "I don't like racing a lot. With the Hersheys (summer youth) meet, it's the local race, then two weeks after that it's Districts, and then a month after that it's States, and then a month later is the Nationals. And I think that's spaced out nicely. It's not too close."
And Neely would more than likely not enjoy gymnastics. "That's one other thing I like about running… you don't get judged. It's just you and your time."
Not a one-trick pony.

Rose isn't as competitive as Neely,
but still has a ribbon to show off.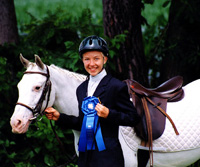 As with most high school athletes, Neely has a lot of interests outside of running. She acts and sings. In fact, she played the lead role of Annie in the Chambersburg Community Theatre production of the same name. "I've done nine shows, and love it. But it's also a lot of work."
And then there's Rose. She started riding about the same time she started running. As she got more serious, her parents rewarded the commitment with Rose, a pony that is the antithesis of she and her dad. "Rose doesn't know how to jump. But we did do a local 4-H round-up show and qualified for districts. But I don't really enjoy competing with Rose. I enjoy the pleasure of backyard riding."
Starting slow (not literally).
"When I was eight years old, I did the homeschoolers track meet at Messiah College. I would start training in the middle of April. The meet was in the beginning of May, and that was pretty much all I would do. I did that when I was 8, 9, 10 and 11."

Neely with her dad, Steve, at a 2004
Hershey's T&F Championships preliminary meet.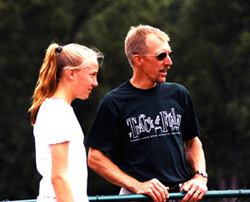 At 12, she got a little more serious, and added the summer youth series known as the Hershey's Track & Field Program, a series of local, Regional, State and finally, a North American meet for 9-14 year olds. The meet is somewhat a low key affair compared to its more famous USATF and AAU Junior Olympics summer company. But over its 27-year history, it has attracted its share of future stars. Just in distance, it has at least two Foot Locker finalists on its resume, including Chantelle Dron, the New Hampshire homeschooler who finished 18th in 2002 as a sophomore, and Marie Lawrence of Nevada, who was 2nd at Foot Locker nationals in 2003 as a freshman.
And that's a trend Neely would certainly like to see continue.
A brief bit of burnout at 13.
Neely found the spring of her 8th grade year to be a lot more stressful than she had ever experienced. It was March of 2003, and her younger twin sisters, Margeaux and Reynah, were really getting into running. "They'd go out for 20-minute runs, but I really didn't want to. The year before, while successful, would find Neely getting extremely nervous before races. "It wasn't fun any more. I used to put so much pressure on myself. I always wanted to run well, and I wasn't happy if I didn't finish with a good time or a PR. And that's not a good way to run, because everybody has off days. It was just too much. But I did it to myself."
Her parents knew the signs, and as dad told her, "if you get stressed about it, don't do it."
But as the twins got more into running, Neely started to hear the call of the trail, and especially enjoyed going off-road a few times a week. Her dad came home one afternoon that June and said he was going to a local race that was a part of a summer series (Ausherman XC Series), and asked Neely if she'd like to go along. The rest, as they say, is history.
She ran the first two-mile race at Greencastle in 14:13. "I just had fun with it. So I started training. I think I ran 14:07 for the second one. It was only six seconds, but I could see my work paying off. By the end, I did the mile at Waynesboro and won in 6:30. My dad came back that night and won the two-mile. That was really neat that we both won races on the same night. And I got interviewed by the Chambersburg Public Opinion and I was so excited. I just talked, and talked and talked. Finally, the reporter said he had to leave… and they had taken my picture and it was on the front corner of the paper. That really got me pumped."
Two weeks later, she ran a 6:14 mile at Mercersburg, followed by a 13:35 two-mile at Shippensburg. The final series race she ran 12:30 for two miles at Chambersburg's Falling Springs course, finishing 3rd, just ten seconds behind Kylee Schuler of Chambersburg and 20 seconds behind Shippensburg All-American Kelly Stewart of Downingtown.
She was back, with a new perspective on the sport. "I still get nervous, but now it's a good nervous."
A year of PRs.

Neely's PRs all came during the past year because it's really her first full year of training. The new positive experiences started late in December with a 5-mile race in Duncannon known as The Last Mile. The uphill to downhill race is a tough one to tackle on virtually no training. Her dad told her to use it as a tempo run, and just have some fun. She felt good, and closed with a 6:00 mile to finish in 33:13, which is 6:39 pace. This spring, she trained for the Hershey T&F Program, and set PRs along the way of 1:05 for 400, 2:22 for 800, and on August 7th at the final meet, 5:09 for 1600, just a second off the time Marie Lawrence had run the year before in the same race.
She started the spring with an eye-popping 17:42 on March 13th at a St. Patrick's 5k road race in Baltimore. "I came through the first mile in 5:28, and I thought, 'oh my gosh, that's a PR by 30 seconds. I got a little scared, but I just tried to hold the pace, and I just picked off people, going from about 10th woman to 4th." And she hasn't slowed during the Ausherman Series of XC races, either. Her two-mile best is 11:36 in the final race run at Falling Spring.
Neely setting a PR of 5:09 for 1600
at the 2004 Hershey's T&F National Championships in August.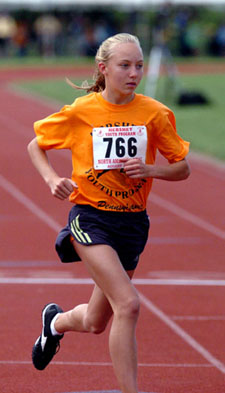 She'll be running for Team Spence, not Shippensburg.

Neely doesn't' see running for her high school as an option. The PIAA leaves the decision on athletic participation by homeschool students to the local school districts. Some districts do, and some don't. Shippensburg doesn't. "I think that right now, if that option was there, I might consider it, but I'm not sure that I'd follow through with it. I have a unique situation." Her dad says that if she did run for the high school, "she would know that she is to do what that coach says."
The Spence's one attempt to have Neely compete in a PIAA-sanctioned race with other athletes her own age didn't go that well. Steve was being inducted into the Gettysburg XC Invitational 'Trail of Fame' in 2003. Gettysburg offers a middle school race. Neely was in 8th grade. It sounded like a good opportunity. The meet directors welcomed her application. But, as Neely recounted, "it said on the application, 'school district', and I errantly put 'homeschooled' instead of 'Shippensburg'. They called us and said it was a PIAA meet and that we'd need permission from the superintendent." Despite not having a middle school team at Shippensburg, the Spences called the athletic director, explained the situation, and asked if their daughter could race. The AD didn't have a problem, mentioned the need for a physical like any other athlete, and said there'd be some paperwork. That all changed in the next phone call. No help. No signature. No race.
Not one to shirk a challenge, Neely waited for the final race that day and then ran the two-mile middle school course with her dad and a friend of his. Her 12:20 on the "really, really muddy course" would have been a course record. "And it was nice, because they even gave me a medal."

Shippensburg University assistant coach Ron Slozat (Photo by Bob Rodgers)
is the one who gave Neely the tapes of Foot Lockers
that got her motivated to set qualifying as a goal.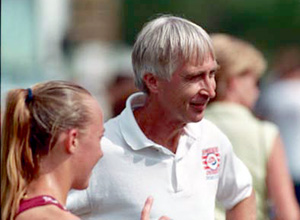 Foot Lockers at the movies.
Neely first got interested in the Foot Locker race thanks to one of her dad's assistant coaches, Ron Slozat. "We don't have the channel it was on, so Coach Slozat taped it for us because he thought that I'd like to see it." She watched it over and over to keep her company while she was doing her lifting. "I watched it so many times that I started thinking, 'you know, I'd really like to run that, and since then, that's what I've been focused on. I've been watching it since Zoe Nelson won (2002) and then of course, Katelyn Kaltenbach."
"I'm kind of self-coached."
Obviously, Neely has had a good resource in running learning from her dad. But she says it's more of a team effort now, than one-sided. "I set my own goals, and then work out a plan. But there are those days where I just ask my father what to do. He usually gives me an option of two different workouts."
And her training is certainly not on the heavy side. "But I'm ahead of schedule this year." She took a short break after her 5:09 on August 7th, and resumed her average of 20 miles a week. That will increase during the fall to about 30-35 miles. Her long run is the Thursday group gathering at the Spence home, consisting of 50-60 minutes. She does a weekly track workout or uses the rolling hills in front of her home. "I'll do all the hills very hard, then recover going downhill. Then I turn around and do the same thing heading back. If I am getting ready for a race, I'll do 15-20 minutes easy and then some strides." Her increased upper body strength was evident during her 5:09 thanks to the lifting program she started last fall. "It's mostly body weight and some dumbbells."
Her races this year indicate that she is ready for her first season of running with the country's best. After a XC 5k near her home on October 9th, the Fountain Festival 5k at Big Spring HS, and the Great Pumpkin Chase 5k in Harrisburg 10/23, she'll make her way a New York Road Runners' Club 5k at Van Cortlandt Park on Sunday, 11/14 to get a feel for the challenge and develop a strategy for the the Northeast Foot Locker Regional on Saturday, 11/27.
"I think that if everything goes well, and I have a good day, I think I'd have a shot."