Rachel Gehret clearing 5-06 to win the High Jump.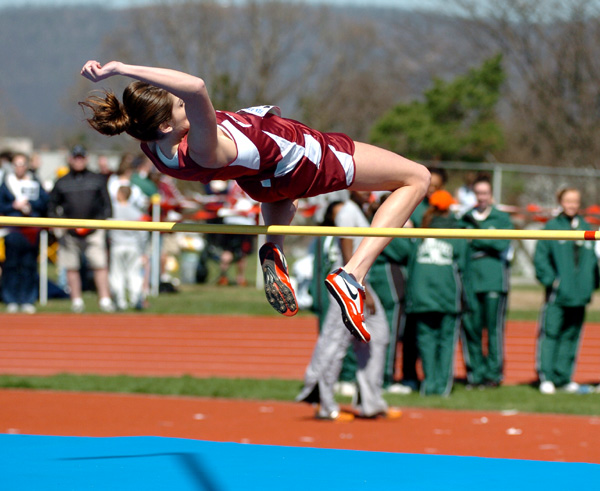 To excel in one event is special. To excel in two remarkable. But to excel in the legal limit an athlete is permitted to enter in a meet, is rare. That kind of rare athlete was witnessed by a large crowd of fans on a sun-drenched day, not once, but three times. Virtually every time you turned around, you saw Rachel Gehret, Amy Backel or Shawn Smith jumping, throwing or sprinting for wins, or at least top two-or-three performances.
Gehret, the lanky and quick Altoona junior was showing no rust or tiredness from a winter of state-level basketball as she won two individual events, took 2nd in a third, and contributed to a team relay win. She hasn't yet matched her 5-07 PR in the High Jump from last season, but she has hit on 5-06 every meet she has competed in. She didn't compete in the Triple Jump, but hit a strong 18-01.50 Long Jump to win by nearly a foot. Probably a little tired from a day of high level performance, she finished 2nd in the 200 to the strong close by Central Dauphin East's Tiera Smith, who went 25.80. Gehret ran a 25.81 in the prelims, but slowed to a 25.87 in the finals. And her leg of the 4x100 helped a very fast Altoona 4x100 go 50.01 to hold off three other teams within a second.
Amy Backel is not only a rare talent, but her event combinations are unique. She high jumps, puts the shot, throws the Jav, and even pole vaults. Her best performance of the day was perhaps her final one, when she cleared 11-03 - a meet record - to win the Pole Vault. But it was nearly matched by a 141-09 win in the Javelin, also a meet record. She took 2nd in the Shot Put, throwing 39-06, behind the holder of a new meet record, Cedar Crest's Becky Eisenhauer. And she took third in the High Jump with a leap of 5-02.
Shawn Smith of Wilson is looking better than he ever has. He matched his 100 meter PR of 10.99. His 22.46 200 is within a quarter of a second of his 2004 PR. He set a Meet Record of 22-06.50 in winning the Long Jump, a meet record. And he helped his 4x100 teammates to a 2nd place 44.89, behind Harrisburg's 43.72.
There were other meets records, as well, including a blazing 49.00 by Biglerville's Joey Wagner in the 400; a 5:08.96 1600 by Hershey's Sam McMillan; and a PA#2 9:34.17 4x800 by the Cumberland Valley girls. Other notable performances included a 176-08 Jav by Palmyra's Matt Papson; Cumberland Valley's Kristen Jones was a double winner, taking the 100 Hurdles in 16.04 (16.01 prelims), and the 300 Hurdles in 46.07. Milton Hershey's Jon Okon leaping 45-01 in the Triple Jump; Cedar Cliff's come-from-behind 8:01.63 4x800; the Cumberland Valley boys going 3:23.93 to take the 4x400; a 1:56.90 800 by Central Dauphin's Justin McCarthy; and fast early 3200's by Jordan Shick of Cumberland Valley, going 9:43.52, along with Cedar Cliff's Kassie Meholick's 11:18.07.
Cedar Cliff won both team titles, the girls with 90.50 and the boys with 94.50. Cumberland Valley was 2nd in both.
Amy Backel, Northern, taking 2nd in the Shot Put.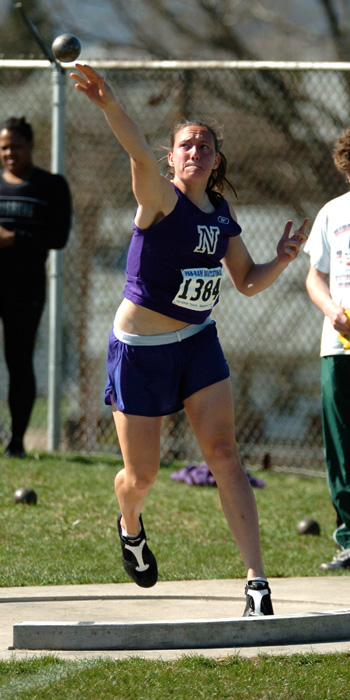 Shawn Smith wins the 200.