Select Race Photos by Ryan Comstock below. Photo Gallery link to the right
The NE#7 Coatesville boys are every bit the top team in PA. It's tough having to race in a league that boasts one other former state champion, along with a previously ranked team. But they say challenge makes you stronger. Well, they took on West Chester East, Henderson and the rest of what could be the strongest boys conference in PA, and won. With 2, 5, 7, 9 and 15, they tallied 38 points. East, behind a course record by Duriel Hardy in 16:44, was 2nd with 52 points, and Henderson was another six points back.
In the girls race, Alycia Woodruff was a 28-second winner of Coatesville's Kristina Kubala, but it was Downingtown East, behind four top eight finishers led by Lisa DeHaan in 4th that sealed the win with 40 points.
Duriel Hardy and Kyle Owen got separation to pursue their own race.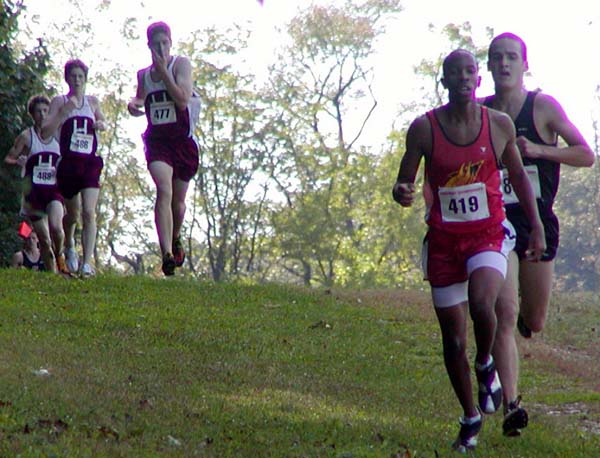 Then Hardy goes.