Four race photos below. Gallery link to the right.
Liz Costello, who earlier this month cracked 18 minutes at Lehigh, tore through the muddy Rose Tree Park course in in 18:33.65, leaving little doubt about the outcome of the race after just 200 meters. It was wet and cool, but the time stands as among the fastest on the course in nine years. In the team race, there were a few anxious moments for Radnor, despite placing four runners in the top eight of the race. That's because Strath Haven, while putting one runner between those four Radnor runners, then reeled off 12-13-14-15 before Radnor's 5th. The final score of 46 to 60 was actually closer than it had looked to be after two miles, when four Radnor runners emerged from the woods in the top chase pack. Radnor was paced by the sensational freshman Katie Lally and a talented junior, Shannon Holm. The two also broke 19, going 18:53.14 and 18:54.48, respectively.
The boys race was a study in pack running. No one took it out, but no one backed off, either. Through a mile, it was a solid line. But after two, it was thinning out. Radnor's Sean Mahoney and Conestoga's Myles Lund were in 2nd and 3rd heading up the hill at two miles, but the pair separated from the chase over the final mile, with Mahoney holding off Lund at the finish by less than a second, posting a 16:46.45. Strath Haven liked what they saw the Radnor girls do, so they placed four in the top nine behind the 3rd place run from Chris Free to win with 44 points, 31 up on 2nd place Haverford.
Liz Costello uses the downhill start to set the pace.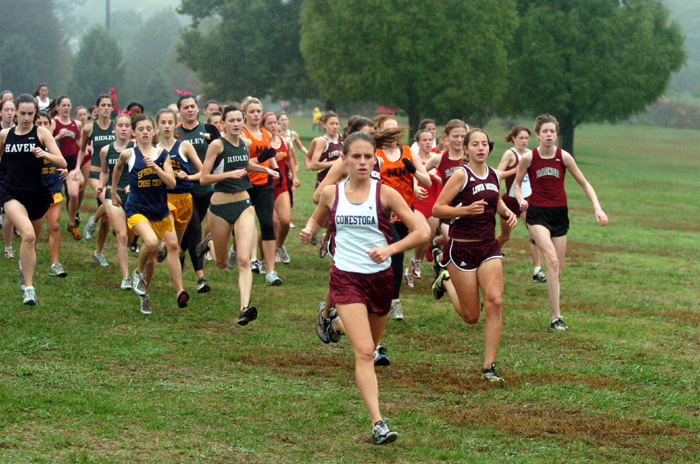 And finishes in a quick 18:34 on the uphill.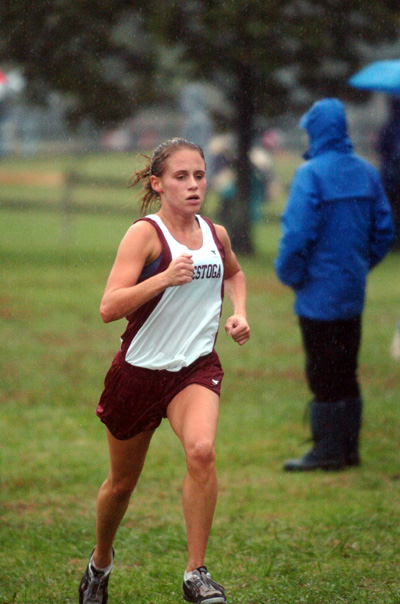 Boys start.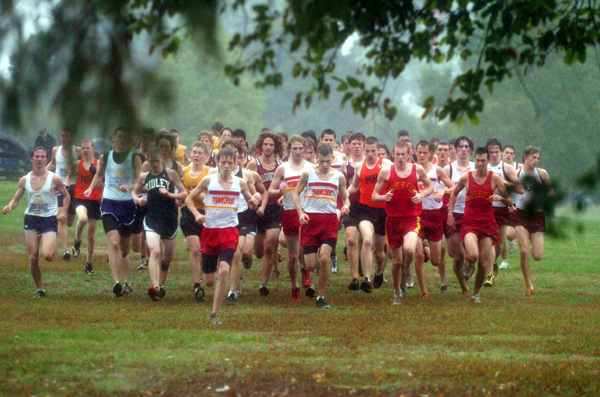 Sean Mahoney takes a glance to make sure Myles Lund isn't passing him at the finish.