Whiting's best throw of the meet, 68-01.50.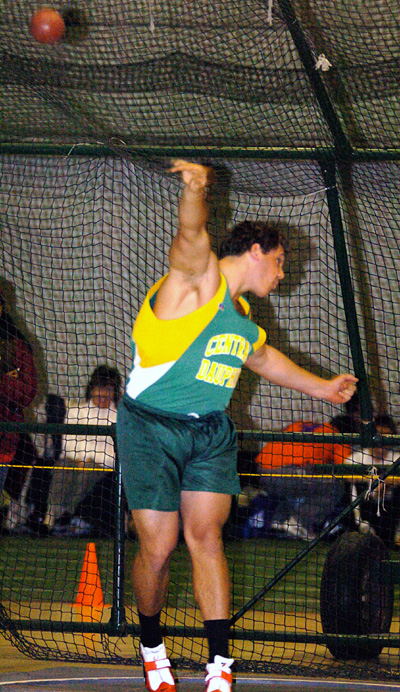 212 teams descended on Lehigh University for the annual PTFCA Track Carnival, usually a look at many of the top contenders for the upcoming state championships. Top performances included this year's sensation, Ryan Whiting of Central Dauphin, who won with a throw of 68-01.50, his 2nd best throw of this season. For a little perspective, Whiting now owns the top five throws in the NATION. Also showing great promise on the national level is frosh Karen Shump of Penncrest. She threw over 43' a week ago, and again flirted in the vicinity, winning with a toss of 42-03.25. On the track, Dallastown's David Hoffman surged over the final few hurdles to beat Chichester's Carrington Queen in the 60m version 8.24-8.28. Hoffman's mark is a US#9. In the boys' 3000, junior Curtis Bixler set a huge PR of 8:51.59, which is US#11. In the 4x800, Germantown Academy surprised North Penn with their US#13 8:07.54 (North Penn 8:11.37). A hot 200 was won by Jordan Mitchell of Central Dauphin in 22.68. Reggie Clark of Bensalem went 22.71, with Khaliff Featherstone of Simon Gratz in 3rd at 22.74. And Downingtown East won a thrilling 4x400 over Simon Gratz by .1, clocking 3:29.96.
Wissahickon's Krista Simkins won two events, the 200 in 24.65 and the 400 in 56.05. Both are meet records. Her 200 is a US#5, while the two-lapper is US#8. Taking 2nd in the 200 was Great Valley's Janessa Murphy, who had an equally successful day. Her 200 time was 25.92. Murphy did win the 60m dash in 7.66 seconds, and took 2nd in the Long Jump by just a quarter of an inch to freshman Ryann Krais of Methacton, who's 18-00.25 was a PR. Natalie Miller of Boyertown cleared 5-06 to take the High Jump. Her effort is a tie US#7. Lynn Morelli of St. Basil posted a PA#1-US#8 10:17.84 for 3000. Easton's Chanelle Price fronted a fast 800 with here US#16 2:18.1. Kate Vernon, Gwynedd-Mercy, won the mile by less than a second over Strath Haven's Lisa Vienneau, 5:13.04-5:13.47. Beki Finn, Liberty, took the Pole Vault, clearing 11-03. Henderson won both sprint relays, taking the 4x200 in 1:47.8 and the 4x400 in 4:04.74. Gwynedd's 4x800 was the best of the day, going 9:45.02.
Photos of PennTrackXC coverage via E-mail or by CD @ $5.00/photo for all PennTrackXC Subscribers
(Non-subscribers are $10.00/photo by E-mail or CD).
Send meet name with photo number(s) and a check made out to PennTrackXC.com, to: 18 East Eagle Road, Havertown, PA 19083. Call 610-662-6677 with questions, or email don@penntrackxc.com
Photo Gallery of Individual Track Events at the 2/12 PTFCA Track Carnival @ Lehigh University
Photo Gallery of Field Events at the 2/12 PTFCA Track Carnival @ Lehigh University
Photo Gallery Relay Events at the 2/12 PTFCA Track Carnival @ Lehigh University

Wissahickon senior Krista Simkins recorded two highly ranked
US performances winning the 200 in a US#5 24.65,
and the 400 in a US#8 56.05.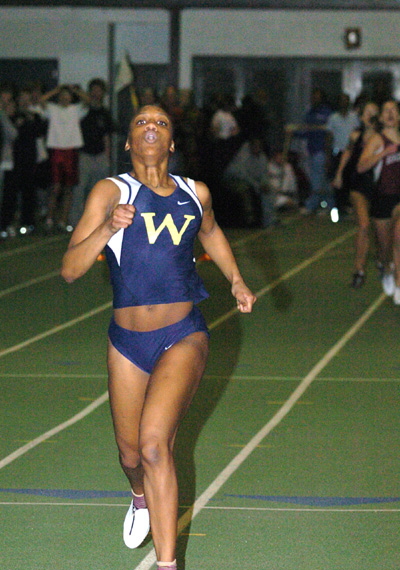 Great Valley's Janessa Murphy (center) wins the 60 in a US#6 7.66, and took 2nd in the Long Jump at 18-00, to Methacton frosh Ryann Krais, who leapt 18-00.25.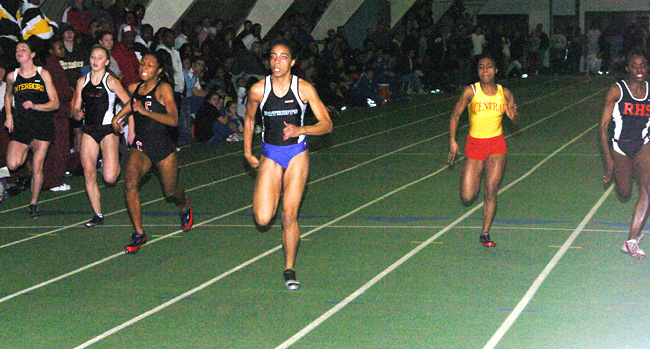 Cumberland Valley's Curtis Bixler ran 8:51.59, setting up a hot 3k at States in two weeks.