Some of PA's best waited until the late-signing period to make their college choices, and they did very well.
(Send pix of your signing if you have one).
Unionville distance star Katie Thaeder, the state XC champion who led her team to a national ranking and their first PIAA AAA state championship in cross country in 2004, has selected Princeton University to continue her academic and athletic careers. Mycaiah Clemons of Valley, the state champion in the 2005 60 Hurdles indoor, will be going to the Atlantic Coast Conference to study and compete at Virginia Tech. State indoor 60 meter champ and Long Jump medalist Janessa Murphy of Great Valley has accepted a full scholarship to the University of Pittsburgh. Indoor state High Jump champ Juan Cave of St. Joseph's Prep has selected Georgia Tech.
Faye Korich, Springfield Montco, will be headed to Columbia University. Scott Sherwood, Pennridge Pole Vaulter, will be going to Penn State. And Great Valley high jumper Becky Eppelman has signed to go to Bucknell.


Unionville had coach Mark Lacianca will miss Katie's contributions to the team, in many more ways than one. "Katie's influence on our program has been invaluable. She has been a leader through her actions." But Lacianca says her influence will be felt for years to come. "It is one thing to achieve greatness alone, it is another to bring your teammates along with you."
Thaeder reacts with a teammate after winning
the individual and team titles at the 2004 state cross country title in AAA.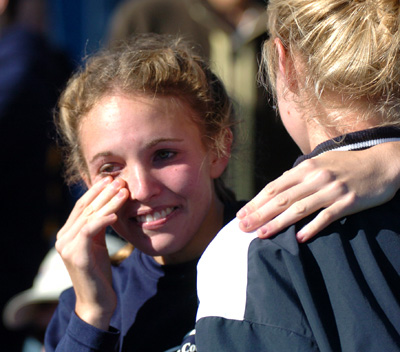 Clemons winning the 2005 60 meter hurdles at the
PTFCA Champs at Penn State.