Quotes from Koons, Spooner and Hallinan
Mid-East Championships Pre and Post-race Photos
Mid-East Championships Girls' Photos Page One
Mid-East Championships Girls' Photos Page One
Mid-East Championships Boys' Photos Page One Mid-East Championships Boys' Photos Page Two

PennTrackXC talked with the top PA finishers from each race to get their take on the competiton, their performance, and their plans for Foot Lockers... Frances Koons, 7th in the girls race; Chris Spooner, 3rd; and Steve Hallinan, 4th, in the boys race.
Frances Koons, 7th in 18:19
PTXC: Was that the kind of race you expected?
Koons: I was definitely expecting plenty of girls to be up there. I know that there's such good competition, so I was happy. I felt more like racing Laura Cummings earlier in the season, where the last mile I want to be stronger. That's what I'd like to take from this race. But I'm really happy. I'm honored to be able to represent Pennsylvania, and I had a really fun race.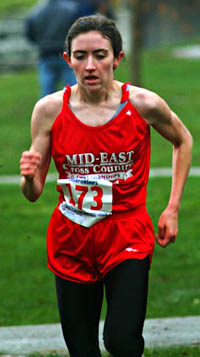 Frances Koons
PTXC: Describe your race.
Koons: The first mile was really good - like 5:35 or something. It was like running in quicksand, which is why it was so slow, because it was muddy. But the second mile when Sunni Olding took off, it was great to be a part of that. And she was really strong. Then I just hung in there with the Indiana girls, and I think an Illinois girl or two. So I just hung in there, and that last hill pretty good too. I tried to gain some momentum from that. I got passed in the last mile, which tells me for my training, that's what I need to work on. It's always my weaker point.

PTXC: Are you happy with your time, considering the conditions?
Koons: Yeah. It's the exact time I had when I race Laura Cummings, and this course is kind of similar. Maybe a little bit flatter, just different conditions. And more turns, and muddy. So I'm pleased. I'm going to work on a little bit more speed in the next two weeks, which is logical, because it's winding down in the last two weeks for Foot Lockers. And I'd like to have my best race there.

PTXC: Was today a confidence booster?
Koons: Oh yeah, I was running with these girls, and I remember at AOC (adidas Outdoor Championships), a lot are the same who were in the two-mile, and I just died last year in the two-mile. I remember being let-down. And it was actually a physical thing. So I was running today with these girls I wasn't able to keep up with before. So I was happy to be able to do that. I think I'm a little bit smarter coming out of this race. But coming out of every race, you do get a bit smarter, especially with all this competition.

PTXC: You had been gapped a bit before the hill, and closed it there. It looked like you were going for as high a spot as you could get when you closed the gap on the hill>
Koons: I did. I'd like to work on my finishing sprint, just getting my turnover a little bit faster. I was happy on the last hill. I was feeling like I was using that as a way to increase my momentum. Normally, hills will throw off your stride, but that one was different than coming up the other side, which was like stepping up, but the second one was like a power thing. It was really cool. I liked that last hill. It was at the start of the third mile that people really started to move. I could feel someone stepping on the back of my shoe. So it was on that hill that I tried to get back. But I help my place pretty well.

PTXC: So at Foot Locker, just getting to all the downhills in third mile in good shape is going to be a key to success?
Koons: It sure is. And the downhills are actually a good thing to practice. It's something you think that comes naturally, but you have to push as hard downhill as you do uphill. I was watching the guys race, and Hallinan was pushing the downhill. And that's the way you run, because you have to give it your all. I remember Angie Saterstad (FL NE #9 in 2002, #10 in 2000) telling me last year that the real good girls go fast downhill.

PTXC: Were you impressed with how well the PA girls ran as a team?
Koons: I am so excited and proud to be a part of this. This weekend has been the coolest experience for me. People who have gone before said it is great, and they keep in touch with people from the team. I was just so pumped to come and meet everybody. And the girls are so sweet. There is no competitive animosity toward anyone. Just meeting all these people this weekend is the best part of the trip.

Chris Spooner, 3rd in 15:39
PTXC:Did you have a race plan, and how did it unfold?
Spooner: I didn't have a strict plan. I wanted to go out and push. And I wanted to be the first PA guys. Getting third overall, I can't ask for any more than that.

PTXC:Was there some redemption for your States race?
Spooner: It was definitely redemption for my States race. And I wanted to beat Dave. That helped me push through the race. I wanted to do well.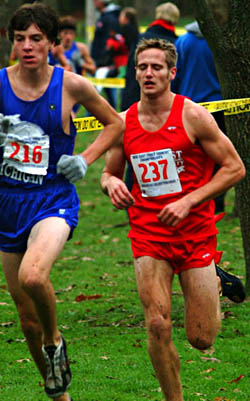 Chris Spooner
PTXC:Was it what you expected?
Spooner: Yes, It was comparable to Great American. I have to get used to many people being out front. And with Christian in the race, he's an animal. I was gearing to stick with him early, see what pace he runs, and try to stay comfortable. I wanted to have a good all around race. He put a gap on me in the first 400 and it slowly grew. But it stayed where it was for the rest of the race.

PTXC:Did having PA teammates help?
Spooner: Oh yeah. That was such a help seeing red. I'm not used to that. But seeing a red person pull up next to me, it helped me want to do well. It pushes you even more. With Steve and I, someone would pick it up and the other would follow. We were still together at the creek. We were one-two and that's all that mattered.

PTXC:What did you think of the course?
Spooner: I liked the little hill. The creeks were nice… made it more like cross country. The turns with the rain made it hard because you had to slow up too much. I didn't want to fall. I almost fell going down the hill the first time. And in the woods, I got a chip in my spike, but it came off. The course is great. Flat. More like track.

PTXC:Did it help you prepare for Foot Lockers?
Spooner: The high caliber of runners helps you get ready for that kind of competition. You have to calm yourself down and have the mindset not to get out way too fast. I know what I have to do at Northeast. I'm working on a race plan, starting with going up Thursday. I like having a whole day before the race.

PTXC:What was the highlight of the trip?
Spooner: The thing at the pool with the Indiana team was the high point (an Indiana runner took an involuntary swim. PA stayed dry). It pulled us closer together. And the "PA Don't Play", I think Hallinan and Syrnick came up with it, pulled us together even more. And the van trips and talking. The race and after the race. Overall, the whole trip was great. And the girls were yelling "PA Don't Play" while we were racing. That's what I was told. I don't hear anything while I race. Plus, the girls yelled it in their huddle before their race.

Steve Hallinan, 4th in 15:42
PTXC:Did you have a race plan, and how did it unfold?
Hallinan: I knew it would be important to get out and be in the right position. And I wanted to stay with the leaders, and that's the way it played out. In the woods, I wanted to push to come through the two mile fast. I'm still happy with how I performed. We kept a steady pace. I was thinking it would be easier for us if I caught him (Spooner), which I did at 1.25 miles.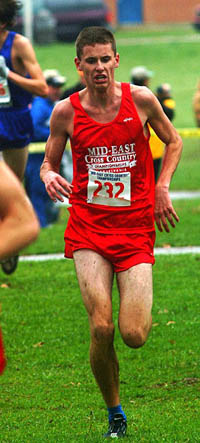 Steve Hallinan
PTXC:Was it what you expected?
Hallinan: Yeah…for the conditions. Everyone said it was fast, but once we previewed it with the rain, I knew it would be rougher on us. It played out like that. I knew (Christian) Wagner would run away with it. That's the way it unfolded. I thought it would be me and Spooner one-two for PA.

PTXC:Did having PA teammates help?
Hallinan: It was fun running with a teammate for a change. Just like at Great American when Ian and Greg fed off each other, it made it easier for Chris and I. It didn't matter who went ahead. I knew we weren't going to go one-two, and when we crossed the creek with 250 to go, I knew the Michigan kid we passed wouldn't get us. I was happy for him getting third after what happened to him at States. We got our points.

PTXC:What did you think of the course?
Hallinan: Good if the course is dry and faster. It made it challenging, but it was a lot of fun. But you couldn't hit the turns hard.

PTXC:Did it help you prepare for Foot Lockers?
Hallinan: It did. Especially how I felt when I finished. I took a deep breath and was fine, and so was Chris. It was a big confidence booster. Having Wagner out there and only beating me by :26 was also a confidence booster.

PTXC:Are you working on a race plan for Foot Lockers?
Hallinan: Yes. I need some teammates with me to keep me calm. I know I have to stay back and do what everyone else does. Don't jump out or get in the middle. I want to be able to use as much of the 800 speed as I can muster.

PTXC:What was the highlight of the trip?
Hallinan: How close our team became. It was a lot of fun. I have been on a lot of trips. This was one of the best. And getting to know all the guys and girls, and becoming one unit. I wasn't sure what to expect. I knew Tim (O'Neill) and (Malik) Syrnick, but I didn't know how to approach the other guys. We clicked right away. We are all the same, all perfect matches.