Philadelphia Catholic League Championships Girls Action Photos
Philadelphia Catholic League Championships Boys Action Photos
PCL Champs Photo Gallery Part One
PCL Champs Photo Gallery Part Two
Slaton in the 60 Dash. He went 7.05 in the Trials, then long-jumped a US #6 23-3.50 over 40 minutes, then came back and won the 60 finals in 7.07.

West Catholic's Nicole Leach took the 60 Dash, 60 Hurdles, 200 and 400, while Steve Slaton, Conwell-Egan, captured the 60 Dash, 200, 400 and the a US #6 Long Jump.
Leach set three meet records, breaking two of her own, including the 60 in 7.83 and the 200 in 24.96. She also set the new 60 Hurdles record of 9.31 seconds. Slaton posted a US#6 and meet record 23-3.50 Long Jump; and took the 60 in 7.07 (7.05t), the 200 in 23.17, and the 400 in 51.36.
In the 800, Bonner's Dave Maguire posted the 3rd sub-1:58 of the season, going 1:57.76. Carroll's Mike Tilger took the Mile in 4:21.04. O'Hara's Steve Hallinan, coming back from an injury that severely hampered his training for four weeks, ran 2nd in the Mile in 4:25.57, 4th in the 800 in 2:01.43, and also ran the 4x800. He said he was not expecting great times, but "that the foot feels good. I'll be back." West Catholic's Latavia Thomas led wire-to-wire in the 800, going 2:16.30. St. Hubert's Amy Kelly won both the Mile (5:05.18) and the 3000 (10:10.91). Prendi took the 4x200 in 1:46.67, catching West Catholic (without Leach), which went 1:46.90.
Cardinal O'Hara repeated (comfortably) as the boys' Team Champs, while Archbishop Ryan repeated as the girls' Champs by seven over St. Hubert's and ten over West Catholic.
Winners, Elites, and Notable Performances:
Leach in the 60 Hurdles Trials, one of her three meet records on the day.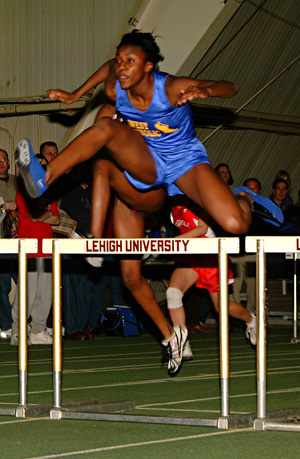 Boys
60 Dash: Steve Slaton, Conwell-Egan 7.07 (7.05t)
60 Hurdles: Steve Lyles, Cardinal O'Hara 8.74
200: Steve Slaton, Conwell-Egan (23.17)
400: Steve Slaton, Conwell-Egan 51:36 (Notable: Steh Mitchel 51:46, Jack Braconnier, O'Hara 51:47)
800: Dave Maguire, Bonner 1:57.76*, Joe Fedforowicz, LaSalle 1:58.20* (Notable: James Bucci, Carroll, 2:00.23, Hallinan 2:01.43)
Mile: Mike Tilger, Carroll 4:21.04* (notable: Steve Hallinan 4:25.57)
3000: Tim O'Neill, St. Joseph's Prep 9:09.17
4x200: Father Judge 1:37.04
4x400: Cardinal O'Hara, (3:32.17)
4x800: LaSalle, (8:17.70)
DMR: LaSalle 10:50.13, Archbishop Ryan 10:52.90
Long Jump: Steve Slaton, Conwell-Egan 23-3.50* US#6, Mike Tomasco, Bonner, 22-1.50
High Jump: Juan Cave, St. Joseph's Prep, 6-08* Field Athlete of the Meet
Triple Jump: Brendan Donahue, McDevitt, (43-0.25)
Shot Put: Kevin Moore, 51-8.50
Pole Vault: Kevin Breen, Ryan (11-6)
Girls
60 Dash: Nicole Leach, West Catholic 7.83* NMR (7.90t)
60 Hurdles: 60 Hurdles: Nicole Leach, West Catholic 9.31 (9.38t)
200: Nicole Leach, West Catholic 24.96*
400: Nicole Leach, West Catholic 57.97*, Latavia Thomas, West Catholic 58.77 (Notable: Pilaar Batts, Prendie 60.08, Jess Starace, Ryan 60.38)
800: Latavia Thomas, West Catholic 2:16.30* NMR, Mary Debevec, O'Hara 2:19.54
Mile: Amy Kelly, St. Hubert's 5:05.18*
3000: Amy Kelly, St. Hubert's 10:10.91* NMR
4x200: Archbishop Prendergast 1:46.67*, West Catholic 1:46.90*
4x400: West Catholic, (4:15.44)
4x800: St. Hubert's, (9:56.30)
DMR: Cardinal O'Hara 13:03.91
High Jump: Sam Scoda, St. Hubert's (4-10)
Long Jump: Jess Stararce, Ryan, 16-9.50
Triple Jump:
Shot Put: Eunice Despot, Cardinal Dougherty, 37-7.25 (Field Athlete of the Meet)
Pole Vault: Lisette Delgado, Ryan, (9-06)