Nicole Leach at the start of her 24.72 200.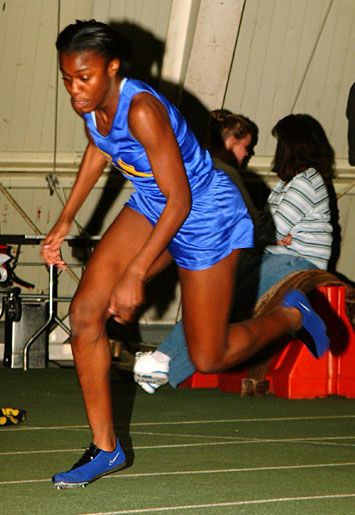 Photo Gallery of 2/20 DVGTCA Meet of Champs
DVGTCA Meet of Champs Action Pix
DEEPER RESULTS AND PIX THRU SUNDAY.
Nicole Leach went wire-to-wire to win the 200 in a US#9 24.72. She also split 24.5 in the first spot to lead the 4x200 to a 1:43.96 win. Hatboro-Horsham cruised to a 9:29.19 4x800 win as six teams went under 9:50. Perkiomen Valley won the DRM in 12:30.34. Wissahickon took the 4x400 after a West Catholic DQ in 4:01.69. Angela Wells led an amazing group of Long Jumpers, going 18-10.25. Five other athletes bettered 17-4 with Strath Haven's Meredith Ryan 2nd at 18-02. Three athletes were over 33'11" in the Triple Jump, led by Kim Morris of Plymouth-Whitemarsh at 36'4". 'Tayvon Gray of Coatesville won the Shot Put by a ton with a throw of 41-0.75. Jannea Bridgeford, Upper Darby, won the 60 Dash in 7.70 seconds. Gratz' Sabrina Shaw went 9.33 for the 60 Hurdles victory. Latavia Thomas, West Catholic, moved up to PA #2 with a 56.69 400. In the 800, Henderson senior Melissa Ferry sent a second season PR with a last lap surge to go 2:18.54. Jessica Cickay, Council Rock North, won the Mile in 5:14.09. And Upper Dublin's Lauren Bowles won the 3000 in 10:49.22. In the Pole Vault, Christa McDonald, Phoenixville, won with a vault of 11-1. Natalie Miller of Boyertown won the High Jump, clearing 5-4.