Note: Aaron Rich also photograhed the meet, but had a memory card crash when we tried to download. We are attempting recovery of the pix. Several pix below of US#1 and notable performances.
Photo Gallery of 12/30 Robert J. Burdette Indoor Classic @ Lehigh University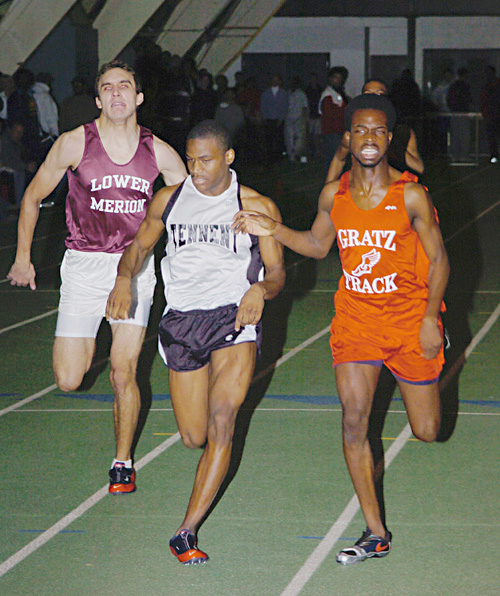 Max Westman, Andre Burton and Khaliff Featherstone hit the line, all breaking 51 seconds.
Three of PA's best offered a possible preview of a hot 400 final at States this year, with three breaking 51 seconds. Simon Gratz frosh Khaliff Featherstone pushed the pace early and nearly pulled it off, but the more experienced Andre Burton of William Tennent, and Max Westman of Lower Merion showed patience and power, pulling closer with each stride. Burton pulled on the outside and edged Featherstone, with the three going 50.42. 50.49 and 50.72. Coatesville's Clarence Smith busted a big triple jump, leaping 46-01. Junior hurdler Carrington Queen won at Lehigh on 12/29 in the 55 Hurdles, then, with a minor adjustment went 8.23 for the 60m variety to win.
Those performances, plus the girls 60H, 60m, and 400 led five US#1 performances for the meet.
The freshman girls continue to shine in the early going in PA. Karen Shump of Penncrest waited until the final throw to uncork at 39-02.50 US#1 toss. Methacton's Ryann Kraiss has already long-jumped 17-02.75, gone 8.74 for 55 Hurdles, and broken 42 for 300m. At this meet, she added two other PR's to her season resume, winning the 200 in 25.73 seconds, and then providing the only real chase of West Catholic's Nicole Leach in the 400, taking 2nd in 58.20. Leach ran 56.03 for the win. Leach also lead off the winning 4x400, which went 4:01.4 in cruise. The 60 Hurdles was won by Plymouth-Whitemarsh senior Chanel Williams in 9.26. Lynn Morelli, St. Basil, ran 5:10.27 for the Mile, and Upper Dublin senior Lauren Bowles ran alone to a 10:33.12 3000. Lindsay Regan, the Easton pole-vaulter, started her season clearing 11-09 after returning to training just a few weeks prior to the meet.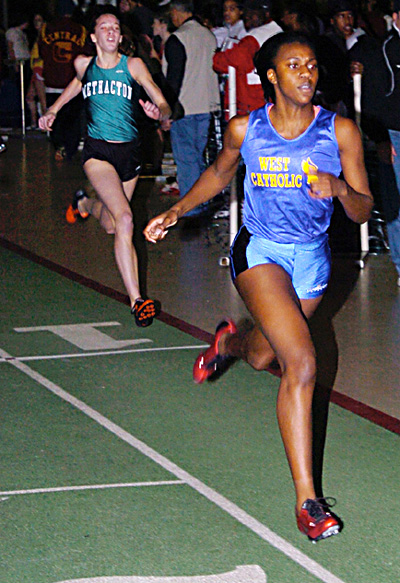 Nicole Leach leads frosh Ryann Krais through the 200 on the way to a US#1 56:03.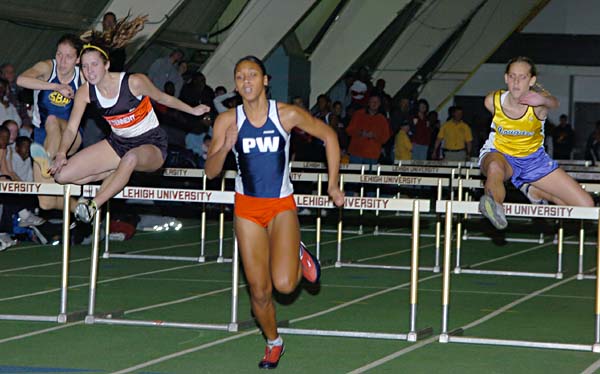 Plymouth-Whitemarsh senior Chanel Williams wins the 60H in 9.26.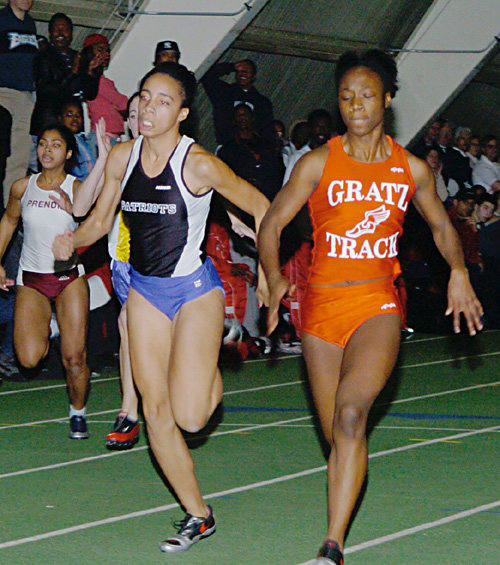 Clarenchell Tate, a Simon Gratz freshman, holds off Great Valley senior Janessa Murphy by .07, going 7.66 for 60m.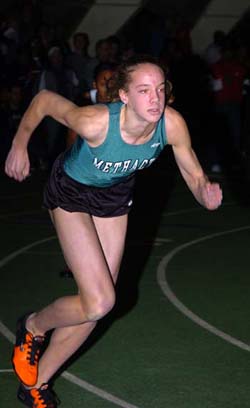 Krais won the 200 in 25.73, was 2nd in the 400
in 58.20, and anchored her team's 4x200 and 4x400 relays.