Crediting weightlifting for increased strength, and core exercises for an improved ability to hold his bend at the top of a jump, Octorara senior Ryan Fritz appeared relieved to have finally reached his goal of 7-0. The mark ties the 1999 Indoor state record of Mike Newhard, Southern Lehigh. Fritz cleared six heights from 5-10 through 6-08, when, as the final competitor, he chose to go straight for 7-0. "My first two attempts at 7-0, I was exhausted. On my third one, I just gathered my composure and jumped it. But I was pretty much out of gas by 7-1." Octorara Jumps coach Ralph Denlinger, who became Fritz' coach in the spring of 2004, says that Fritz' consistency at 6-10 since last summer, along with his increased strength training, told him it was just a matter of time before the 7-0 barrier would fall. Fritz also credited State College jumper Wes Scala, who stayed in until 6-08. "I was very impressed with that by the way. That motivated me to jump even higher." Fritz is looking forward to the coming competitions with Texas' Scott Sellers, who cleared 7-05 last spring, along with Juan Cave of Saint Joseph's Prep, who recently sailed over 6-10. "It always helps to have that competition."
Also at the meet, Cedar Crest senior Becky Eisenhaur posted the US#1 Shot Put of 41-09.50.
The boys' Long Jumps were just that. Wilson's Shaun Smith took the win with a leap of 21-11.75, with Nafee Harris of McCaskey just three inches back. A PA #1 Shot Put from Cedar Crest's Becky Eisenhour at 41-09.50. Jessica Forrest of Reading was a double champ, winning the 55 in 7.2 seconds, and clocking 26.9 for 200m. Amy Backel, the multi-sport whiz from Northern, cleared 10' in the Pole Vault, and 5-02 in the High Jump. And Red Land's Kristina Kline won both the Long Jump (17-05.75) and the Triple Jump (35-11.75).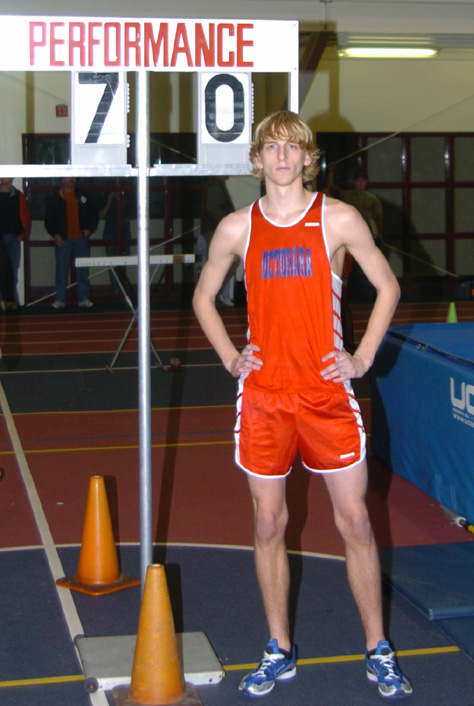 The sign tells it all.

Clearing an earlier height. On the 7-0 attempt, a fan stepped in front of the camera.