North Allegheny junior Max Brown hasn't had a lot of luck in recent seasons, getting sick just in time for Districts. But this winter he's healthy, and he's showing what a few observant WPIAL coaches have known all along... the kid has talent. What he did at the TSTCA's 3rd indoor meet was run the race to plan, and notch a US#6 8:48.7 3000. Just behind in 8:49.2 was Ellwood City junior Jake Walker, whose time is US#8. Walker tried to break the race open early, and did put a nice gap on the field. But Brown held to pace, cranking 35-36, until the consistent effort gave him contact. He then pulled ahead over the final 400 to get the win. Bradford junior Erin Hannon had a good day, finishing well in the 55 Hurdles with an 8.6 win, and taking the Long Jump with a leap of 17-06.
In the sprints, West Allegheny's Cardel Johnson was a double victor, taking the 55 in 6.5 seconds, and going 23.5 in the 200. Brianna Jacobs of Uniontown, won her 55 meter dash in 7.1 seconds. Latrobe's Caitlin Hewitt cleared 11-0 to win the Pole Vault. And Samantha Fetter of Hempfield led four girls over 35' in the Shot Put. Her throw of 38-09 was the best of the meet by over two feet. And in the boys' High Jump, B.J. Wolfgang of Thomas Jefferson cleared 6-04.
Brown passed Walker toward the end of the race, and held off Walker, who refused to let the gap grow.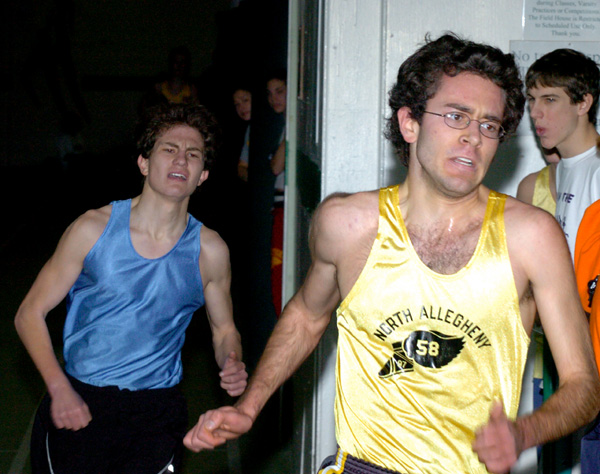 Max Brown celebrates his big win over a strong Jake Walker.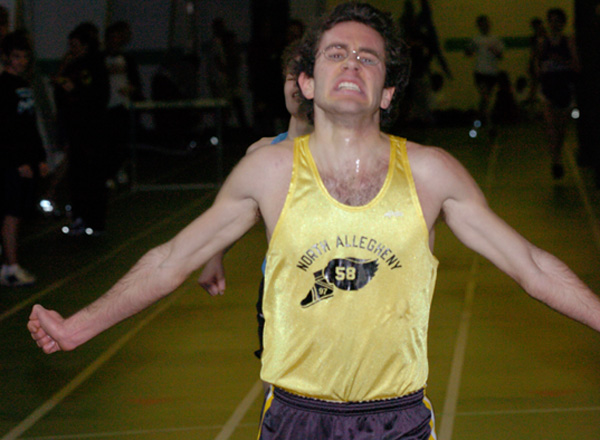 Erin Hannon in the 55 Hurdles. She won the LJ with a leap of 17-06.