The late start on the indoor season, and a carefully planned meet schedule apparently have given Easton junior Lindsay Regan the fresh legs and competitive edge to chase even more records in the Pole Vault. Her latest is now the PA best state mark of 13-06, topping the 2001 13-02.50 jump by McDowell's Emily Tharpe. The 13-06 also ties the US Junior class record. Chanelle Price, Easton, has to be one of the favorites in the AAA 800 after a solo 2:12.12 district record. Lauretta Dezubay went 5:01.36 and 10:53.03 for 1600 and 3200. Allentown Central Catholic set a district record in the 4x800 with a very quick 9:18.90. Northampton's Tyler McCandless edged Emmaus' Sam Luff in the AAA 3200, 9:13.01-9:13.20.
HIGHLIGHTS
GIRLS AA:
Bethlehem Catholic, 50.75 4x100, 4:04.02 4x400, 9:47.90 4x800
Megan Brown, Northwestern, 17-03.25 LJ, 37-01 TJ]
Lindsey Guldin, North Schuylkill, 34-00.50 SP, 122-02 JT
GIRLS AAA:
Lindsay Regan, Easton, 13-06 PV
(district and state outdoor record, tie for US junior class record)
Chanelle Price, Easton 2:12.12 (district record by over 6 seconds)
Lauretta Dezubay, Freedom 5:01.36 1600 - 10:53.03 3200
Easton, 3:59.55 4x400 district record
Allentown Central Catholic 9:18.90 4x800 district record
Brianna Broyles, Allen, 44.24 300H district record
(2nd 15.26 100H - 25.82 200)
Kati Dempsey, Pleasant Valley, 5-07 HJ district record, 18-02 LJ
Allyson Montgomery, 36-02.25 SP, 112-08 DT
BOYS AA:
Andrew Geiger, Northern Lehigh, 134-08 DT, 6-0 HJ
Isaac Dunkelberger, Tamaqua, 4:26.42 1600, 9:46.27 3200
Eric Yeager, Bethlehem Catholic, 1:58.00 district record, anchored 4x400 and 4x800 to wins in 3:27.68 8:11.90.
BOYS AAA:
Rushane Scott, Allen 10.98 100, 22.23 200
Easton, 7:52.90 4x800
Tyler McCandless, 12, Northampton 9:13.01 -Sam Luff, 12, Emmaus, 9:13.20 in 3200m
Nate Gilbert, 12, Emmaus 48-03.50 - John Carelli, 11, Parkland, 47-07.00 TJ


Regan gets a good look at 13-09.25, which would have broken the recently set US record of Mary Saxer of 13-09. (Photo courtesy of Mike Lawryk)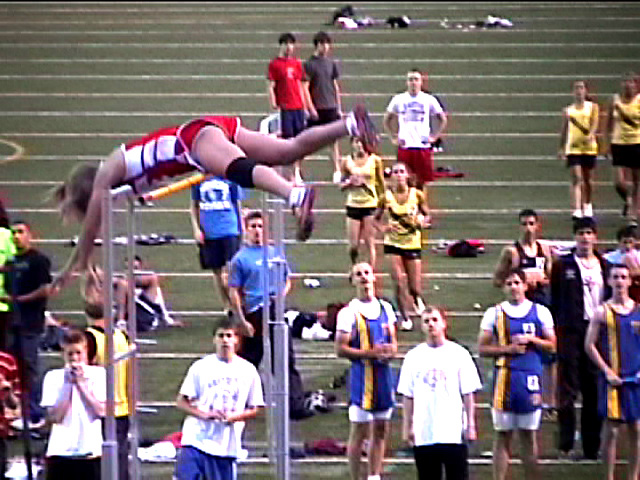 The smile and sign say it all. (Photo courtesy of Mike Lawryk)