Splits courtesy of Mark Schwartz, Three Rivers USATF
Saturday Highlights:
Saying he still had a lot to work on, and that his 70-foot Shot Put and 201-09 Discus were not perfect throws, Ryan Whiting achieved three more of his main season goals - to set PR's in the same meet, to clear 70 in the Shot, and to win two State titles. With Whiting's two wins, and teammate Jordan Mitchell's win in 200 (and 3rd in the 100), the two athletes tallied 36 of their team's 40.50 points to clinch Central Dauphin's 2nd consecutive state AAA title.
Nicole Smith in Saturday's rainy Triple Jump,
winning her 3rd individual title of the meet.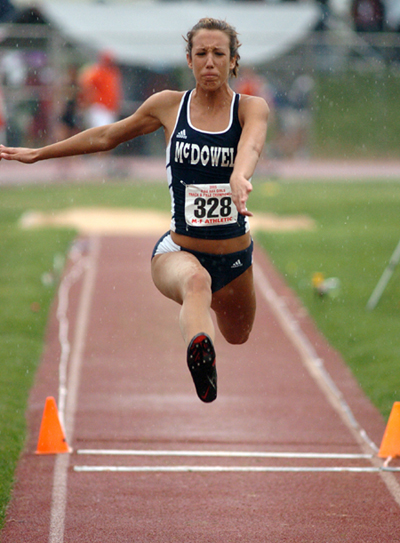 Nicole Smith added to her Friday High Jump and wind-aided Long Jump double with a rain-hindered 39-03.50 Triple Jump. With her 8th place 15.04 (14.99 prelims) in the 100 Hurdles, her 31 points was all McDowell needed to win their 2nd consecutive AAA state title, as the Wissahickon-led Krista Simkins squad tallied 30. McDowell ended with 36 points. After an off-day on Friday, Bradford junior Erin Hannon got on track in the rainy Triple Jump, taking 2nd with her 38-10.50. It was her 2nd runner-up in the event in two years. Defending champ Rachel Gehret of Altoona, who had two 2nd place medal from Friday's competition (High Jump, Long Jump), took 3rd this year at 38-01.25.
Simkins had a great day, with a seemingly easy gold in the AAA Girls 200 at 24.10 over rising star soph Brehanna Jacobs of Laurel Highland, 2nd in 24.95. But in the earlier 100, with Simkins off to a good star, Jacobs ran by her over the final 40 meters to her first state title in 11.89. Great Valley's Janessa Murphy held strong for 2nd in 11.93, with Simkins .02 back. In the4x400, Simkins could not overcome a 70-meter deficit when she got the baton, but still brought her Wissahickon team back to take 5th. Fighting through the bumps and bruises of a tough season, Central Bucks West battled D1 rival Council Rock North through three legs, before West's anchor put it away for a 3:52.66 and the title.
"Team" won this title for the Quips.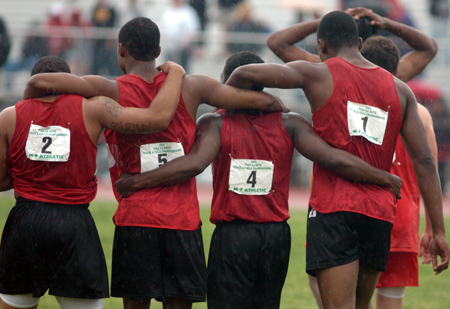 The Aliquippa boys won by just two points over Westmont-Hilltop, 43-41. The AA sprints were peppered with red Quips shirts, mostly at the front. Tommie Campbell took care of 18 individual point by himself for the winning Aliquippa AA squad. He held off Westmont-Hilltop junior Brad Kanuch by 10.65 to 10.84 in the 100. Aliquippa also took a 5th and 8th for six points in the 100 Finals. But Kanuch came back in the 200 to beat Campbell 22.33 to 22.42. Aliquippa's Bryan Wilson helped with his win on a wind-legal 22-03.25 Long Jump to edge Kanuch 22-03.25 Saturday morning. Campbell and Wilson also contributed with legs on the winning 4x100 relay of 42.63. Westmont-Hilltop's 2nd place team medal was a first for the school. In addition to his 1st in the 200 and his 2nds in the 100 and Long Jump, Kanuch had taken a gold in the Triple Jump on Friday. He said his goal of winning one gold for the weekend was far exceeded by the four medals to go along with the team trophy.
In AA, Milton Hershey beat Gwynedd by six as Abigail Johnson won two, the 200 25.75 (25.56 semis) and the 400, going 55.85.
Da'Rel Scott, Plymouth-Whitemarsh, takes a surprise 100
from the defending champ, Knowledge Timmons (in orange).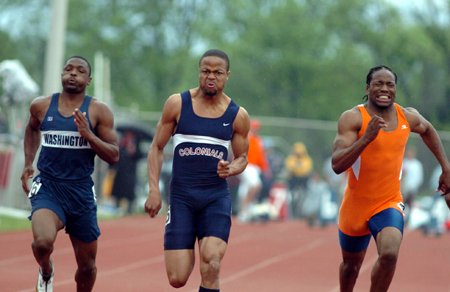 Experienced prevailed and youth was served in the 100 and 300 AAA Girls Hurdles. Retiring Plymouth-Whitemarsh head coach Ron Lopresti got the best send-off gift from his two star athletes, as senior Chanel Williams - fighting a hip flexor injury from Districts that forced her to scratch from her District 300 Hurdles, and a swollen knee from the 100 Semis on Saturday - willed her way over the hurdles and past Valley's Mycaiah Clemons to run a 14.20 and win by just .03. And Junior Da'Rel Scott got a great start and simply beat the heavily favored defending 100 and 200 state champ, Knowledge Timmons of William Penn York. Scott ran 10.56, as Timmons ran 10.67. West Mifflin's Montel Williamson had the fastest trials on Friday, but was a DNS on Saturday morning in the AAA 100 Semis. In the 200, Central Dauphin's Jordan Mitchell went 21.67 to be the only athlete under 22 seconds in the finals. Again, a West Mifflin runner was a DNS who had advanced on Friday, as Brandon Colemen left a spot for another runner. Timmons was also a DNS in the 200 Finals, reportedly because on injury.
In a test run for his upcoming race at the Nike Outdoor Championships against Ohio's Jeff See in the Mile, Craig Miller of Manheim Township went out in :59.6 in the 1600, came through the half in 2:00.8, and three-quarters in 3:02.1 before hitting a small, but rising wall to finish in 4:11.98. District One champ Brandon Pomerantz of Council Rock North was 2nd in 4:15.84.
Miller at the 800 in 2:00.1.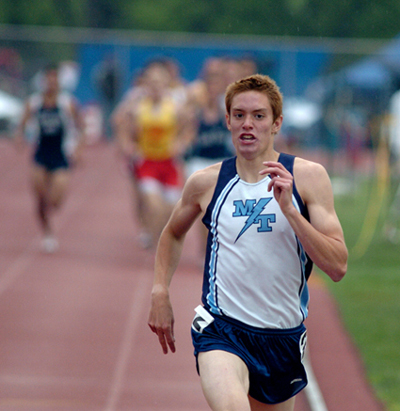 Engineering & Science set the first state record for the new PIAA District 12 in the final event of the meet, running a 3:53.43 in the AA 4x400, breaking the old mark by over a second.
Defending state champ Lindsay Regan was a surprising no height in the AAA Girls . Coming in at 11-06, she missed on three attempts. It had just started to drizzle and the wind had kicked up. Those who got a height in before that were in much better shape for a medal. Junior Caitlin Hewitt of Latrobe captured the win, clearing 11-09, a height also achieved by Beki Finn of Liberty. The only other athlete over Regan's missed height was Butler's Kendall Butch. The AAA Boys Pole Vault was then moved inside because of the rain. Ron Walter, Baldwin, cleared 15-06 to take the Gold. He had one good look at a state record 16-02.
SPRINTS
Krais early in her 300 Hurdles title run.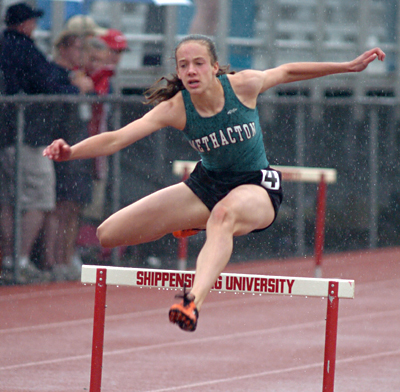 Athen's Melissa Miller goes 12.36 to win the AA 100. Center junior Lindsay Dolan went 14.81 to win AA 100 Hurdles. In the 300 Hurdles, Northwestern sophomore Amanda Seigworth ran 44.23 for the Gold. Methacton frosh star Ryan Krais got her first state title, overcoming a trip over the final hurdle to win the 300 in 43.41. She had gone 43.01 in the Trials. Valley sophomore Tony Clemons, younger brother of Mycaiah, took home a Silver in AA Boys, running 14.74 to Nate Kiss of Windber and his 14.64 in the 110 Hurdles. Smethport's Mike Mitchell powered the turn to a 38.12 win in the AA 300 Hurdles. In the 110 Hurdles, Harrisburg's Delon Isom used lane three to sneak by the top two Semis seeds and win in 14.51 seconds. In the 300 Hurdles, Carrington Queen, the Chichester junior, was in 6th rounding the final turn. But his close is always spectacular, and he pulled off another one with a 38.35 win.
In the AAA Girls 400, Ije Iheoma, a Council Rock South freshman, held off two sophomores and three juniors, running 56.19. Joey Wagner found the strength to hold off Danville's Ben McConnell in a great 400, 48.86 to 49.03. McConnell came back in the 800 to run a quick 1:55.38. In AAA Boys, Bensalem junior Reggie Carter was the class of a great field, running to a 47.62 win over the peaking David Stonfer of Cumberland Valley, 2nd in 48.48.

DISTANCE
In the AAA Girls 800, Wissahickon junior Serita Lachesis pulled past Easton frosh star Chanelle Price over the last 20 meters to win 2:13.51 to 2:14.58. Benita Taylor of Engineering & Science became the first-ever gold medal winner for the Philly Public League (now District 12) in racing to a 2:12.95 800 to beat defending AAA champ Liz Kearins, 2:14.85 and defending AA champ, Gwynedd-Mercy's Kate Vernon 2:16.61. In the 800, form held as defending state champ Ken King of Connellsville held off Cedar Crest's Andy Miller, both the the same time of 1:55.09.
Vernon did defend her 1600 title in 5:06.40. Shady Side senior Katie Roll was DNF, but that was after finishing 3rd in the morning's 3200 in 11:03.27. She had pushed the pace most of the way. But AA state XC champ Rachel Erny, a Brentwood freshman, ran a smart, strategic race, beginning her push to catch and pass Roll in the final lap on the way to a 10:59.06. Boiling Springs frosh Kara Millhouse passed Roll on the final straight, finishing in 2nd in 11:01.50.
In the AAA Girls 1600, Freedom's Laurette Dezubay captured a second state title in two years, defending her 3200 gold with a 10:37.55, leading wire-to-wire. She made an attempt at the distance double, but finished 6th in the 1600. Soph stars Sarah Morrison of Chambersburg and Sam McMillan of Hershey engaged in a battle over the final lap, with Morrison barely holding off the charging McMillen 4:59.36 to 4:59.63. Strath Haven junior Lisa Vienneau was 3rd in 5:00.88.
Bixler celebrates his 3200 PR and win.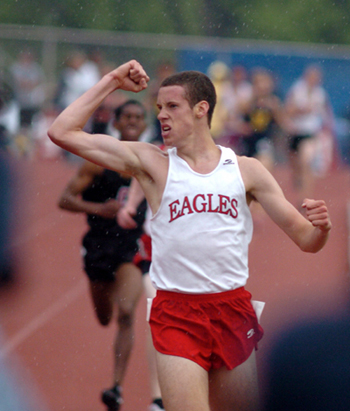 Jed Christiansen didn't find a race he didn't want to run on Friday and Saturday. He entered and completed five distance races, including the 4x800 and 1600 prelims, and after running a 4x800 in the morning, and a 3200 in the late morning, somehow found the strength and will to go 4:21.17 with a sub-60 split on the final lap. His 4x800 finished 4th in 8:06.61, and he took 3rd in the 3200 in 9:22.41. Also attempting the tough double of 1600-3200 was Ellwood City junior Jacob Walker. Walker spent most of the morning's 3200 in no-man's land chasing McGuffey senior Jeff Weiss, who had promised an attempt at the 9-minute mark. But hitting that alone is hard, and Weiss eventually fell just off the pace to finish in a very strong 9:08.77. Walker would finish 2nd in 9:15.63. Walker held on in the 1600 to go 4:23.73 and earn a Silver. Penns Valley's Judson Brooker was 2nd in 4:22.92.
The AAA 3200 turned into a great race after an early slow pace of 4:42 at the 1600 turned into a sprint for the finish between juniors Curtis Bixler of Cumberland Valley and Keith Capecci of Council Rock North. Capecci had the lead rounding the final turn, but Bixler's kick proved too much as he went 9:14.80 to win by just four-tenths of a second. Bixler credited his spring of sprint finishes against Cedar Cliff's Pat Caulfield for giving him the experience and confidence to make the attempt when he spotted the opportunity. Emmaus' Sam Luff said he knew it wasn't his day on the first lap, and struggled to a 15th place finish.
RELAYS
Lewisburg showed their District time was all it appeared to be as they held off Crystal Polite of Milton Hershey to win the 4x100 49.37-49.66. In AAA. defending champ Penn Hills overcame the controversy of their advancement to the WPIAL Champs with a 2nd place run of 48.35. West Chester Henderson simply ran away from the field on three good exchanges to win in 48.20. In the 4x100, Simon Gratz - which had been racing a lot of individual races that included trials - ran out of gas to finish a distant 4th. Central Dauphin East took the event in 42.56. Gratz nearly pulled off their best event, the 4x400, but a 47-high split by anchor David Stonfer put Cumberland Valley on top of the podium with a 3:19.94. Gratz had run 3:18.56 in the Prelims.
In the AA Boys 4x400, Lewisburg showed speed to complement last year's 4x800 stamina with a 3:21.58 win.
Klaas got the stick with the lead,
and kept it for the 2nd title in three years.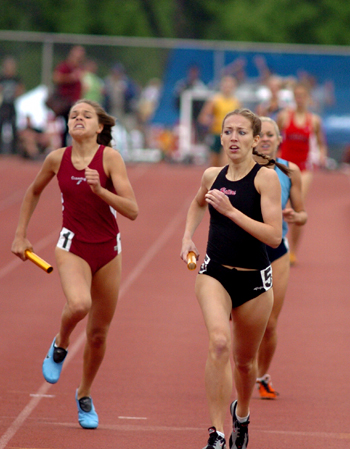 Gwynedd-Mercy won the AA 4x800 again, running a 9:13.52 to beat 2nd place Quaker Valley by over nine seconds. Engineering & Science was 3rd in 9:30.53. Hatboro-Horsham, after a year hiatus as state champs in the 4x800, returned to the top of the podium with a PR-filled foursome anchored by senior Caitlin Klaas. The 9:06.77 was the best of the meet, and led two other teams under 9:10, as Conestoga went 9:07.47 and North Penn ran 9:08.44. In AA Boys, it was Springfield Montco running alone to a win in 7:55.25.
FIELD
Brittany Maun, Reynolds, cleared 5-05 to win the High Jump in AA Girls. The AA and AAA Boys High Jump featured four jumpers clearing 6-08. In AAA, Octorara senior Ryan Fritz - forced inside by the rain - achieved his elusive state title with his clearance. And in a three-way battle in AA, it was Parkland's Tyrone Faverey getting the nod on misses over Derrick Sistrunk of Gettysburg, and Harry S. Truman's Bayshawn Johnson.
In the AAA Boys Long Jump, it was Hershey's Zach Myers, taking gold with a 22-09.25 leap. Shawn Smith, Wilson, was 2nd at 22-05.25. Smith had been 3rd in 2004. This event was held in the wind and rain of early afternoon.
In the AA Triple Jump, Brianna Liebold, Chartiers Houston, leapt 37-10.25 after finishing one spot out of a medal in 2004.
In AA Girls Shot Put Center's Allyn Laughlin threw 43-05.50. Laughlin had been 6th as a sophomore in 2004.
Coming up big in another meet,
soph Jones addes a state title to her Penn Relays win.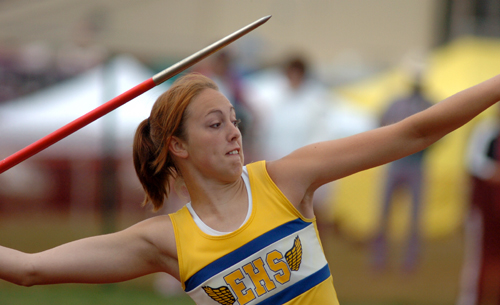 In the AAA Girls' Discus, it was Baldwin's Jordan Veney taking the gold with a throw in the rain of 146-11. Veney had finished a surprising 12th in Friday's Shot Put. In AA Boys, it was Johnsonburg junior Chad Yurchick adding a state title to his resume, throwing 162-00.
In the AA Girls Javelin, Penn Relays champ Elisha Jones of Eisenhower threw 141-10. Jeff Hostetler, Selinsgrove, threw the Javelin 196-10 in difficult conditions to take the AAA event.