Caitlin Klaas, Craig Kipe, Rick Swanker, Jeff Weiss, Curtis Bixler, Craig Miller, and Krista Simkins pushed the envelope on the track at the 2005 PIAA Track & Field Championships. PennTrackXC.com interviewed all seven...
Caitlin Klaas, 12, Hatboro-Horsham
Craig Kipe, Coach, Hatboro-Horsham
4x800, 9:18.96 Prelims, 9:06.77 Finals, 1st
Kerry Swayne just after her hand-off to Caitlin Klaas.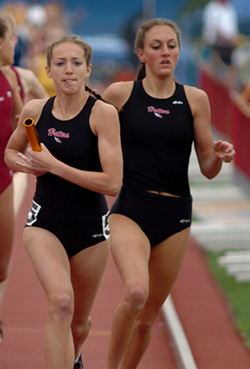 Splits provided by Coach Bob Ayton
5/27/2005 Trials 9:19.96
Brittany Gianotti 2:21
Meghan Rae 2:19.6
Kerry Swayne 2:18.3
Caitlin Klaas 2:19.2

5/28/2005 Finals 9:06.77
Theresa Gould 2:19.6
Meghan Rae 2:18.3
Kerry Swayne 2:14.8
Caitlin Klaas 2:13.8
They had won the AAA title in 2003 with then-sophomore Caitlin Klaas anchoring a come-from-behind win over Haverford Township. With Klaas sidelined in 2004 with mono, Haverford Township went on to win the state title. But at Hatboro-Horsham, they consider the 4x800 one of their strengths. So this year, they set out with a mission - reclaim the AAA title. But according to coach Craig Kipe, this season has been a lot more difficult than two years ago. They entered a new league, and with eight dual meets, the distance girls were exhausted. So his real challenge was keeping them rested while getting the speed workouts they needed.
Kipe also credits a change in philosophy for this year's success. That change meant moving people around from their customary spot in the lineup. "This year we put Theresa (Gould) from the 3rd leg to the lead-off. She is still learning pacing, and the lead-off gives her somebody to run with so she doesn't go out too hard. At Hatboro, we assign jobs. We're not looking for splits. Her job is to stay up front. And Megan's (Rae) job is to get us to the front, and Kerry's (Swayne) is to just run crazy, and that's the way she runs. And Caitlin's (Klaas) is to bring home the baton. Now we focus on the job. Last year we were focused on time. Theresa has done a great job of lead-off all year."
Tempted to try the old way, they changed it back for the Penn Relays. It didn't work. So it was back to what worked.
Klaas says she preferred getting the baton in the lead, unlike 2003, but that she never felt comfortable. "...the last 50 meters I knew they were coming on me. I never felt in control until after I came through the line. It is so much pressure, but when the crowd gets into it, it was a big rush."
Kipe says that seniors Klaas and Rae just can't be replaced. Their leadership not only won two state 4x800 titles, but they have passed the baton to the younger kids. "We ran a freshman (Brittany Gianotti) in Friday's Trials in the lead-off, and they kept her calm. She ran a PR (2:21), and now she knows what to do next year."

Rick Swanker, Coach, North Penn, retiring this year
North Penn's Cody Edling is edged by Conestoga Valley's Kip Horbal.


4x800, 2nd, 7:41.04, setting new North Penn School Record
Conestoga Valley, 1st 7:40.06

Sean Doyle, 12
Mike Pflueger, 12
Phil Wright, 11
Cody Edling, 12
"That was an amazing race. To get the school record and finish 2nd. That record team had Steve Craig and Dan Michaels. These guys this year worked hard, so they really deserve it. They all PRed. I really enjoy these guys. They surprise me every time they get on the track. With Conestoga Valley's 7:45 coming in, that was the first we heard of them. They're all tough kids, and they competed really well. You gotta give it to them."

Jeff Weiss, 12, McGuffey
3200: 9:08.77 1st AA and fastest of day
Jeff Weiss took the lead on the first lap.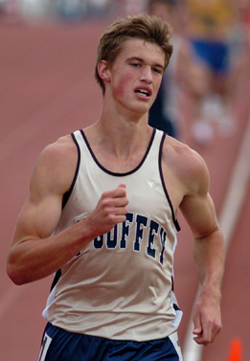 PIAA AA Cross Country state champ and Foot Locker Finalist Jeff Weiss came in with a goal, to break the AA State Record of 9:04.09 set by Chris Dugan of Southmoreland set in 1997, and to break nine minutes to become only the 4th PA prep to accomplish the feat. But a bit a wind and a lack of competition hurt the effort. He went out hard from the start, but over the final three laps, fell out of striking distance of the goal. "It was tough running my myself. The wind picked up and I was out there solo, but I'm not going to make any excuses. It's my PR, and I can't complain about that, but I wish I had gone a little faster."
As for the year: "Being state champion in cross, Foot Locker Finalist, track state champ. It was a heck of a year and a nice way to go out. I am looking forward to PSAC (Slippery Rock). The competition is better, you have to bring your A game to every meet, it's going to be fun."

Curtis Bixler, 11, Cumberland Valley
3200: 9:14.80, 1st
Curtis Bixler celebrates his first state championship.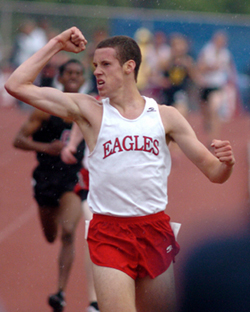 Junior Curtis Bixler didn't have any of the breathing problems of the prior few weeks which had been caused by allergies. The result was his first state championship, and a precursor to a possible repeat matchup in 2006 against 2nd place Keith Capeccci of Counciil Rock North (9:15.20). The way the race developed surprised even Bixler. Favorite Sam Luff, having a "off day", faded after the mile. That left the field wide open as Capecci took control entering the final lap and appeared to be on his way to the win. But Bixler had been practicing; without realizing it at the time; as during several races against Cedar Cliff's Pat Caulfield during the year, he and Caulfield had ended their races with furious sprints.
Bixler picks it up from there: "That was amazing. I didn't really think it would play out that way, but it definitely played into my hands because I have been used to kicking pretty hard with Pat all year. It prepared me really well for that. I was pretty scared. I was just waiting for him to come around me on the backstretch and just fly past me. But he had a tough race. I was concentrating on his (Capecci's) back from 200 meters. I figured if I came out the the Silver or Bronze, it's still really good."
Bixler also credits teammate and senior Jordan Shick (10th 9:33.88) with help during the season as a training partner and during the race itself. "I was boxed in at one point, and he let me out. He has been running great. He has improved so much. We have become good friends. It makes me feel so proud to see him improve so much, from 11 flat as a soph to 9:30 as a senior. He's an inspiration."
Miller has a sizeable lead at the 800.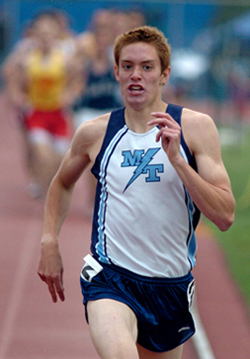 Craig Miller, 11, Manheim Township
1600: 4:11.98, 1st
Craig Miller is on another level. The competition knew it, so they let him go when he went out in :59.6, 2:00.8, and 3:02.1. He was not only going for his 4:09.33 PIAA record he set in 2004, he was testing his fitness for the upcoming Nike Outdoor Championships in three weeks. Speaking with Aaron Rich, Miller said he wanted to go out fast for a good time..."but I slowed down quite a bit. I will try to go through in 3:02 again at Nike, and hopefully have a faster last lap. I am hoping for better than 4:06." It should prove a more attainable goal with the competition level with him every step of the way.

Krista Simkins, 12, Wissahickon
200: 24.24 -1.0, 1st (24.10 Prelims and Semis)
100: 11.95 1.0, 3rd
4x400: 3:57.84 Finals, 5th (3:54.11 Trials)
Krista Simkins easily wins the 200.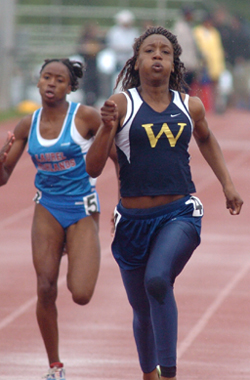 Wissahickon star Krista Simkins is aiming for the Nike meet in mid-June and Junior Nationals at the end of the month. But she still wanted to compete well at the PIAA state meet. Forgoing her best event, where she is US#2 in the 400, she ran the 100, 200 and 4x400's. Speaking with Aaron Rich after her last PIAA race, she seemed generally pleased with the meet. "My 100 wasn't that good, but I'm happy with it. And it's one of my best times of the season, so that still makes me pretty proud of what I did. It's not my best race. And my 200, I didn't run under 24, but I still ran well, despite the weather."
She will compete in the 200 at the Nike Outdoor Championships, and in the 400 at Junior Nationals.

OTHER INTERVIEWS FROM PIAA STATES
"I just kept thinking this is my last time here" - the stories of Smith, Krais and Kanuch @ States
Of Pitchers and Putters - the stories of Whiting, Osunde, Shump, Sparks @ PIAA States