Briggs on her approach in the Prelims.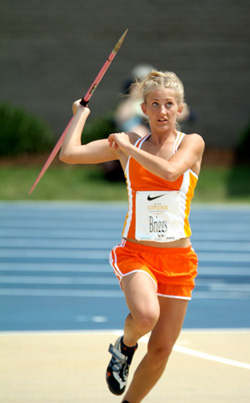 Meghan Briggs of Palmyra was the smallest competitor for the national championship in the Javelin. She looks like an 800 runner, but she knows she's a thrower. And the proof is in the title. Coming into the finals in 3rd place, she unleashed a throw of 132-08 to beat AA state champion Elisha Jones of Eisenhower by a foot. Jones had won the Penn Relays, and Briggs had finished second in the AAA competition. "It's a little depressing knowing that Elisha is feeling the same way I did at States, coming in the top seed and then having someone come from behind kind of gets you down, but at the same time, it's awesome to take second." Jones says she'll still be gong strong next year in her favorite sport, basketball, and be back at the Jav in the Spring. Also capturing a national title was Octorara's Ryan Fritz, who fought sun and heat to win on misses over PA rival Juan Cave of New Jersey (and Saint Joseph's Prep of the Philadelphia Catholic League.) "If I hadn't won it, I would have wanted to see him win it." Fritz was more than pleased with his senior campaign... "this is more than I could have envisioned. I could never have imagined winning nationals." He credits his surge this year to an ability to meet the challenge of the pressure... "The difference between this year and last year is I am rising to the occasion this year. I used to choke a little bit, but I'm finally breaking out of that." His clearance of 6-10.25 came after only one miss at the height, which was his first of the day. Also finishing first for PA was the West Catholic 4x400, going 3:45.31, a day after nearly beating their own US record with the 5th best-ever 1600 Sprint Medley Relay.
Fritz on a clearance at 6-08.25.

In addition to Jones and Cave, there were a quite a few top PA athletes who took 2nd on the final day of competition. Nicole Leach, the West Catholic star, came in a heavy favorite in the 400 Hurdles. And for much of the race, it appeared that form and seeding would hold, because coming off Hurdle 7, the lead was a few steps over junior Krystal Cantey of New Jersey. Leach admitted that she may have been a bit overconfident coming in, but had nothing but good things to say about her new-found rival. Her training had suffered a bit with the demands of graduation, and "just figured that I was so much stronger than the rest of the field... we'd be good." Leach said she will regroup for the national Juniors championship next weekend, and will do what she can to ensure her conditioning returns to Penn Relays' form. But a PR in this race, all while tripping as she sensed Cantey pulling to her side after the final hurdle, was still satisfying to Leach. "I heard the crowd yelling, and part of me thought it was because I was running a good time, but once I came over the last hurdle and I saw her, i tried to react quick, got caught up in my steps and started tripping. It was too late to react." How can I be mad? I gave my best and PRed."
Finishing two days of somewhat surprising and "disappointing" 2nd place showings was Central Dauphin's Ryan Whiting. His best event, the Shot Put, had seen his unbeaten streak come to an end the day before. But he would have had to PR by over three feet to take the Discus. He'll give it one more shot at Junior Nats, but with the Junior implements. His 196-10 for 2nd came on the first throw of the finals.
Miller at the front entering the final lap.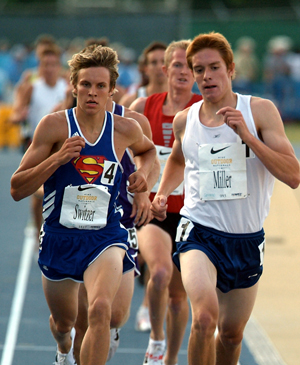 Craig Miller of Manheim Township came into the meet just looking to set a PR in the Mile. His time of 4:06.76 in 2004 at this meet had nearly set a US sophomore record. But at the State meet, he had gone out hard -- (59.6-2:00.8-3:02.1, saying he had simply "wanted a fast time" -- ending up with 4:11.98. "I guess I was a little worried" (coming into the Nike Meet). "It might have hurt me a little bit - psychologically." But he stuck to his plan for this race, at least for the first two laps, sitting in second to see what others would do. But on lap three, he accelerated, and opened the field starting the final lap. He was passed in the first 100 of lap four by Jeff See and Justin Switzer, and gapped about 10 meters entering turn three. But he fought back to regain contact, and passed Switzer on the final turn. At that point, See was gone, and Miller held on for 2nd and a 4:07.19. "I had wanted to run faster than last year." Miller says he will probably skip swimming between cross country and outdoor in his senior year, "to get a better base."
One of the more surprising 2nd place finishes by PA came from junior Carrington Queen of Chichester. Not surprising from a talent standpoint, but his season had not gone as well as expected through the state meet, missing the finals of the 110 Hurdles before coming back to win the 300 Hurdles.
Queen in Friday's prelims.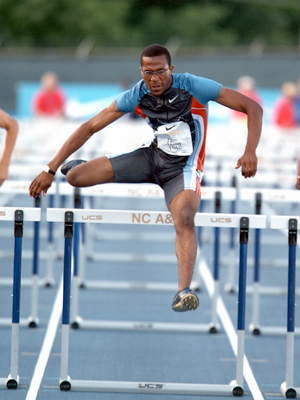 All he did in two days at NON was PR twice and nearly win a national championship, running 13.72 to nearly beat heavy favorite Jared Husek, losing by just .01. Queen had run a 13.91 in Friday's prelims. Queen credits his work on technique and starts between the meets with his improvement and obvious great result. He'll run this summer with his club team, PhatBack Athletics of Philadelphia.
Fighting a chronic injury in his left leg, Eric Sparks fought his way through some tough competition in the Pole Vault, clearing 15-10.50 on his final attempt at the height to take 5th place in the US. He'll take his talents to Purdue in the fall, where he confirmed he will reunite with former teammate Andrew Rademacher, who is transferring from the University of Arizona.
State 100 Hurdles Champion Chanel Williams of Plymouth-Whitemarsh, recovered from the injury that she had overcome three weeks earlier, overcame same-day travel and competition on Friday in which she moved onto the Saturday's finals, and then produced a PR 14.13 in a great race, finishing 4th in the US. West Catholic's Nia Ali, in the lane next to Williams, finished 7th in 14.61.
Smith competes in the Long Jump,
earning her third all-American certificate with a 4th place finish.

After a 2nd and 3rd in the High Jump and Triple Jump, respectively, on Friday, Nicole Smith of McDowell added a third all-American certificate to her career honors with 4th place wind-legal 19-02.75 Long Jump. She had entered the finals in 7th place, and on her first jump, landed the one that got her her third medal of the meet. Smith, who is bound for the storied University of Arkansas program, says there are others coming up behind her that will continue the great McDowell legacy... "We have a little prodigy in the works. She's a junior, and she's a volleyball player. And there's a freshman. She just reminds me of myself when I was a freshman. Real skinny. Real lean. And both of those girls have been watching me. But I'm always going to come back. I'll be more than happy to help them."
Freshman Karen Shump of Penncrest finished her nearly flawless freshman campaign with a 5th place all--American performance in the Shot Put, using her final throw to get a a mark of 44-04.25. "I was seeded 6th coming into this, and I came out 5th, so that's not too bad. It's just been an awesome year."
A day after winning the 4x200 in what is probably PA's best-ever 4x200 of 1:25.93, the Bulldog Striders, more commonly known as Simon Gratz HS, took 7th in the 4x100 finals in 41.96 (41.64 Trials), and 8th in the 4x400, going 3:19.14. In that 4x400, Khaliff Featherstone split 47.3 on the 3rd leg, with Kevin Talley going 47.7 on the anchor.
Leach clearing the 8th hurdle, leading.
Eventual champ Cantey's hand can be seen to the left.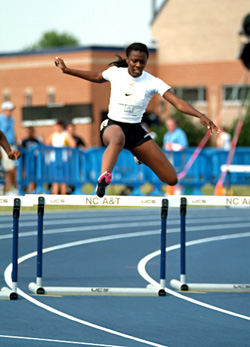 In the 4xMile, Cedar Cliff's distance corps ended a great senior season by finishing 7th in their heat, but 9th overall after two teams in the 2nd heat eclipsed their time of 18:01.02. Cardinal O'Hara finished 11 in 18:05.97. Senior Pat Caulfield, headed to Iona College, was more pleased with their performance than at the Nike Team Nationals in cross. "We did a lot better this time on the national level. There are some guys coming up (at Cedar Cliff) who could get back here and do better than we did, I hope." And fellow senior and Penn State-bound Tim Johnson will miss the team aspect as much as anything. "This group of guys are like my brothers. I don't have any brothers or sisters at home, so these are the guys I wanted to be with all the time. It's going to be a tough adjustment without them. It's been a great ride." And Camp Hill junior Adam Smith, a late entry, posted the fastest 800 time by a PA boy this season with a 14th place 1:53.15.

Below are Saturday's PA performances.
GIRLS
200
Prelims
9 Krista Simkins 05 Ambler, PA 24.30 -1.1 8
36 Simone Carter 07 yeadon, PA 25.66 -0.7 7
40 Jasmine Russ 07 phila, PA 26.12 -0.7 7
800
11 Liz Costello 06 Strafford, PA 2:12.30 4
14 Latavia Thomas 06 phila, PA 2:14.46 5
28 Sarah Morrison 07 Chambersburg, PA 2:16.71 2 14 Adam Smith Tri-City Relays 1:53.15
Chanel Williams and Nia Ali prepare at the start of the 100 Hurdles finals.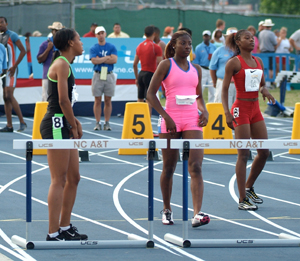 Freshman Mile
9 Casey Miller 08 Lewisburg, PA 5:11.01
100 Hurdles
Finals
4 Chanel Williams 05 Conshohocken, PA 14.13 1.2
7 Nia Ali 06 Philadelphia, PA 14.61 1.2
400 Hurdles
2 Nicole Leach 05 Philadelphia, PA 57.26
4x100
Prelims
17 Cardinal O'Hara Hs-Girls 'A' 49.64 3
4x400
1 West Catholic 'A' 3:45.3
14 Irish Road TC 'A' 3:59.27
15 Cardinal O'Hara Hs-Girls 'A' 3:59.36
4xMile
15 Cardinal O'Hara Hs-Girls 'A' 21:49.33
Latavia Thomas hands off to Christiana Taylor in the winning 4x400.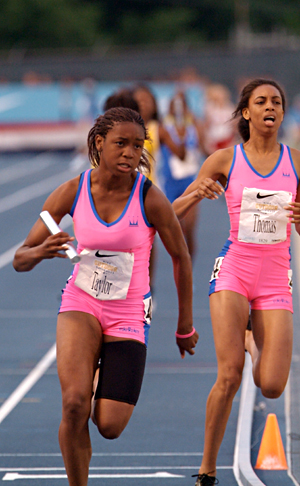 Long Jump
4 Nicole Smith 05 Erie, PA 5.86m 1.1 19-02.75 5.65m(1.3) 5.58m(1.3) 5.50m(1.9) 5.86m(1.1) 5.66m(2.7) 5.74m(2.7)
14 Brianna Liebold 06 Houston, PA 5.33m 1.4 17-06.00
5.20m(-1.2) 5.33m(1.4) 5.19m(-1.7)
Shot Put
5 Karen Shump 08 Media, PA 13.52m 44-04.25
12.71m 13.40m 13.27m 13.24m FOUL 13.52m
8 Allyn Laughlin 06 Monaca, PA 13.00m 42-08.00
FOUL FOUL 13.00m 11.67m 12.57m 12.64m
17 Samantha Fetter 06 Darragh, PA 12.19m 40-00.00
FOUL 11.97m 12.19m
22 Amy Backel 05 Dillsburg, PA 11.82m 38-09.50
11.27m 11.82m 11.59m
Javelin
1 Meghan Briggs 05 Palmyra, PA 40.43m 132-08
32.92m 40.43m FOUL 36.92m 34.62m 38.43m
2 Elisha Jones 07 Russell, PA 40.14m 131-08
38.10m 37.88m 38.58m 40.14m 34.43m 36.38m
Hammer
-- Caitlyn Green 06 Harrisburg, PA FOUL
FOUL FOUL FOUL
BOYS
Mile
2 Craig Miller 06 Lancaster, PA 4:07.19
28 Sean Mahoney 06 Wayne, PA 4:31.38
Eric Sparks.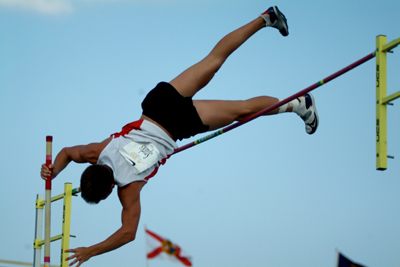 Freshman Mile
22 Max Kaulbach 08 Philadelphia, PA 4:39.69
26 Andrew Golato 08 Springfield, PA 4:44.13
2000 Steelechase
13 Curtis Bixler 06 Mechanicsburg, PA 6:17.00
110 Hurdles
Finals
2 Carrington Queen 06 Boothwyn, PA 13.72) 1.4
4x100
Finals
7 Bulldog Striders TC 'A' 41.96
4x400
8 Bulldog Striders TC 'A' 3:19.14 2
13 Central Penn TC 'A' 3:22.02 2
Whiting watches his 2nd place throw in the Discus.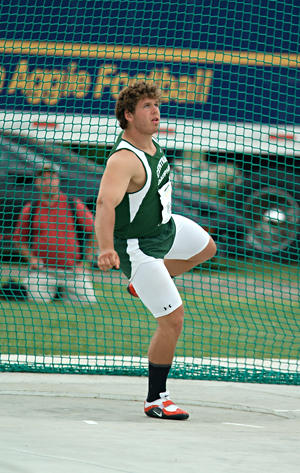 4xMile
7 West Shore Gish 'A' 18:01.02
1) Mike Fulton 05 2) Corey Creek 06
3) Justin Keller 06 4) Pat Caulfield 05
9 Cardinal O'Hara Hs-Boys 'A' 18:05.97
1) Greg Thomas 06 2) Matt Willard 06
3) Charlie McNulty 06 4) Matt Van Thuyne 05
DMR
23 Cardinal O'Hara Hs-Boys 'A' 10:33.80
High Jump
1 Ryan Fritz 05 Parkesburg, PA 2.09m 6-10.25
1.94 1.99 2.04 2.09 2.14
O O O XO XXX
2 Juan Cave 05 Voorhees, NJ 2.09m 6-10.25
1.94 1.99 2.04 2.09 2.14
O O XO XXO XXX
Pole Vault
5 Eric Sparks 05 hermitage, PA 4.84m 15-10.50
4.44 4.59 4.74 4.84 4.94
P XXO O XXO XXX
Ron Walter, DNS
Discus
2 Ryan Whiting 05 Harrisburg, PA 59.51m 195-03
58.50m 58.37m 58.65m 59.51m 58.96m 56.53m
14 Matthew Thielemann 06 Mechanicsburg, PA 49.40m 162-01
49.40m FOUL FOUL
Girls 400 Meter Midget
3 Camille Griggs 99 Philadelphia, PA 1:04.95
Girls 800 Meter Midget
2 Camille Griggs 99 Philadelphia, PA 2:44.06