Select race photos below by Ryan Comstock. Photo Gallery link to the right.
There were puddles, muddy hillsides, falling runners, and finally... a flat track with some traction to welcome the soaked runners from their 3 mile trek over the William Tennent HS campus. The rain and conditions didn't slow Liz Costello or Tom Mooney as much as you'd think...
For many, the track finish was probably a welcome site at the rain-soaked William Tennent Invitational. Led by Tom Mooney's 15:54 win, Council Rock placed three runners in the top 15 and then held on to edge Downingtown West by just two, and Holy Ghost Prep by three on the slippery, be-puddled course. Souderton took 2nd and 3rd as Andrew Holloway and Rom Robertson chased Mooney through the latter stages of the race. They would both break 16:25 on the 3.0 mile layout. In the girls race, Liz Costello continued her winning streak, going 18:13. Teammate Hannah Kligman was 2nd at 18:40. But then it was the St. Basil Show from 3rd through 5th by Kathleen Davies, Colleen Gilmore and Christina Morelli. Their 4th and 5th slid home to keep the score at 68. Downingtown East was 2nd with 82.
Slippin' and slidin' at the William Tennent Invitational.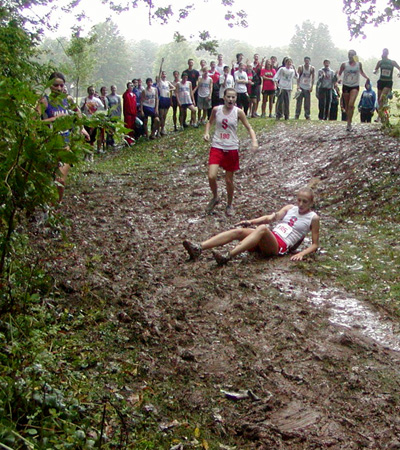 Liz Costello at the finish.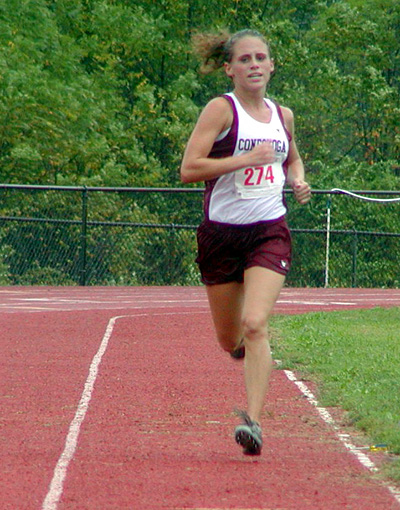 The winning St. Basil assault.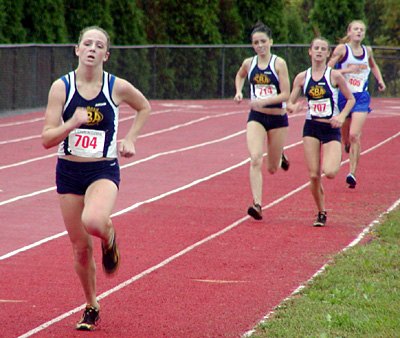 Mooney leading the two Souderton runners, Holloway and Robertson.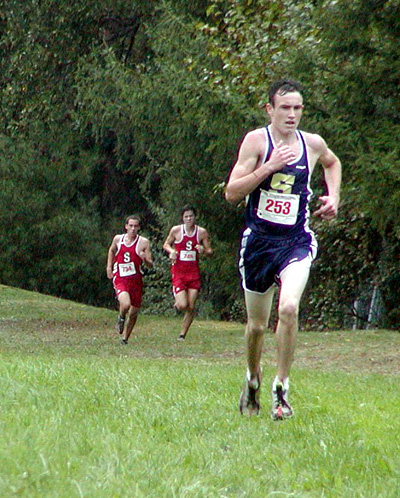 It was wet everywhere...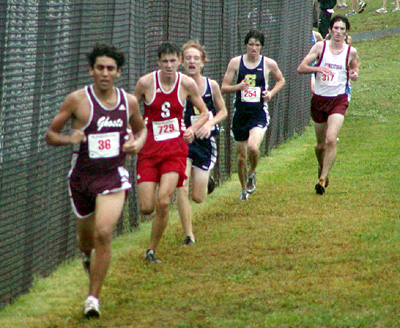 ...so why not just go right through that small pond?