District 1 Championships Photo Gallery
District 1 photos by Jerry Bekaert
Henderson used an old strategy for winning a district title. Start with three guys in the top eight. Even better, make sure you get first and second. Coatesville had six in before Henderson's fifth, but they lost by double the score Henderson had beaten them a week before at their league meet - two points. North Penn, Council Rock North and Hatboro Horsham rounded out the top five. Following their inclination not to race each other until it counts (that would be at States), Greg Williams motioned for Ian Gottesfeld to cross the line first. Both were timed in 15:27. Upper Dublin's Matt Lawson continued his incredible senior campaign, getting 3rd ten seconds back. But his few points weren't enough to help his team punch a ticket to States. Hatboro-Horsham scored under 100 (91) to be exact, to totally dominate the District. The two freshman stars, Kerry Swayne(3rd in 18:40) and Brittany Sullivan (13th in 19:10) led soph Theresa Gould (17th in 19:16), soph Jen O'Neill (22nd in 19:18), and junior Caitlin Klaas (41st in 19:46) across the line. Henderson held off Unionville by a point for 2nd. Unionville was led by District champ Katie Thaeder, who went 18:10 to beat CB West freshman Liz Kearins by ten seconds. North Penn was 4th, and Haverford took the last States slot again, by just two points over Downingtown. In Boys AA, Devon Prep took the first three spots behind a 17:12 by sophomore Alex Kondracki, tallying just 37 points. Gwynedd Mercy and St. Basil battled the who way, getting six across before Basil's fifth to win by just two. Monarch junior Kate Vernon won in 18:34. St. Basil's Lynn Morelli was 2nd, six seconds back.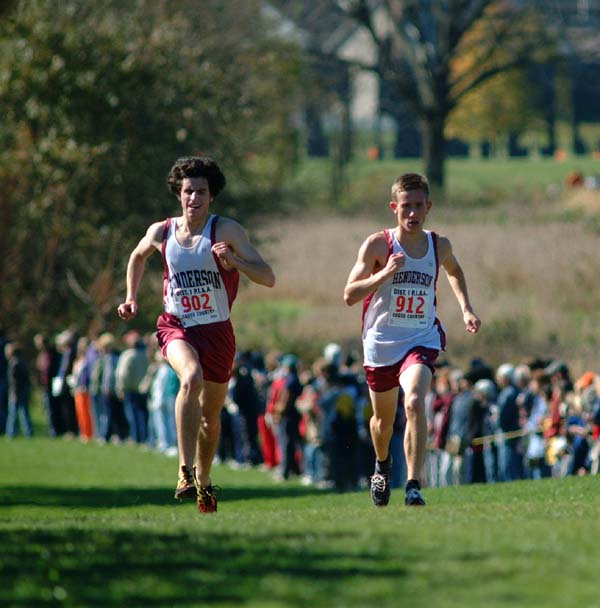 Ian Gottesfeld and Greg Williams gave D1 Champ Henderson a 3-point start with their duel 15:27's.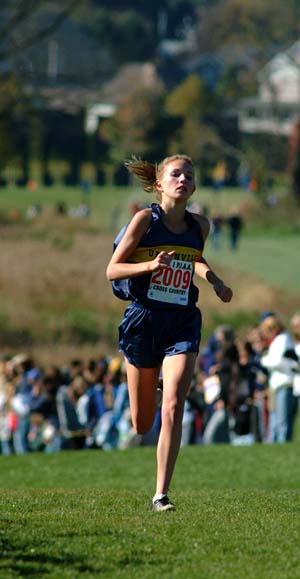 Katie Thaeder, Unionville, posted the fasted time of the season at Lehigh, 18:09.