Illness and inexperience hurt PA's harriers on Vanny's unforgiving course"
Koons: "I didn't even look around to see who was here."
PA's Class competitors fared well
Northeast Foot Lockers Seeded Girls race photos
Northeast Foot Lockers Seeded Boys race photos
Northeast Foot Lockers Non-seeded race photos
Frances Koons set her expectations high this season, did the work necessary to have the opportunity to do great things, delivered some early, promising performances, faced mounting expectations because of her success, and today, ignored all the pressure and delivered her best race of the year - a 5th place at the Foot Locker Northeast Regional Championships. The effort earned her a free trip to San Diego in two weeks to face 31 other talented harriers in this the 25th year of "the nation's only true high school championship."
The PA boys did not fare as well. Amid a season of course records, strong showings against national competition, and mounting expectations, what is most definitely one of our best senior classes in many years, failed to get one spot in the top eight. Or more precisely, the guys ahead of them ran very, very well. The closest competitor was David Mock of Westmont Hilltop, who performed consistently well in every race he entered this fall. Mock was still in the hunt with 1000 meters to go, but ran out of real estate against a great Northeast contingent. Mount Lebanon's James O'Toole felt he had too much left in a race that leaves most feeling the exact opposite, finishing 16th. His advice to future PA runners who race at Van Cortlandt is to get the experience before putting it all on the line in your senior year.
Running third for PA in 19th was 2002 Foot Locker Finaliist Ian Gottesfeld of Henderson. Gottesfeld fought off a fever early in the week and inclinations to call it a season "because he didn't want to wake up Saturday, feel better, and regret it." Although his health was somewhat better, the last minute setback took its toll and cost him a return trip to San Diego. Two places back was North Hills' senior Ian Fitzgerald, while O'Hara's Steve Hallinan was 25th. O'Hara coach Tom Kennedy said Hallinan gave everything he had in the woods, "and wasn't able to make any moves." Gottesfeld teammate Greg Williams missed the entire week due to illness, and did not race. As a team, the boys finished 4th.
Kate Papenberg of Red Lion, who was 14th in 2002 in this race, stayed in contact with the front runners, finishing 16th to earn 2nd team All-Northeast. Rounding out the scoring for PA's 4th place showing were Chambersburg senior Kylee Schuler, 30th, Hatboro-Horsham frosh Kerry Swayne, 43rd, and General McLane sophomore Lindsay Petri, 45st.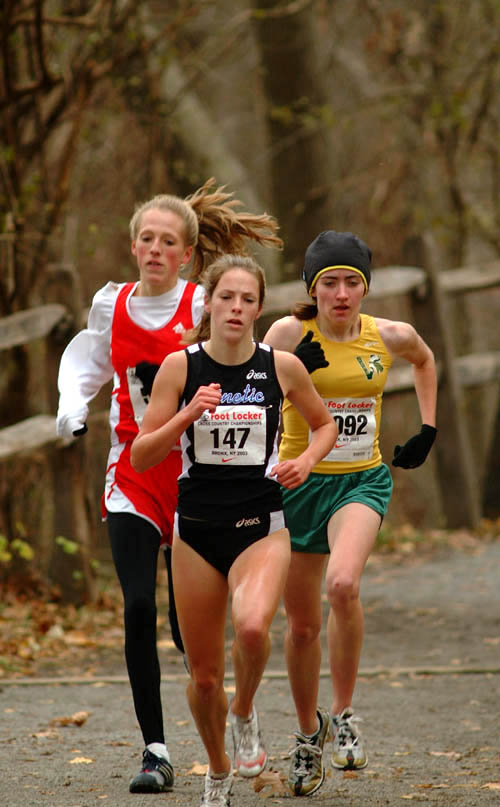 Eventual champ Nicole Blood leads Frances Koons (right) and Lindsay Donaldson at 1.25 miles at the top of 'Freshman Hill.'