Amy Kelly, Frances Koons, and Steve Hallinan made their cases for inviitations to the prestigious Millrose Mile with top finishes in the Invitational Miles. Kelly, of St. Hubert's, was 2nd to Maryland's freshman sensation Devon Williams, who won in 4:50.76. Kelly's 4:52.68 is the best in PA this season, while Koons, of Allentown Central Catholic, was 3rd in 4:55.13.
Michael Wray, Central (left) in the 55 Dash, nearly stride-for-stride with Jason Richardson of Texas, who won in a US #1 time of 7.45. Photo by Dyestat.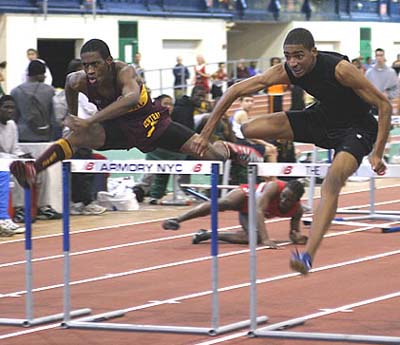 John Jay Fishkill NY sr Hakon Devries burned the last quarter in 61.1 to take the Millrose Games qualifier spot in 4:14.36. Cardinal O'Hara's Steve Hallinan was a strong 2nd in 4:16.60.
West Catholic's Latavia Thomas posted the top US time in the 800, going 2:10.35, a meet record. Teammate Nicole Leach was 2nd in the 400 in 54.35.
Angela Wells, of Simon Gratz, also set a meet record, long-jumping 19', 2nd in the US this season. She also help teammates Sabrina Shaw, Lacole Fields and Jabria Wallace run a wire-to-wire win in the 4x200 in 1:43.66. Wells was names the meets Outstanding Female Field Athlete.
And after the near miss at William Reed's US Indoor 400 record last year, Newburgh NY sr Elzie Coleman trounced a crack field to break the legendary Reed's 1986 record of 46.84, going 46.58.
PA Entry List for Hispanic Games