PTFCA Indoor Track Carnival Girls Action Pix
PTFCA Indoor Track Carnival Boys Action Pix
PTFCA Track Carnival Photo Gallery Part One
PTFCA Track Carnival Photo Gallery Part Two
Krista Simkins just before taking first in to win the 4x200 in 1:45.61 with a 24.1 split.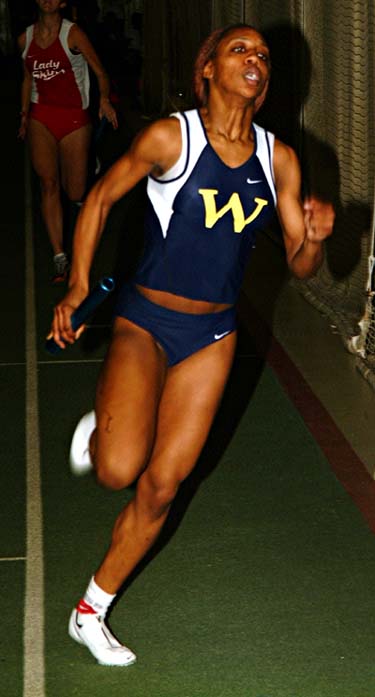 What a meet for Krista Simkins and Wissahickon, a team that must be considered for a chance at the state championships. Simkins posted a 24.69 200 (a new meet record), offered a 24.1 come-from-behind split to win the 4x200 in 1:45.61, and contributed to the 4:02.62 4x400 win. Angela Wells of Simon Gratz unleashed the US#2 Long Jump, a 19-05.50, and a new meet record. Harrisburg's Brianna Flagg took the top spot in PA with a Shot Put of 43-04. The boys were no less spectacular, as Mike Wray of Central posted a US#6 8.03 60 Hurdles (new meet record) after an 8.11 in the trials. Bensalem's LaMonte Louis also had a great day, going 50.13 in the 400 and anchoring the 4x200 to a 1:32.46 win.
In other action, Brianna Flagg of Harrisburg had a battle with Coatesville Junior Tayvon Gray in the Shot Put, with both over 40'. Flagg has a new PA #1 and US#3 at 43-4, while Gray threw 40-05.50. Jannea Bridgeford, Upper Darby, took over US#4 in the 60 Dash at 7.61, a new meet record. Wilson's Shawn Smith set a meet record in the Long Jump, going 22-6. And Central Dauphin's Ryan Whiting set a meet record in the Shot Put, with a throw of 60-1. And the boys 800 had four guys within a second, with Central's Mike Syrnick going 1:59.23, holding off Matt Gould, Hatboro Horsham (1:59.43), Eric Bowles, Upper Dublin, 3rd in 1:59.73, and North Penn's Haibo Lu, 4th in 1:59.87.
Dyestat and PennTrackXC Elite performances
Krista Simkins NMR Wiss 24.69** 24.1 split
Wissahickon 1:45.61**
Simon Gratz 1:45.74**
Upper Darby 1:47.02**
Wissahickon 4:02.62
Angela Wells NMR Gratz 19'5 _
Jordan Teuber Narzareth 18'1 _
Jennessa Murphy Great Vall 18'1
Nicole Kulp Tennent 17'8 _
Sotonye Imaddjemu C.dolph 17'6 _
Brianna Flagg Harrisburg 43'4"**
Tayvon Gray Coateville 46'5 _"**
Allyn Laughlin Center 39'9"**
Holly Travos Cumberland Valley 37' 6 _"
Jen Andren Chambersberg 37'1/2"
Jannea Bridgeford UDA NMR 7.61**
Janessa Murphy GV 7.78**
Angela Wells SG 7.88
Sabrina Shaw SG 9.15**
Abigail Johnson Milt-H 57.99**
Rebecca Auritt SH 59.23
Katie Orchowski USC 59.36
Angela Wells, Simon Gratz, with her coach, Robert Massie. Wells set a meet record with her US#2 19-05.50 LJ.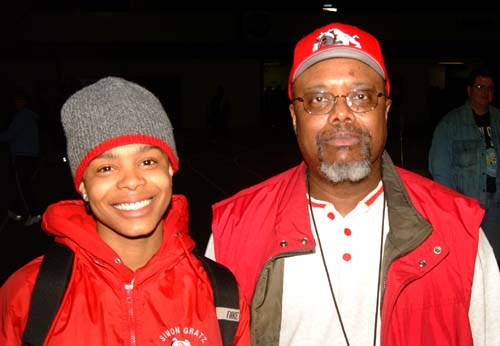 Jaleeca Jacobs BOD 2:17.97**
Melissa Ferry WCH 2:19.50**
Maressa Pinzini CHEL 2:19.70**
Nicole Murphy HH 2:20.67
Kate Vernon Gwyn 5:12.17**
Sarah Roberts Perk 5:14.51**
Jessica Cickay CRN 5:17.04
Adriene Beltz HAM 10:18.78**
Lynn Morelli St Basil 10:31.9**
Kylee Schuler CHAMBS 10:35.33
Natalie Miller Boyer 5'6"**
Amy Backel Northern 5'3"
North Penn 9:39.49**
Courtney Regan Easton 10'6"
Mike Wray NMR CENT 8.03**
Nate Tussey Boyertown 8.23**
Mike Anderson PENN C 8.46
Ozzie Brown Ply Whi Mar 8.49
LaMonte Louis Ben 50.13**
Cowin Mills AB 50.30
Bensalem 1:32.46** (LaMonte)
WC Henderson 1:32.56**
Glen Mills 1:32.95**
Pennsbury 1:33.46
Quenton Boyer PHX 7.00**
Andy McCloskey PNC 7.07
Kervin Michaud PB 7.10
Mike Syrnick Cent 1:59.23**
Matt Gould HH 1:59.43**
Greg Williams WCH 4:22.07**
Ryan Whiting NMR CEN-D 60'1"**
Steve Tyson UP-MER 56'3"**
Rob Rankin UP-StC 55'11 _"**
Jim Casertano N-PENN 51'11"
Shawn Smith Wilson 22'6"**
North Penn 8:10.27**
Brandon Carter B-Cath 22.4
Tracy Robinson WCH 22.4
Brian Cullin E Stroud 9:02.21
Brian Dodds Wilson 14'
Pennsurry 3:29.62
Bensalem 3:29.80