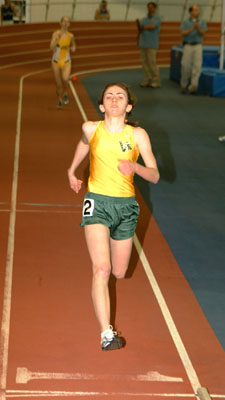 Amy Kelly gave Frances Koons (left) all she could handle in the Mile and 3000. Here Koons finishes the Mile in 4:53.18. Kelly was 2nd in 4:58.34.
If it wasn't for the remarkable Mile-3000 double by Allentown Central Catholic's Frances Koons with one meet record and a near-miss in the other, the two individual and two relay state titles by West Catholic's Nicole Leach would have stood alone as the best of the meet. But Koons got the nod as Female Athlete of the Meet, while Leach got her four titles and the state team crown. Koons moves on to Villanova (yes, she has made a verbal commitment), while Leach returns to chase state records and probably much more in her senior year. Not to be lost in this is Latavia Thomas' US #1 800 of 2:08.47, breaking 24-year-old record of Upper Dublin's Kim Gallagher, 2:09.5h.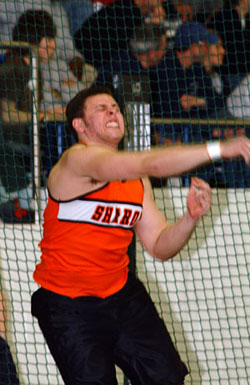 Auston Papay of Sharon (right) broke his own state record he set earlier this indoor with a Shot Put of 66-00.25.
There were performances that will make the national all-time lists, more state records and lots of meet records. The all-time marks come from the boys' Shot Put and the 60 Hurdles. Auston Papay of Sharon unleashed a Meet Record 66-00.25 that upped his own indoor state record set earlier this season. The record had been set last year by Glen Mills' Tyree Suber. Papay shared the Male Athlete of the Meet honors another state-record setter, Andrew Rademacher of Hickory, who set his indoor mark for the 3rd time this season, clearing 16-03 in the Pole Vault. Rademacher has one good look at 17. Also setting a state record and joining Papay on the US all-time list is Mike Wray, the Central (Philly)) hurdler, who tied the Meet Record (Dior Lowry, Martin Luther King, 2003) of 8.05 in the Prelims, then posted a Semi of 7.89 and finals of 7.86.
Not to be outdone, the girls set one State Record of their own, and tied another. They also offered five new Meet Records. West Catholic sophomore Latavia Thomas broke the 24-year-old State Record of the legendary Kim Gallagher of Upper Dublin, who had run 2:09.5h in 1980. Thomas' mark of 2:08.47 was achieved with a partially tactical race that Thomas broke open for a final 200 sprint to the line. And sophomore Pole-Vaulter Lindsay Regan of Easton continued her assault on the state record books, tying the 12-6 State Indoor mark set by McDowell's Emily Tharpe in 2001.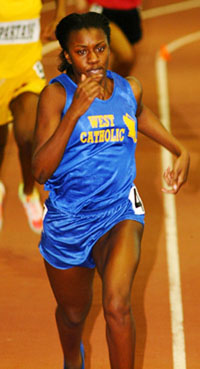 Nicole Leach (left) takes the 400 in 54.52. She also added the 200 in 24.15 and the 4x200 4x400 titles.
Koons began her day matched with fellow Millrose Mile competitor Amy Kelly of St. Hubert's. Both planned to double, and a lot wondered if the two stellar athletes could maintain their high standards in the two longest events. They merely went one-two in both, with Koons breaking the meet record held by three-time Foot Locker Finalist Lynne Strauss of State College with her 4:53.18. Kelly also nearly broke the 4:55.2 mark with here 4:58.34 2nd. A few hours later the two were back on the track, and if their fellow competitors thought it would be somewhat tactical because of the double attempt, they soon discovered that it was just a flat-out race. Koons took off from the gun and had the field in single file by two laps. Kelly challenged her the whole way, with Hamburg's Adrienne Beltz and St. Basil's Lynn Morelli right up front. With several laps remaining, and Koons with a gap on the three, Morelli staged a rally and tailed Koons for a few turns. Kelly then rallied and pulled up on the leader's heels, only to be outsprinted over the final 200. Koons' winning 9:57.24 was less than two seconds off the Meet Record, with Kelly just over a half-second back.
One other meet record was set and one tied in the short sprints. Upper Darby's Jannea Bridgeford tied Kennett hurdler Jakki Bailey's 2002 meet record in the 60 dash with a 7.52. In the 60 Hurdles, Valley's Mycaiah Clemons broke the four-year-old meet record of 8.83 which had been set in 2000 by Central Dauphin East's Hyleas Fountain. Her 8.67 was .16 better.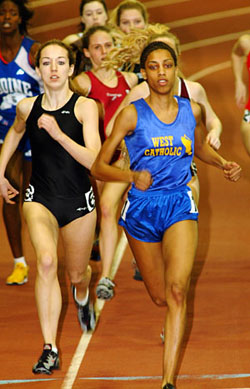 Latavia Thomas (right) ran the top 800 in the country (2:08.47), and in the process broke the state record of Upper Dublin's Kim Gallagher (2:09.5h).
And even with a tiring Caitlin Klaas, who had finished 2nd in the open 800 in 2:15.02, the Hatboro-Horsham girls withstood a determined challenge from defending Meet Record holders Gwynedd-Mercy (9:13.26), in setting a new mark of 9:11.48.
Leading West Catholic with her two individual and two relay wins was Nicole Leach. Her 24.15 and 54.52 were a combined .59 off the existing meet records, and the winning 1:41.73 was just .64 off a meet mark, while the 3:52.92 was 1.52 seconds shy. Leach was the leadoff in the 4x200, and anchored the 4.400. Leach was joined in the 4x200 by Thomas, Kneshia Sheard and Erica Ferguson; and Cierra Lawson ran the 4x400, replacing Ferguson.
In the Shot Put, Tavron Gray, Coatesville, won her first state title with a throw of 41-7.25. Nicole Smith, McDowell, cleared 5-7 to take the High Jump. Angela Wells won the Long Jump with a leap of 17-10.25, while in the Triple Jump, Wissahickon's Alex Baptise went 37-10.25 for the state title.
West Catholic won the team title with 54 points, getting two relay firsts and three individual championships. Simon Gratz was 2nd, with Wissahickon 3rd.
In addition to the new state records set by Papay and Rademacher, plus the three-race series where Wray broke the Meet Record three times in the 60 Hurdles, there were some great performances by the guys.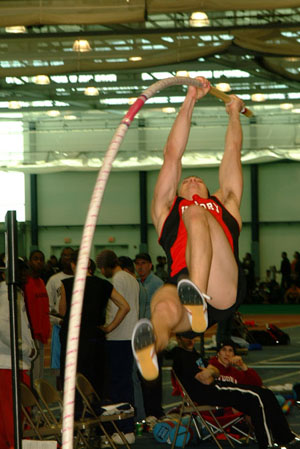 Up and up and up for Andrew Rademacher of Hickory (left) this season. He set the PA Indoor State Record of 16-1 in January, then broke it a week before States with a 16-2, before raising the bar to 16-3 in the Championship meet.
Bonner repeated as state indoor 4x800 champs, using a final sprint to hold off Archbishop Carroll by .48 in 7:58.27. LaSalle was 3rd in 8:00.27. Just as in the girls' distance events, there were athletes who attempted the Mile-3000 double, but with slightly different results. Chris Spooner, Lewisburg, took off with two laps to go and won the Mile in 4:15.28. He was challenged late by Carroll's Mike Tilger, 3rd in 4:17.91, and Greg Williams, Henderson, 2nd in 4:16.98. Spooner also helped his team's 4x800 get 4th from the 'slow' heat in 8:02.28. Williams did double, and won the 3000 pulling away, going 8:43.72. O'Hara's Steve Hallinan continues to return to form after a mid-indoor-season injury, rallying for 2nd in the 3k in 8:49.72. Highlands' Tom Slosky pushed the pace during the middle, and held on for 3rd in 8:50.59. Hallinan was 5th in the Mile. The boys' 800 was down to the wire, with LaSalle's Joe Fedorowicz holding off Central's Mike Syrnick by .43 in 1:55.47. Bobby Staten, Bethel Park, captured the 60 in 6.89, with Brandon Carter, Bethlehem Central Catholic taking the 200 in 22.15.
The 400 showed that you can't take the 'hot' heat seeding for granted. Apparently you can't even take the 'next-to'hot-heat' seeding for granted, either. Parkland's Steve Stern posted a 50.28 in the 2nd of four heats, and it withstood two more races better seeds to give him the state title. The best time in the 'hot' heat actually finished 6th overall. Juan Cave, the St. Jospeph's Prep junior, matched his season best of 6-10, winning the High Jump.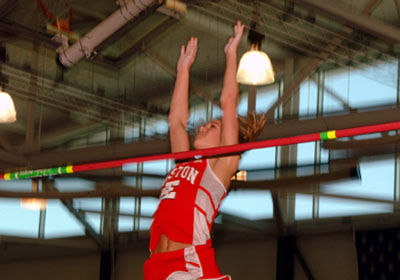 Easton soph Lindsay Regan (right) nearly clears a sophomore class record of 13-0.50, clipping the bar on the way down. She broke the meet record of 12-4 and tied Emily Tharpe's indoor PA record of 12-6.
Bensalem won the team title behind an individual win for John Thompson in the Triple Jump (45-10.75); a relay win in the 4x200 in 1:30.26; a relay 2nd in the 4x400 in 3:21.02; an individual 3rd in the 400, Reggie Carter, 50.43; and 3rd and 4th place finishes in the 200, Thompson in 22.23, and LaMonte Louis, 4th in 22.25. Penn Hills' Aaron Taliaferry was 2nd in the Triple Jump (45-00.25), with North Penn's Dan Jacques 3rd (44-11.75). Steve Slaton, Conwell-Egan, won the Long Jump (22-7.25) and was 4th in the 60 in 6.97 seconds. Shawn Smith, Wilson, leapt 22-4.50 for 2nd in the Long Jump. Trailing Bensalem in the 4x200 was Henderson in 1:30.33; and beating them in the 400 was Glen Mills, 3:20.74. Henderson finished 2nd in the team competiton.
Note: These are just some of the pages that will be subscription-only beginning March 15th. For info, and to subscribe, visit our Pre-Subscription Sale Page.
Photos are in a gallery format for the PTFCA Indoor State Champs @ Penn State University
FREE photos of PennTrackXC coverage via E-mail for all PennTrackXC Members ($5.00 if sent via CD)
Photos of PennTrackXC coverage via E-mail or by CD @ $5.00/photo for all PennTrackXC Subscribers (Non-subscribers are $7.50/photo e-mail, $10.00/photo by CD)
Athlete quotes from three of the four
State Indoor record-setters from the 2/28 Championships
PTFCA Indoor State Championships Top Teams Pix
PTFCA Indoor State Championships Field Champs Pix
PTFCA Indoor State Championships Track Champs Pix
PTFCA Indoor State Championships Girls Relay Action Pix
PTFCA Indoor State Championships Boys Relay Action Pix
PTFCA Indoor State Championships Girls Distance Action Pix
PTFCA Indoor State Championships Boys Distance Action Pix
PTFCA Indoor State Championships Field Action Pix
PTFCA Indoor State Championships Sprints Action Pix
Photo Gallery of 2/28 PTFCA Indoor State Champs, Part One
Photo Gallery of 2/28 PTFCA Indoor State Champs, Part Two