Five Goals. One Dream. The Cedar Cliff boys season in their own words.
Author's Note: This is by no means a comprehensive resource to our season. These are simply some thoughts I share thinking back. -- Pat Caulfield, December 2004
Summer Training
Ordinarily, summer training is a transitional period that requires a slow buildup—in quality as well as quantity of miles. However, this was not exactly the case for us this year. We jumped up very quickly, starting around 40 miles a week and peaking with several weeks at 100 miles. Without having my log, I felt that we averaged about 80 miles a week this summer. The days were long: morning practice at 8, rest, evening practice at 6. I remember doing several long runs on the Appalachian Trail that lasted two hours. The summer was tough, but it made us tough. We trained in North Carolina on the Great American course—a workout that echoed in my head throughout the actual race day. As the season grew nearer, we only increased intensity. I remember clearly the dreaded 3 by mile workouts on Friday. These were my favorite repeat workouts that gave me the confidence to go out hard during the season.
Caulfield finishing at the 2004 PIAA state finals.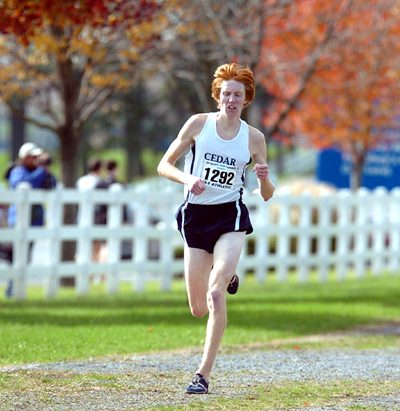 As far as goals go, our team expectations couldn't have been more concrete. 5 goals: undefeated in dual meets, top three in NC, conference champions, district champions, state champions.
Personally, I set specific place goals nearly every big race. For better or worse, I finished within two places of every personal goal I set for myself. For example:
Goal Reality
NC 15 14
Districts 2 3
States 5 7
I learned a lot from this. Coach Roseberry is completely responsible for making me realize that specific individual goals are mandatory.
Early Season
As I said before, this year was different than any other. In order to get into the Nike Race of Champions in North Carolina, we would need to show that we were fast. Circumstantially, that meant running some of our fastest races early in the season. Meets that normally served as benchmarks to gauge our summer training became crucial. One such meet was the Gettysburg Invite, our first big race.
I felt it was important to get out hard. I remember hitting the two-mile mark under ten minutes. What better way than to follow the Millers. Personally, these two did all the work for me that race. I simply followed them until I couldn't keep up anymore. I thought our team did well.
Carlisle Invite
Although the details of this race escape my memory, I found myself running with the Millers for the second time out of many this season. The team performance was solid enough for a victory. Coatesville would only get stronger.
Great American
From 2003 to 2004, Roseberry spent alot of time preparing us for this race. We had run there before and trained on the course during the summer. However, nothing could prepare me for the magnitude of the race. Having shot for top three, winning this race was an amazing accomplishment for our team. Personally, I was satisfied with my finish, but felt I lost focus in the middle. I got caught going out pretty hard with the leaders.
Mid-Penns
Personally, I knew all I needed to do at Mid-Penns was run how I had been running up until that point. I had run the course before and knew the competitors in the field as well. However, I had just come off of a bad cold and knew that this race would be painful. Curtis Bixler fought hard, leading the first two miles as well as catching up to me with about 600 to go. I felt weak and tired, and barely held on for this race. Despite some exceptions, (Michael Fulton) I thought we had a poor showing team-wise. However, I wouldn't change that now. Districts, and more importantly, States were all that mattered.
Districts
Interestingly, on the day of districts, I couldn't help but thinking ahead to the next week. It is a very weird feeling being a week away from something you have waited an entire year for (States). However, I managed to finally remember that I had to race with about 800 to go in the race picking up a couple positions and finishing third. Ironically, I ended up running the same time at districts and states.
States
Consistency was all we needed at States, said Roseberry. I knew he was right. We didn't have to run out of our minds. We simply needed to perform as we had the entire season. The night before states was surprisingly not as nerve-wracking as I had always envisioned it throughout the season. I wanted the race to come sooner: I had spent a year of hard work for this race. Every easy run, long run, and hard workout was geared for this race. It was impossible for our team to lose track of our goal regarding this race.
Last year, we finished fourth. Despite several exceptions, we fell apart. It was my first state race ever. I had one of the worst races of the season. Justin Keller collapsed. Having never actually believed we could win that year, we lost focus when the pressure was on.
This year, before states, we had accomplished every one of our goals. However, I felt that nothing mattered until we won a state championship. I knew that 7 other guys felt the exact same way.
The race itself was a gunshot and a finish. Not literally, it went faster than any other race I have ever run. After it was over, I collapsed; not involuntarily. Rather, I had nothing else to stand for. My reason for living in the past year had been for this single event. I had no need to go on. However, several of my teammates decided I did. I was out of it as Justin Keller and Tim Johnson picked me up. Mike Fulton helped me as we walked together. I still felt the pain. The others weren't far behind as we gathered on the ground. The ten minutes before they called the results felt like an eternity. The instant after: an explosion of joy, followed by a deep satisfaction that is still with me now.
Personally, I didn't feel I had my best race at states. Time-wise, I had my fastest race early in the season. Holding that level of mental and physical energy until states was very difficult. I thought I had a consistent race that placed me high enough to benefit our team. This was all that mattered to me.
NTN
Without going into the gory details of our national demise, I will say a few short thoughts that come to mind.
The experience itself was amazing. From the time I got on the plane, to packing our bags for the way back, I had a great time. The experience will stay with me forever. Nike treated us as kings, not only with their gifts—which could serve as an entire Christmas list for a runner—but also with their preparation and attention to details.
Technically, the race was the most spectacular achievement I have ever witnessed in a cross country event. The course was lined with massive building-sized television monitors to show places as well as live video feed from the race. Palm pilots were distributed to chaperones to check team places at specific points in the race. It was simply amazing.
A lot of people will look at the NTN results and say, wow, Cedar Cliff really choked. I realize this and do not think that I will be able to change their minds. In fact, I find it difficult to disagree. We ran our absolute worst race ever in Portland Oregon. However, Nike Team Nationals was not our goal race. In fact, it wasn't even one of our goals to run well at that race. It was simply implanted in our heads as "The Dream." Although it may not have looked like it on paper, we ran just as hard that day as we did any other in the season.
Beyond High School
As I look toward college, I can only hope to have the same experience there as I am having in high school. However, I know that I will never run with this team again. Every good thing must come to an end. I'm just glad that it ended the way we wanted it to.