Five Goals. One Dream. The Cedar Cliff boys season in their own words.

Pre-Season
Before the season started I was anxious and every single one of us really wanted to race our hearts out. It was a glorifying, uplifting moment knowing that we did indeed have a slim shot at going to Nike Team Nationals. We had heard so many things from so many websites and Coach Roseberry really wanted us to place that in our mind somewhere to recognize that it was indeed possible. Our goals for the season were pretty standard for our team's caliber. I don't want to seem big and bad or anything, but i believe that our goals were indeed possible.
Longenecker finishing at the 2004 PIAA District 3 champs.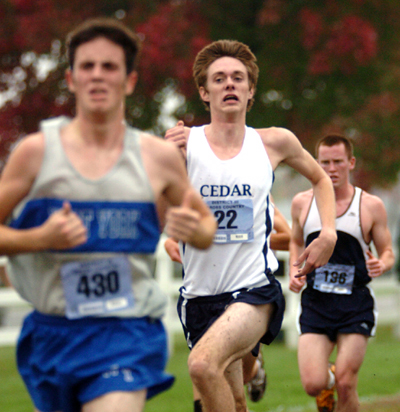 Going undefeated for an entire season as a Colts cross country runner was a normal goal. Last year we suffered our first loss in 58 dual meets and almost 6 years of winning without a single loss. This was our year and with five seniors on the top five squad, we definately wanted to go undefeated and regain that Mid-Penn Conference championship.
Mid-Penn champs! that was the second goal and doing so would be a normal feat but yet how low could we get our score that late into the season? Winning districts has also become a tradition and last year we won it for the fourth straight year so we might as well and better have won five in a row too! States! That pretty much sums up an entire season right there! Nobody is better than you and you are a true champion. It's the perfect ending as well!
Dreams are not always meant to come true but going to Oregon was one that we definately wanted to visit and come true. Going to Nike headquarters and racing the fastest teams in the nation would be the greatest gift of them all. It would be a complete season no doubt!
Gettysburg
The first big race for the team and myself was at the Gettysburg Invitational. This is usually a big turnout and a lot of decent teams come in and give great competition during the race. This year was no different. We had the mentality of going into that race and wanting to win really bad. Not just winning, but everyone getting a PR and doing the best they could and trying to get seven guys in the top 25 and medal. Something that no other team has done and doing so would surely make some heads turn, especially for our dream at the end of the season.
I remember waking up that morning and feeling sick to my stomach. I didn't exactly want to get out of bed knowing that I had to race other runners that were just as fast as me and 30 some odd other guys that were faster than me. I knew that i was going to be in the 30's and that they only gave out 25 medals. What I didn't know was that my assistant Coach Matt Wagoner had brainwashed my mind over the past few weeks before the race that I was going to be 24th or 25th place that day. I would always tell him that I would indeed be top 25, but I always had a sense that I was gonna need a great race to get me there and a little luck as well.
Bang! the gun goes off and I am running with 200 other guys on a 300 meter straight away for the next 47 or some seconds and then crashing all together into a trail that's only good for 3 to 4 wide at the most. I knew that my coach had told me that getting out hard was the first key factor and we did exactly that. I remember seeing the top five right in front of me and our 7th man that day, Bill Frailey, right next to me going around the first turn. All of them had gotten out excellent and we were already in the position to win as long as we maintained our postions. Bill and I were in about 45th place after things had gotten calmed down around the mile mark. We went through slower than normal but I felt a lot better than I ever had and knew that today was gonna be a decent race. Those are the moments in the race where you know that you feel great and you are gonna PR as long as you push with everything you have. Bill had suffered a sickness a day or two ago and he wasn't feeling that great so I knew that I had to take his place. I quickly found out at the 2mile mark that i was in 35th place, which was right where I expected I would be at the finish. Coach Wags (Wagoner) was yelling at me that I had to pass 10 other guys to medal and in my mind I was just thinking that he was a crazy fool to think that I could go any faster than I already was going. I passed a few guys but was only in 30th when the last 400 meters came upon me. Wags was really screaming this time around and he had a group of parents and other fans with him. Everyone was yelling at me to start my kick, and I was already started. I am usually a runner that normally doesn't kick that great, I mean i don't lose spots but i don't gain any either. I just usually stay in the spot I'm in after the 2-mile mark of any race. But something in my brain told me that I was going to medal today and that I had no choice but to medal as well. I didn't pass anyone until about 200 meters left and i caught the pack of 5 guys that were in front of me for the majority of the race. I was happy that I had gotten 25th but surprisingly my kick felt strong and I got even faster and caught another guy within the last 10 meters or so. He had been a good 4 or 5 seconds in front of the pack of five runners that I had previously passed and I didn't believe that I had a shot at him at all. But 24th was a good day for me. I PRed with a 17:07 that day and I found out shortly after that my team had won pretty easily over the rest of the field.
Great American
The next big race wasn't until North Carolina. The Great American Great Race has been a tradition for a few years now and it seems that whoever wins that meet pretty much has bragging rights for being the best team in the nation. The Woodlands had won it the previous year and we remember warming up on that soccer field and them cooling down from their race that they had just dominated by scoring somewhere around 70 points on. I was nervous just warming up right next to them even knowing that our race didn't have anyone like that caliber. But this year was different. The Woodlands wasn't there and we were sad about that. They had been the best for the past few years and we really wanted to race them. I believe that being the best requires you to race the best competition and in doing so determines the true winner.
We knew that coming in the top three of this race was possible and that was our goal. But when we got on the line and we were all stretching for the last bursts of energy before the gun went off, we sorta had a feeling that we could win this race by a few points if we had really good races. It is extremely nerve-wracking when you are on the starting line and they call your team name and your box number and they say each teammates name and where you are from. You know that everyone now knows who you are and which team to destroy and take out first. But that's just the nerves in your brain talking to your body and trying to psych itself out. I will admit that I was extremely nervous and scared but also confident and eager to start that race of intelligent runners and see that field of stampeding feet hurry into the woods.
Before I know it the gun had gone off and I realized once again, that we were indeed in the front of the pack and blazing through the woods with its twists and sharp turns. I had not started with a great mile but I could still see Bill right in front of me about ten spots, and in a meet that big that was only 3 or 4 seconds. But we raced up that hill and started into the 3k mark which brought up the woods again and hilly trails and tight turns. Bill had started to maneuver up a few spots and I suddenly realized that I couldn't see him anymore. I started to panic which is obviously the worst thing to do in a big race like that. But right when I hit the 3200m mark i felt extremely sick and I did indeed vomit about five strides after the 2-mile mark. I hadn't felt this bad in a while and I was starting to doubt myself coming through in this huge meet for us. I had easily dropped down into the hundred and twenties with only 800m left and I knew that I was gonna have to rely on my bad kick to help out. I felt extremely sick and I was on pace for a 17:35 or something. I forget what some coach had yelled out to his runner. But I knew that I could not afford to run that time and that being in the 120's was not going to get me anywhere. I noticed the previous day the finish line was directly after the stadium entrance and I knew that my kick was going to have to start a little sooner because of that finishing. Nobody was kicking at the 600 meter mark and I was started to get worried and anxious on if I should go or not until I heard my coach's family screaming at the top of their lungs for me to kick. 600m!!! is a long way to kick but nobody was surging ahead of me so I knew i could pass some guys again. I ended up passing a lot and I think I got 92nd or something which isn't to great but my time was 17:17 and I was only about 15 seconds behind Bill so I knew that I had pulled off a good finish but not quite what I was expecting to do.
I lunged across the line and quickly after people were throwing water on me and ripping my number off of my jersey. I had found my team underneath a tent with water and Gatorade and people were all over the place talking about the race and who had won and it was really scary. I had seen a guy walking around with some little gadget that looked like a palm pilot gizmo with all these crazy numbers on it. But the only thing I could make out was the letters Cedar Cliff and a big number 2 next to it. I immediately thought to myself that second was good enough and we came so close to winning and what did we do wrong and why I felt sick and didn't help the team at all? But then that same man passed me not 45 seconds later and CC had moved up to the number one spot and it said that it was waiting for final results. I now thought that we had a chance but the final results had to move people around even more, but the question was how much would it effect our score? Well, five minutes went by, which seemed like an hour, and they finally called the top three teams out to the awards stage and all three teams still yet to know who had won or by how much? But just winning this meet would be all that mattered, I mean this was practically nationals and you had a right to claim that you were the best team in the nation for the time being.
As we walked out to the center of the stadium some random guy looks at us with his palm pilot gizmo and says....."Cedar Cliff got first." We immediately screamed and jumped on each other and created a huge dogpile like structure in front of everyone and in the center of the stadium. We were so happy and we didn't even know how to react. I mean it was the biggest meet ever in high school cross country! We got our awards and it was the greatest feeling in the world. We were on top finally and we knew it too! We didn't know that our coaches didn't find out until half way through the girls race when they were coaching our girls to an awesome 8th place finish. We were really pleased with the girls performance as well. They wanted top 10 and they got 8th! It was really amazing that both teams finished so high and from the same coaches and school and team as well ! Later that night we all realized what we had done and everyone was happy and excited. We visited the town mall in Cary, NC and just had tons of fun. We ate so much food and stayed up late and watched tv and talked and did so many incredible things because we were so happy that we had won. It was a great day and a great race, even sick I had run a decent time for that course and I wasn't ashamed of my time or place when I found out we won. Winning was a high goal but was achieved and the feeling was just outstanding and amazing. We had just made it to the top ten in the nation and being ranked that meant that we definately had a shot of going to Oregon now!
Mid-Penns
It couldn't have been a much lower score than what we got- 25 points was incredible and when you scored the meet as a dual meet with just Cedar Cliff versus the other top five guys in the conference..we won 25-30. Enough said i think. but it was a hard race no doubt. I had been running bad lately in workouts and I noticed that my body was extremely tired and sore. I had been running around the 17:30 mark and I knew that coach wasn't getting any happier with races of those times. He and I both knew that I was capable of a sub 17:20 at Mid-Penns and he knew and the team also knew that I had to run that to be in the top 25. My goal was to be the top 25 for conference and go all-conference. I had blasted it into my head that they only gave out 25 medals because I didn't want to think that 35 medals meant i could let a guy or two go by me but instead i had to push with everything like a race should be. It was cold that day at Mid-Penns and I was freezing from head to toe and my hands were numb completely so i knew this was going to be a fun race. We had an average starting spot and I knew that I was gonna have to get out quickly due to the fast pack and the muddy course. There was a huge mudpit near the 400 meter turn and we all knew that it was going to be bad and runners would slip. Little did I know that the runner right in front of me wasn't too smart and he tried to run that turn like a normal day and he slipped and slid and Itried to hurdle him. Well, right as I went up and over him he decided he was gonna try to stand up so I was there about 8 feet in the air trying to not panic. How do you go about not panicking when he's lifting you up? I came down hard but landed somehow and teammate Mike Fulton was there to help me sorta and keep my balance. He was the one that told me a few meters later to chill and try to relax which was like almost impossible after that moment just happened. But then to make matters worse, the 1200m mark was a bad one too cuz I got tripped up after a guy kicked my foot from underneath me and I fell and slid a little. Well a guy stepped on my calf and my upper thigh and it was bleeding, I guess, but I got right back up and kept racing. I had a good finish and I managed a 24th place finish. if I had a better kick that day i could have gone top 20 but I was out of it by then. I managed a 17:15 ish I think and I knew that I had done my job but I knew that I could have raced a little better and with the course being muddy and stuff. that didn't help any at all.
Districts
I pretty much ruined my district race for Mike Fulton's performance but it was a good trade, nonetheless. The gun started and I was already scared to death because we were going for our 5th title in a row....something to never have been done before. At the 800m mark there is a barrel and you turn to go up the hill. The hill is a huge hill and steep and it kills the main pack into smaller groups. Well I knew that everyone on my team had better be in a great position by then or the race was over. And we all got out pretty well except for Mike and I. We were stuck in the very back and I saw a smidging of a hole and I thought about going but I figured it would close shortly. Well, Mike yelled at me to go so I did and I led him through that and we got right up into the top group right away. Mike and I were now in racing position but the barrel was rapidly approaching and I was right on the line to hit the barrel. Well, this runner decides to pass me going out of the course lines and pushing me into the barrel and I hit my ribs on it and got two bruised ribs from it. My race was gone to heck and I finished with a bad time but the team had won and I was pleased that I helped Mike get a medal. He deserved it and our team looked good having those title medals and that title trophy for the 5th year in a row.
States - the race that meant everything
Four years came down to this and it was a race that decided if you were actually the man that everyone expected and thought or if you'd fall apart. My performance was nothing to talk about for sure. I mean, I ran the slowest I've run in a long long time. but my dad came up from Florida to watch it and he had never had his team get to States and place so this was reliving his dream as well as mine. Our school had sold over 750 blue shirts that helped support the team and the "blue stampede" was the new term for our colt group. Everyone had talked about the past four years coming to this race and it meant nothing to finish anywhere but first. Oregon depended on this race. Our lives practically relied on this race. And everyone else also relied on that race and also and more importantly, relied on seven individual guys to bring home a big title championship.
The race went on like they always do and I was having a bad day but I heard everyone yelling how we were losing and we lost it and I finished to find my team tired and beaten like normal. Everyone looked at me in shock and with disappointment. I knew that we had just lost States and that four years went down the drain. But more importantly, I let my teammates down, my coach, my dad, my family, my friends, and the most important of all.......myself. I immediately went into tears from my anger and hatred of this sport and why I had wasted my time and why I didn't run better than I had. I wanted to throw my shoes at myself and ground myself for a year because I had run so bad. I knew that I had blown it for the team.
But I gathered myself and sat with my teammates in a huge circle while family, friends, and other coaches circled us. They knew it too that we were on the bubble to lose it all and the Coatesville coach had gone by me right after I finished and said good job and good luck and I said those words right back and he looked at me for a second and just stared me in the eye. I could see his fear and he could see mine. I knew his team was on the verge of winning and he knew ours was too. He just looked at me a few seconds and then said....well, you had a wonderful season and your guys are the greatest so when you get that medal...you wear it proudly. and I tried to smile but I couldn't and I said thanks and I told him that his boy's should do the same and be proud of what they did that day.
Everyone was standing there around us as we all layed and sat in a small circle. The crowd that had engulfed us was gigantic and newspapers were starting to come around and start taking pictures.
I looked at Pat Caulfield and I could see his anger and pashion for what had just taken place. We all knew that was our last race together and that's what was more important to us. We knew that we were never really going to race for anything so glorifying again with that team together at one spot.
Roseberry had gone to the scoring booth after they had called him and he came running back screaming that we had won. Everyone just yelled at the top of their lungs and immediately started crying. I burst into tears like I never had before and I will never forget that moment ever in my entire life. I'm almost happy that it was such a close race because it made me want that race even more than I already had, which was extremely high as it was. But we dogpiled onto one another and screamed and cried for a good 15 minutes before gathering ourselves. Newspapers talked to us and everyone knew that the Colts had done the final task and goal and that four years finally had paid off. I can't say I was happy with my race cuz I ran so poorly, but that medal was the most amazing thing I have ever won or witnessed or been a part of. I couldn't ask for a better six guys to run with in the world. i mean, these guys are family and I love them all to death. I would die for all of those guys-that's just how it is once you are around them for so long.
Pre-NTN
The hardest days of my life....not one person on the team wanted to train anymore and we were seriously considering not going, but we all agreed that we had made it that far and we should pursue it more. I mean, it was nationals for crying out loud. We trained through that cold spell for a few weeks and we trained just solely on speed stuff and it was killer on our bodies, but we managed.
NTN
Such a nice trip from Nike and we really do appreciate them greatly...they are thanked so much and it was just an amazing trip. The race was bad and we got last, of course. But we were happy to represent PA and get that far. The free stuff was the main highlight, especially since our races stunk so badly. I couldn't ask for another teammate or team or coach or anything really, because this season was perfect and just amazing.