No doubting Osunde's effort, putting aside his worst case of nerves
this season to win the biggest meet of his career.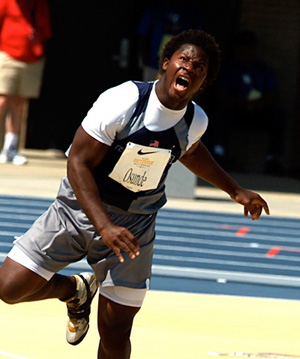 The big news for PA occurred mostly in the field events. Central Columbia thrower Osayi Osunde completed a remarkable triple this season, adding the national title to his season resume after taking the Penn Relays in April, and a state title in May. Saying he was more nervous than he had been for any meet all year, Osunde credited his ability to focus and to prepare himself mentally for each competition. "With three guys who had thrown farther than me, I knew I had to bring it." And bring it he did, on his 5th throw of the competition, he threw his 2nd best ever, a 209-03, that held up for the win by just three inches. While seemingly a little stunned by his victory, Osunde knew it had been a season-long process. "My goal at the start of the season was just to beat Radgowski (PA rival Chad Radgowski of South Park.) But after each meet, I had to keep adjusting my goals." But it's not just the mental preparation that he credits for his success. "It's the vitamins and the orange juice. I drink a lot of orange juice." Osunde - who is headed to Villanova to play football and compete in track, has completed his prep career. He will attend a football camp the week of the National Junior Championship.
A Simon Gratz runner in the SMR.
They would win their first US title in Friday evening's 4x200.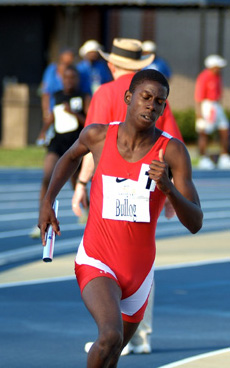 In the 4x200, the Bulldog Striders (Simon Gratz), ran what could be the best PA 4x200 ever of 1:25.93 (Raishine Turner 21.7 Leadoff, Khaliff Featherstone 21.4 2nd leg, Kevin Talley 21.3 3rd leg, Kenneth Talley 21.3 anchor leg). It is the first National Championship for a boys squad from the school (the girls have been down this road before). Coach Robert Massie says the team has been receiving encouragment all season from the 1983 relay whose record they broke -- Rogers Thomas, Roderick Hooker, Nathaniel Kadle, Gerard Battle. And in the 1600 Sprint Medley Relay, Khaliff Featherstone split 46.8 on the 400 leg as the team finished 5th in 3:28.45. They also advanced to the finals of the 4x100, going 41.64, and took 5th in the 1600 Sprint Medley Relay with their 3:28.45.
Surprising most of the crowd, Ryan Whiting did not win the Shot Put. The nation's leader with his 70-00 at the PA state meet, Whiting strugged early and needed his final throw of the trails to ensure his trip to the finals.
Latavia Thomas anchors the 1600 Sprint Medley to the 5th best all-time.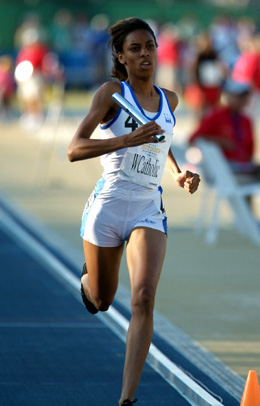 And he was in an unusual position, trailing US#2 Steve Marcelle of Green Bay, Wisconsin. Marcelle's final throw of the trials held up as the winner at 68-00.25. Whiting got off a 67-08 in his first throw of the finals, and had what would have been the winning throw on his 2nd attempt, but foot-fouled. "It's the first one, first one I've lost." Whiting will try for a bit of redemption in Saturday's Discus, and then has the Junior Nationals the following week in California.
West Catholic set the national record of 3:52.22 in 2004 at this meet, and came ready to erase their own mark this year. And they were on track. The 200's were strong, and a 52.2 split by Nicole Leach put them ahead of the game. But anchor Latavia Thomas went out in 59.3 and appeared to lose just enough over the final 300 to give the Lady Burr's the 5th best performance of all time at 3:53.78. "With this being Nicole's last Sprint Medley, she probably got caught in the moment" said head coach Lenny Jordan talking about Thomas' anchor. The performance was the 5th best ever run.
Nicole Smith had a little foul trouble of her own in the Triple Jump, along with some simultaneous competition in the High Jump, but survived the day with a 3rd place and PR of 40-09.00 in the finals, and tied for 2nd in the High Jump at 5-07.
PA athletes advanced to Saturday's finals in the short hurdles. State champ Chanel Williams of Plymouth Whitemarsh captured the 8th and final spot with a 14.27,
Nia Ali, West Catholic, in the 100H prelims.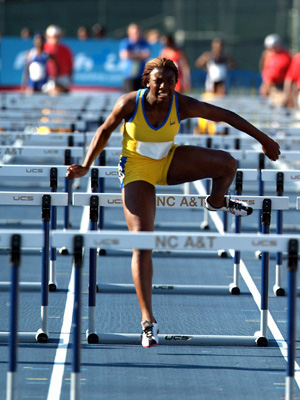 while West Catholic;s Nia Ali had the 6th best qualifier of 14.20. And in the 110 Hurdles, a resurgent Carrington Queen burst through his heat to come from behind in 13.91, the 2nd best qualifier of the day.
Lindsay Regan of Easton finished 3rd in the Pole Vault. North Penn finished 7th in the 4x800 in 7:48.78, while Nathan Gilbert, Emmaus was 7th in the Triple Jump at 47-02.25. Nicole Wilson of Erie was PA top finisher in the Discus, throwing 125-01 for 14th.
GIRLS
100
Prelims
11 Breehana Jacobs 07 Uniontown, PA 11.93 0.5 3
31 Jasmine Russ 07 phila, PA 12.51 0.9 4
100 Hurdles
Prelims
6 Nia Ali 06 Philadelphia, PA 14.20q 0.5 2
8 Chanel Williams 05 Conshohocken, PA 14.27q 0.9 5
400 Hurdles
2 Nicole Leach 05 Philadelphia, PA 57.26@ 4
1600 Sprint Medley Relay
Prelims
1 West Catholic 'A' 3:53.78 3
Chanel Williams, Plymouth-Whitemarsh, in the 100H prelims.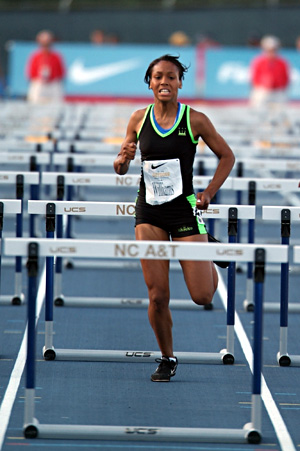 High Jump
2 Nicole Smith 05 Erie, PA 1.70m 5-07.00
1.60 1.65 1.70 1.75
XXO O O XXX
-- Emily Moles 07 Wayne, PA NH
1.60
XXX
Triple Jump
3 Nicole Smith 05 Erie, PA 12.42m 1.7 40-09.00
11.88m(1.7) FOUL(NWI) FOUL(NWI) 12.13m(1.0) 11.93m(0.7) 12.42m(1.7)
15 Brianna Liebold 06 Houston, PA 11.44m 1.1 37-06.50
11.44m(1.1) FOUL(2.1) 11.34m(2.1)
19 Shanae Thomas 07 Philadelphia, PA 11.32m 0.5 37-01.75
11.32m(0.5) FOUL(1.0) 11.17m(1.8)
23 Michele Frayne 05 Glenolden, PA 10.97m 0.5 36-00.00
10.97m(0.5) FOUL(0.1) 10.65m(2.0)
-- Elisse Douglass 05 Wyncote, PA FOUL NWI
FOUL(NWI) FOUL(NWI) FOUL(NWI)
Pole Vault
3 Lindsay Regan 06 Easton, PA 3.80m 12-05.50
3.50 3.65 3.80 3.90
O O O XXX
-- Caitlin Hewitt 06 Greensburg, PA NH
3.50
XXX
Discus
14 Nicole Wilson 06 Erie, PA 38.14m 125-01
32.50m 36.45m 38.14m
15 Caitlyn Green 06 Harrisburg, PA 38.03m 124-09
FOUL FOUL 38.03m

Nicole Smith in the Triple Jump.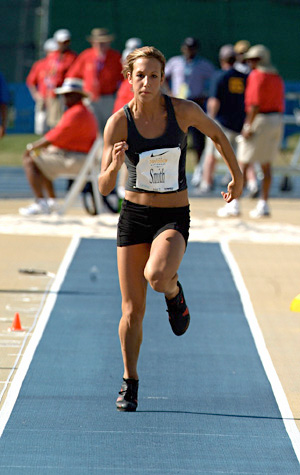 29 Jessica Pissini 05 Hermitage, PA 36.18m 118-08
36.18m FOUL 32.02m
30 Emy Rothenberger 05 Lititz, PA 36.08m 118-04
FOUL 36.08m FOUL
33 Samantha Fetter 06 Darragh, PA 34.62m 113-07
32.44m 32.06m 34.62m
37 Amy Backel 05 Dillsburg, PA 32.97m 108-02
PASS FOUL 32.97m

BOYS
110 Hurdles
Prelims
2 Carrington Queen 06 Boothwyn, PA ) 13.91Q 1.5 3
4x100
Prelims
5 Bulldog Striders TC 'A' 41.64q 3
4x200
1 Bulldog Striders TC 'A' 1:25.93 3
4x800
7 Dynizzle TC 'A' 7:48.78
1600 Sprint Medley Relay
5 Bulldog Striders TC 'A' 3:28.45 3
Triple Jump
7 Nathan Gilbert 05 Emmaus, PA 14.38m +0.0 47-02.25
14.16m(+0.0) 14.22m(+0.0) 14.38m(+0.0) FOUL(NWI) 14.36m(-0.0) FOUL(NWI)
Whiting in the finals of the Shot Put.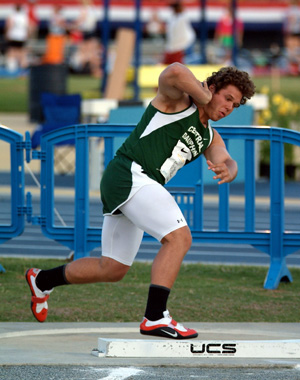 Shot Put
2 Ryan Whiting 05 Harrisburg, PA 20.62m 67-08.00
17.64m FOUL 20.53m 20.62m FOUL FOUL
17 Rob Rankin 05 pittsburgh, PA 16.23m 53-03.00
15.74m 16.19m 16.23m
Javelin
1 Osayi Osunde 05 bloomsburg, PA 63.78m 209-03
61.85m 62.62m 58.37m 63.78m 62.82m FOUL
7 Colin Moleton 05 Pittsburgh, PA 57.25m 187-10
51.38m 56.52m 53.01m 57.25m 50.41m FOUL
11 Brandon Burkhardt 05 Dallas, PA 53.83m 176-07
48.61m 53.49m 53.83m
12 Alex Heacock 05 Lititz, PA 52.41m 171-11
52.41m 52.01m 51.37m
16 Tyler Sweet 06 Warren, PA 51.30m 168-04
41.57m 51.30m 48.75m
22 John Austin 06 Mechanicsburg, PA 46.81m 153-07
46.35m 46.81m 45.66m
Easton junior Lindsay Regan in the Finals.