Results now on for Bradford, Bulldog @ Rose Tree, Carlisle, Spiked Shoe, Lion Inv @ PSU-Altoona, Council Rock, Lakeview, Mercersburg, Sharpsville, Manchester NH, Great American, Conrad Weiser and East Aurora NY. STILL NEED: Lackawanna County, and A.J. Everhart
Brad and Craig Miller went 2-1, with Craig
getting a new course record at Carlisle.
But Coatesville, behind Kyle Dawson,
won the team title.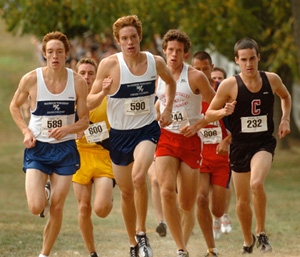 The Millers were the Millers. Craig and Brad went one-two in the Reebok Challenge race, although Cumberland Valley's Curtis Bixler broke up the due for much of the race before Brad caught him on a downhill. But the news out of Carlisle was the Coatesville win over NE#4 Manheim Township. Coatesvillle placed five in the top 24 with a compression of of 47 seconds behind Kyle Dawson, 5th in 15:53. Cumberland Valley's Curtis Bixler was a strong 3rd, also breaking the old course record.
In the girls Reebok Challenge race, Chambersburg emerged from the 'watch' category to the 'win' category with five in the top 20 and a compression of 1:30 behind Sarah Morrison's 18:31. Chambersburg tallied 81 points, 11 better than North Allegheny, and 60 up on Mount Lebanon, two teams that travelled in from western PA.
Tamaqua's Isaac Dunkelberger
was 9th in the ROC @ Great American.
Duriel Hardy led West Chester
East to 6th in the race.
(Photo by Dyestat.com)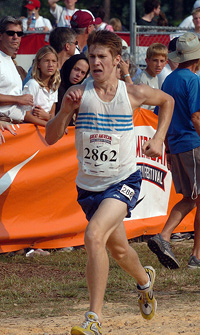 At Great American XC Festival in North Carolina, West Chester East was 6th in the Race of Champions, as Duriel Hardy was 10th overall. Malvern Prep took 2nd in the Seeded Boys race, just ahead of LaSalle. The Archbishop Carrol varsity girls team won the Small School girls race.
Cardinal O'Hara easily won the Large Schools race at the Bulldog Invitational at Media's Rose Tree Park behind another quick 5K by senior Greg Thomas. In the Small Schools race, Sean Mahoney of Radnor won in 16:25, but his team finished 3rd behind Wissahickon. Cardinal O'Hara's girls also won for the second straight week, taking the Large Schools race, while in the Small School race, Marple Newtown's Natalie Finnerty posted the best time of the day, and 18:58.
At the Spiked Shoe in State College, emerging state star Katherine Ward of State College won in a PR over some tough competition. The Morgantown WV girls were ten better than Governor Mifflin. In the boys race, it was Strongsville OH by 12 over State College, with Mike Guest of Hazleton as the top PA finisher. Noel Bateman of Aquinas Institute NY won in 15:43.
In Manchester, New Hampshire, the West Chester Henderson girls and boys teams each took 2nd in the hot varsity race. The girls were 33 points behind the 8th ranked team in the Northeast, Champlain Valley, Vermont.
State College junior Katherine Ward won at Spiked Shoe
in 18:35, but was followed closely by Lindsey Scheller, Shikellamy,
and Maria Monks, Hazleton (Cougars).
(Photo by James K. Wood)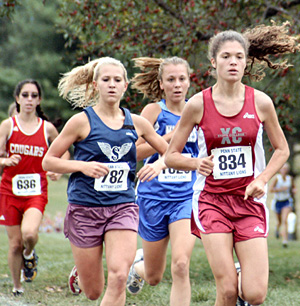 Christopher Dock won the girls Class A race to go along with the individual championship by their #1 Beth Lambright. Central Bucks West won the Class AAA title, while Nazareth took the Class AA. In the boys race, Keith Capecci, Council Rock North, continued his strong season. CR North took the Class AAA win, Holy Ghost Prep Class AA, and Jenkintown Class A.
At the 3rd Annual Lion Inv at Penn State Altoona, Carly Seymour, Central Cambria, was alone again to set a course and sophmore record. Her team was 2nd. The Central Cambria boys were two better than Canon McMillan. Travis Dean, Westmont Hilltop, set a course and junior record.
At the Bradford Invitational, sophomore Sarah Lonzi of Bradford took 1st place in an outstanding time of 19:10, breaking her own course record by 30 seconds. Elk County Christian won the team title over Bradford but had to go to the tie breaker. The Bradford boys easily won their 2nd straight Bradford Invitational with a score of 34 points, outdistancing 2nd place Oswayo Valley, who had 94. Bradford was led by Junior Jared Feura
Knoch knocked off area power West Middlesex by 44 points, The West Middlesex girls placed five in the top 22 to secure the team win at the Lakeview Invitational..
Look for Natalie Finnerty, Marple Newtown
and Katie Lally, Radnor, to continue
strong seasons after going
1-2 at the Bulldog Invitational at Rose Tree.
(Photo by Ryan Comstock)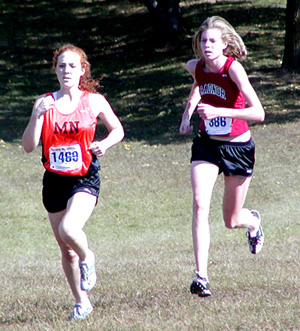 At the Sharpsville Blue Devil Invitational, Jake Walker, the Ellwood City runner who never backs down from anyone, continues to improve week by week, this time posted a 15;23 at Sharpsville t win by over 45 seconds. But the one point wasn't enough as North East beat his Lincoln team. In the girls race, General McLane easily held off all competition. Led by the 3rd place finish of Lindsey Petri in 19:00, General McLane placed five in the top 16 with a compression of 1:33. Neshannock's Kacey Gibson is having an incredible fall campaign, winning this race by a minute with her 17:42.
North Penn, behind the 1st place finish of Jennifer Schofield, won the team title over host Conrad Weiser. In the boys race, Jason Weller led Boyertown to a team title with his first place beating a strong Owen J. Roberts team.
It was an out-of-state invasion as Virginia and Maryland schools dominated at the Mercersburg Invitational.
In New York at the East Aurora Invitaitonal, Fairview ran well. Lane King took third place to aid the tigers to a fourth place finish with a time of 15:38 for the 3.0 miles run. The Varsity Girls' Cross Country team finished fifteenth Saturday at the East Aurora Invitational. Krystal Kennett finished twenty-seventh.


9/24 Weekend Preview: It's the biggest weekend menu of meets so far, as PA teams travel to Carlisle, Spiked Shoe in the center of the state, and to Great American in North Carollina and the Manchester Inv. in New Hampshire to test their mettle against great competition. Nearly 2000 runners from 77 teams will compete in six races in Carlisle. Mount Lebanoin and North Allegheny are coming in from western PA, while Parkland makes the trip again from the Lehigh Valley. Plus there are some Philly-area teams. West Chester Henderson is in New Hampshire. And top ten NE team West Chester East's boys are in North Carolina.
East runs in the Great American XC Festival in the Race of Champions on Saturday, while Cardinal O'Hara goes to the Bulldog Invitational at Rose Tree Park, Delaware County