Race winners photos below. Photo Galleries link to the right
GIRLS AAA
One district championship team captured their first league title just last Saturday. So a district title is the logical next step, right? Another district champion ran her first district race. Ever. The Coatesville boys defended all comers, being joined by two other teams from their league in the top three spots. Keith Capecci used a furious close to take the AAA title. Gwynedd Mercy got back to states as a full team. Beth Lambright dominated. Devon Prep did likewise in AA Boys, as another Springfield Montco runner proved the best again in AA.
It was a day of first for the girls' team from Radnor, and a reformed soccer player from Conestoga. Both met the challenge with big-time performances, and first-time championships.
Radnor has been on the rise since Tom Flanagan became the distance coach of the track team five years ago, and then head coach a few years later. His daughter, a state qualifier in high school, and a runner at Saint Joseph's University, joined her dad as an assistant after her graduation last May. Colleen Flanagan puts the credit squarely on the girls, and her father. Tom says that having an accomplished runner working with the girls has been a big help.
Both are right. But as is always the case, it all comes down to the runners. Their talent and the dedication. Radnor has both this year. Colleen says she could see the focus was there during the summer, thanks to the leadership from juniors Shannon Holm and Liz Milewski. Then there was the pleasant surprise of ultra-talented frosh Katie Lally - "She was a shock to all of us." (Lally finished 3rd in her first District 1 race, going 18:21). Junior June Farley has been running with a sore back - "She came up huge." And senior Amanda Bridges, who was the all-important 5th runner, never gave in, coming through the mile in 106th, and holding nearly that position until the finish. Colleen says that she and her dad let the girls discover how good they were on their own. "When we beat Cardinal O'Hara at Delcos, "they realized it themselves." Radnor was 17 points better than Upper Dublin.
Making a return trip to States is defending AAA champs Unionville. Coach Mark Lacianca says the team has struggled with injuries all year, but that the credit for their "awesome" race at Districts could be traced to learning how to train together, and to "find their work ethic." While looking forward to next week, with his entire top ten back, he's also looking forward to next year. The closest team finish of the meet was between sixth, and last state qualifier Strath Haven, and Council Rock North - a mere two points.
For those who notice such things, like Strath Haven coach Bill Coren, six of the top ten individuals in the AAA girls race come from the ten-team Central League.
Members of the Conestoga girls' varsity soccer team would welcome Liz Costello back in a flash. But after the cross country season she is having, they know she has chosen well. Bugged to run cross as a junior to help her with her base training as an 800 runner, she enjoyed her few races she could make when it didn't interfere with soccer. One meet she missed in 2004 was districts. Costello has no regrets about last year, because the soccer team went on to the state semis, and "we ended on a high note." Now, she's taking that "no regrets" philosophy out on the course.
Coming off a complete rest during July, Costello gradually built to 40 miles. She won the Briarwood Invitational in September. She won the Central League earlier this month. But in between, she had her best race before today, when she faced defending Foot Locker champ Aislinn Ryan of New York and Colts Neck NJ super-frost Briana Jackucewicz, and finished 3rd at the Paul Short Run in 17:59. Today - running without anyone to chase, - she bettered that effort by three seconds today. "Once I found myself in the lead, I kept thinking, extend it... extend it. Then I started thinking, this is personal. I don't want anybody getting to that finish line before I do. I kept imaging the girls from Paul Short."
If you've guessed that Costello is competitive, you've guessed right. "I can't wait to see what this work will do for my track times." But first, she has a first full, and final season of cross country to finish... States, the Mid-East Regionals in Ohio, Foot Locker Regionals... and???
BOYS AAA
If you can survive the Ches-Mont League, you have a good shot at excelling at the District and State levels. This year, both the West Chester East and Coatesville boys have been ranked among the top ten in the Northeast US. Coatesville and West Chester Henderson have won state championships in the recent past. And today, the league showed its strengths by taking the first three team spots, with Coatesville with 72 points, 102 better than Henderson, and 105 up on West Chester East. Head coach Keith Andrew says that the league has an advantage that will produce winners..."You have the kid that will put the time in, and the coach that will apply that time. Add those two up, and you always come out with winners."
The six-team District 1 contingent will get a last look at the Miller twins of Manheim Township next Saturday... and this year, Craig and Brad have a good team behind them.
In the individual race, it was Coatesville's Kyle Dawson, Jason Well, Boyertown, Paul Springer, Unionville, and Josh Hibbs, Hatboro-Horsham who pushed the pace through two miles. But lurking 25 meters back as they approached the race finish was Council Rock North senior Keith Capecci, who unleashed a furious kick and was comfortably in the lead the final 200 meters to post a very quick 15:17. Weller took 2nd five seconds back.
GIRLS AA
The hot potato gets passed back and forth between Gwynedd-Mercy and Saint Basil. Last year, St. Basil won a state title. This year, only one of their crew will be racing, while Gwynedd goes for the state honors. Acknowledging that Gwynedd Mercy raced well, St. Basil coach Greg Green said the team had been "deflated" when Christina Morelli became ill at school on Thursday, and was forced to miss Districts. But the AA day belonged to sophomore Beth Lambright of Christopher Dock, who ran a wall-to-wall sole 18:26.
BOYS AA
If it's Districts, and it's District 1, it must be Devon Prep time. The boys of fall took three of the top nine spots to nail down a trip to States with 46 points, 14 better then Jenkintown. Springfield Montco's Matlack Gillin pulled away over the final mile to run 15:58 and repeat as District 1 AA champ.


Keith Capecci is 40 meters off the pace nearing two miles,
as Kyle Dawson and Josh Hibbs push.

Demonstrating the importance of keeping contact,
Capecci wins in a quick 15:07.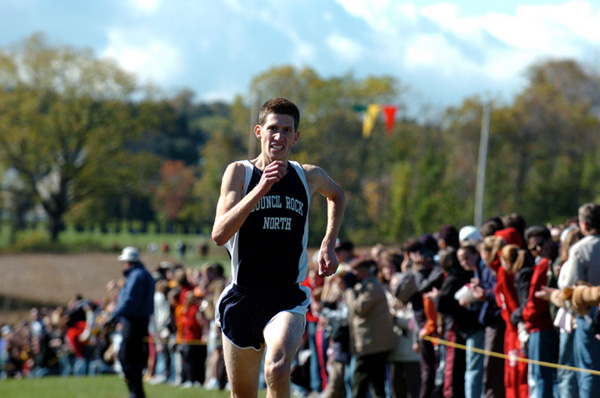 Liz Costello led before the mile and never looked back, going 17:56.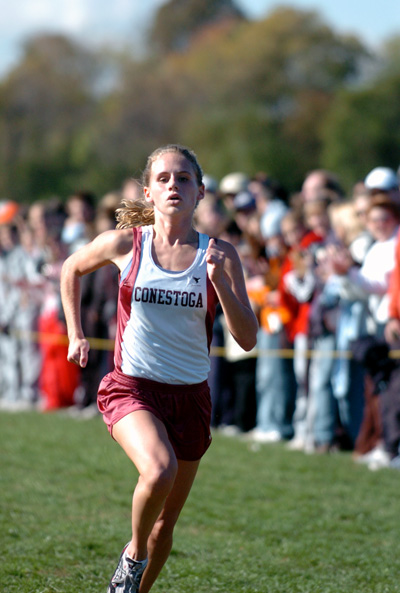 Springfield Montco's Matlack Gillin pulled away over the final mile to win in 15:58.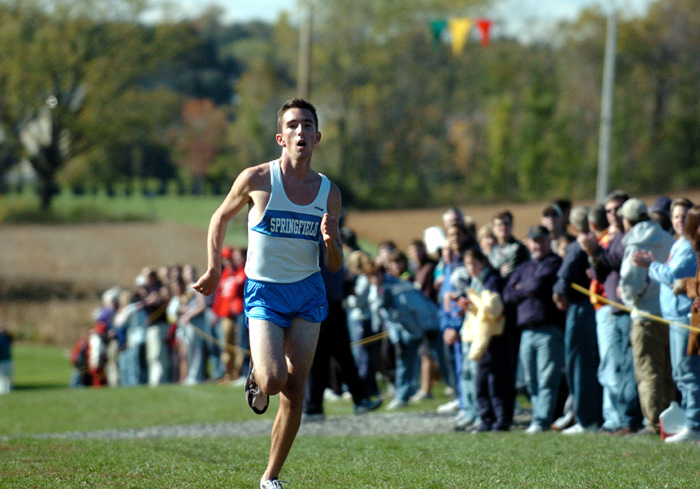 Christopher Dock soph Beth Lambright led from early in the race to win in 18:26.