Race winners photos below. Photo Galleries link to the right
At the Gettysburg Invitational, it was Vince McNally pushing Craig Miller to a sub-15 on a flat course. At the 10/29 PIAA District 3 Championships, it was Kennard Dale senior Jon Grey as the only one to stay with Miller through the mile and then 2.5 miles before the senior star pulled away for a 15:31 course record. Grey held on for 2nd in 15:42, with Brad Miller 3rd in 15:44. McNally, a Conestoga Valley sophomore, was 4th in 15:50, and rounding out the top five was Cumberland Valley senior Curtis Bixler in 16:11. The Millers 1st and 3rd led their Manheim Township team to a 93-point margin of victory over surprising Twin Valley, 58-151. Paul Short champs Cumberland Valley were 3rd at 197 points. The Manheim Township compression was 1:25, with all five runners across by 22nd place.
Chambersburg's girls weren't quite as dominant over a strong Governor Mifflin squad, winning by 40 behind the fastest time of the day, an 18:45 by junior Sarah Morrison. Cumberland Valley was just a point back, as junior Paige Anderson finished 3rd in 18:59. Joining the under-19 trio was Big Spring junior Lara Crofford. And the underclassman assault continued in 4th, 5th, 6th and 7th places as well.
York Suburban's AA boys used a 38-second compression to beat Lancaster Mennonite 92-100, with Delone Catholic in 3rd at 103 points. Linde and Eitzen Dietrich finished ahead of York Suburban's #1, but then it was five from Suburban before another Lancaster Mennonite runner. Kutztown senior Josh Neyhart out-kicked Wyomissing sophomore Mike Stone by two seconds, running 16:35, the second year in a row a Kutztown runner has won the boys AA District 3 title.
The Lancaster Mennonite girls had little trouble in the AA race, as Lindsey Shertzer took 2nd in 19:10 and Katie Ruth 4th in 10:21, tallying just 68 points. Boiling Springs sophomore Kara Millhouse won her second District 3 AA title in 19:05, waiting until the final 800 meters to put a gap on a small group, before kicking to pass Shertzer in the final 100 meters.
Jon Grey, Kennard Dale, is the only runner to
go with Craig Miller through 2.5 miles.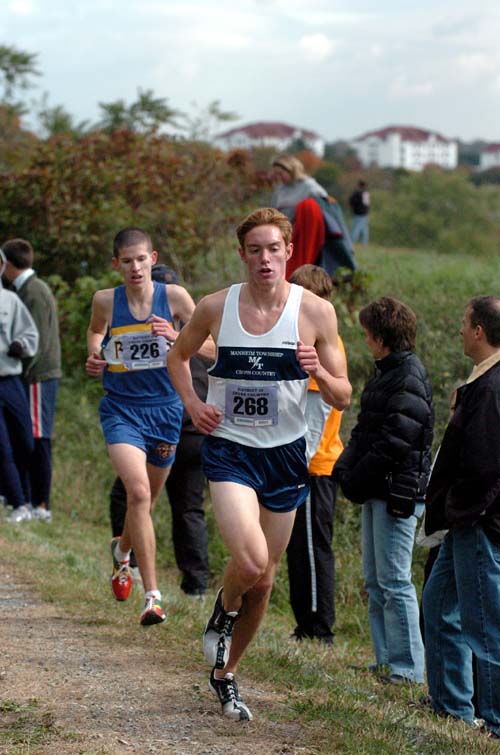 Sarah Morrison led Chambersburg to the win
with her quick 18:45.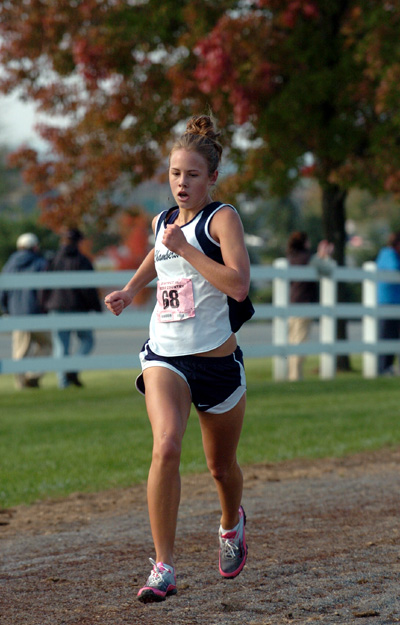 Josh Neyhart became the 2nd Kutztown D3 champ in two years.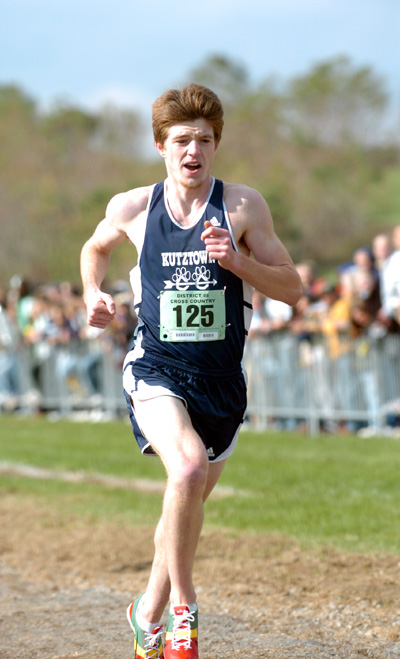 Kara Millhouse, a Boiling Springs sophomore, won her 2nd consecutive
AA D3 crown.