9/24-Millers one-two, but Coatesville holds on to win. Morrison, C-burg triumphant @ Carlisle (pix)
Select Race Photos below. Six photo galleries link to the right.
The Millers have company just after the half-mile mark.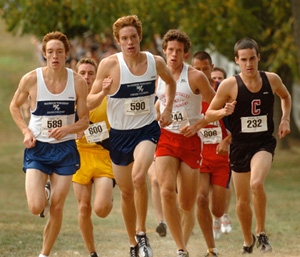 The Millers were the Millers. Craig and Brad went one-two in the Reebok Challenge race, although Cumberland Valley's Curtis Bixler broke up the due for much of the race before Brad caught him on a downhill. But the news out of Carlisle was the Coatesville win over NE#4 Manheim Township. Coatesvillle placed five in the top 24 with a compression of of 47 seconds behind Kyle Dawson, 5th in 15:53. But Manheim Township was coming on in the end, and bunched four within ten seconds of Coatesville's 5th. Coatesville coach Keith Andrew acknowledged as much, but also said that getting out hard is the Coatesville style. "We forced Manheim to run our type of race." And he was also pleased with the 47-second compression for this time of the season, especially with a front-runner like Kyle Dawson. Andrew also sees PA as strong as ever. Losing two weeks ago to West Chester East, he says there are a few PA boys teams that could challenge for the state title, with no clear-cut choice. This one is far from over, as Coatesville's margin was just 15 points at Carlisle. Craig, Brad and Curtis each broke the old course record of 15:38. Craig was clocked in 15:23.
Sarah Morrison helped Chambersburg make a
statement that they plan to
challenge statewide this year.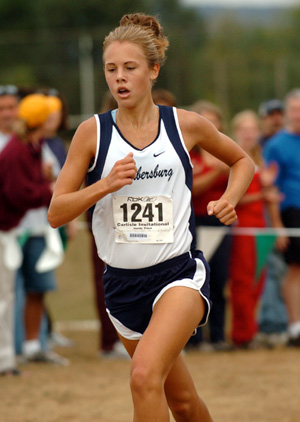 In the girls Reebok Challenge race, Chambersburg emerged from the 'watch' category to the 'win' category with five in the top 20 and a compression of 1:30 behind Sarah Morrison's 18:31. Chambersburg tallied 81 points, 11 better than North Allegheny, and 60 up on Mount Lebanon, two teams that travelled in from western PA. Coach Chris Monheim has three freshman in his top seven, and, even with everyone back in 2006, sees this team as one that "if they have a good day on the right day" can run with anyone. "We're not putting anything off until next year." And with a 20-second spread from 2-5, and one point at the front, Chambersburg has to be one of the favorites for post-season honors.
In the Champions races, York Suburban won the boys' race behind the 11th place 17:13 of Ryan Painter. Kyle Ryan, Linganore MD, won in 16:27. Gettysburg took the girls Champions race by four over Liberty, starting with a 15th place finish by Sara White in 20:21. York Suburban junior Emily Perina won in 19:20.
Hatboro-Horsham sophomore Adam Penney captured the JV race in 17:25, but North Allegheny took the team title behind Dan O'Brien in 5th at 17:41. And Mount Lebanon dominated the girls' JV race with 28 point behind the wire-to-wire win by Kristen Connelly in 20:32.
The pack wasn't huge after a half-mile
of the Challenge Race.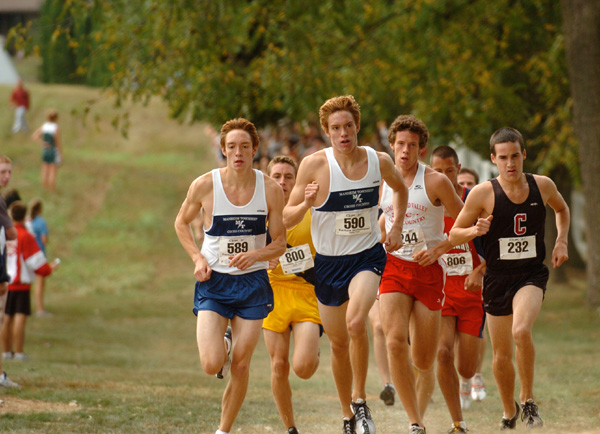 Pushing up the hill, it opens up a bit.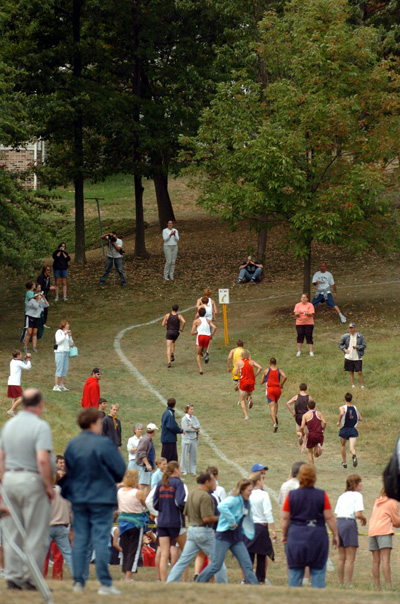 Craig and Curtis Bixler gap Brad.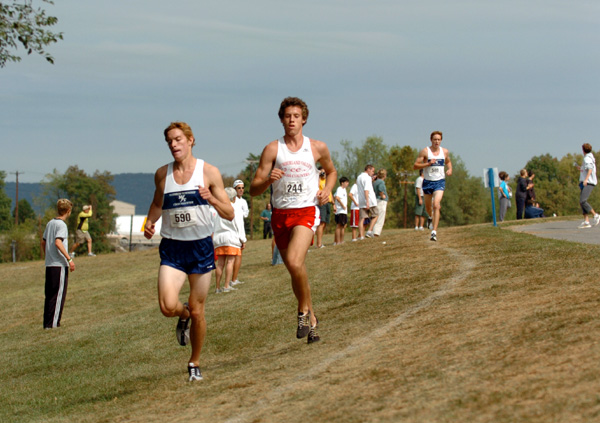 But Brad fights back to pass Bixler.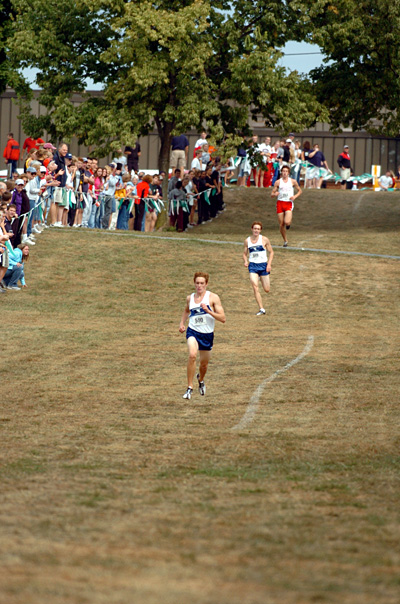 Craig-Course and Meet Record of 15:23.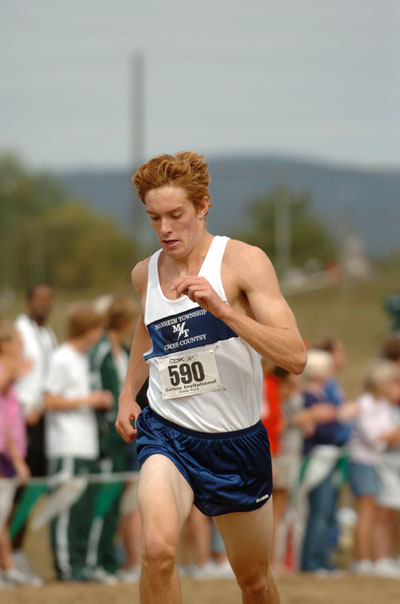 Brad also broke the old CR.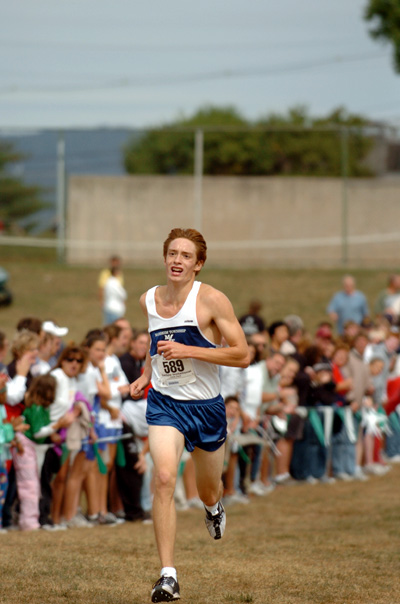 As did Curtis.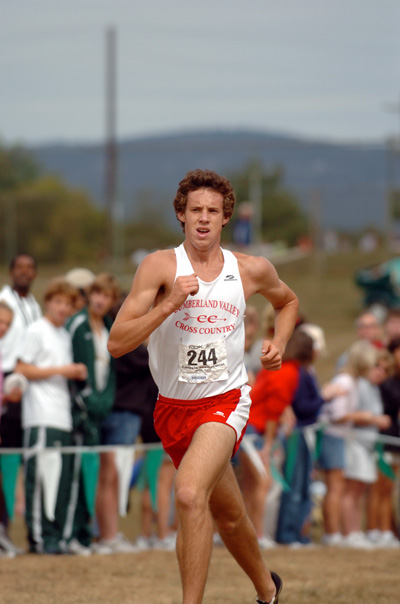 Coatesville's Kyle Dawson.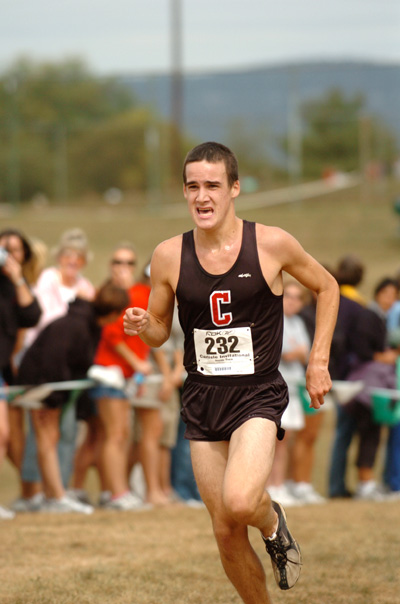 A lot of runners in the mix after a half-mile
of the Challenge Race.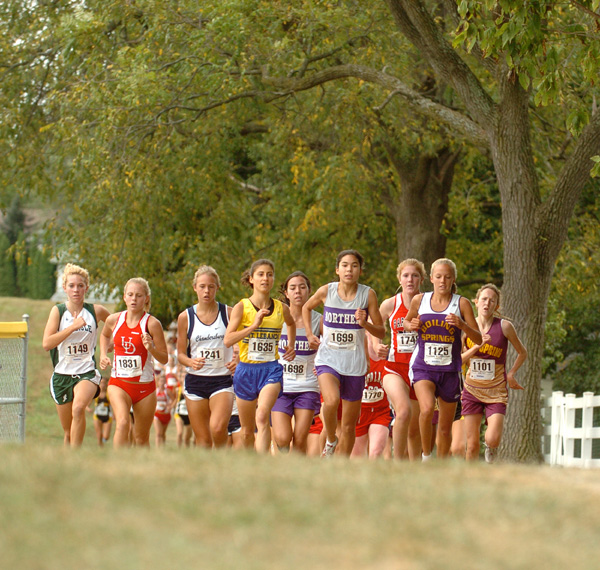 An elite pack forms by 1.4.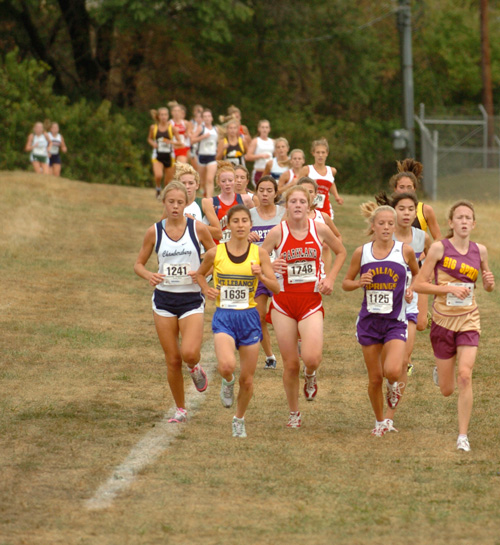 Approaching 2 miles, it's two packs at the front.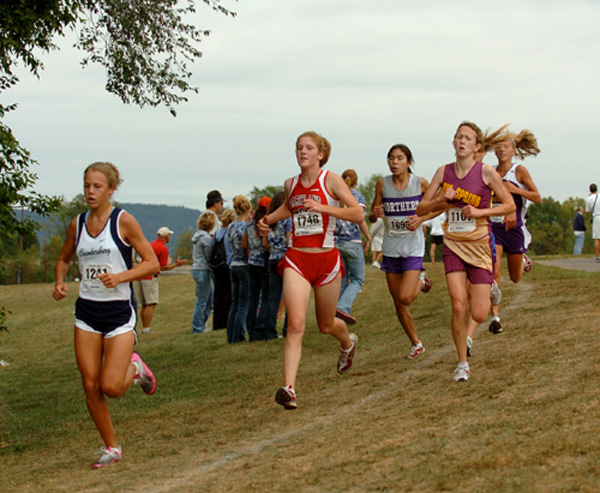 Chase pack one.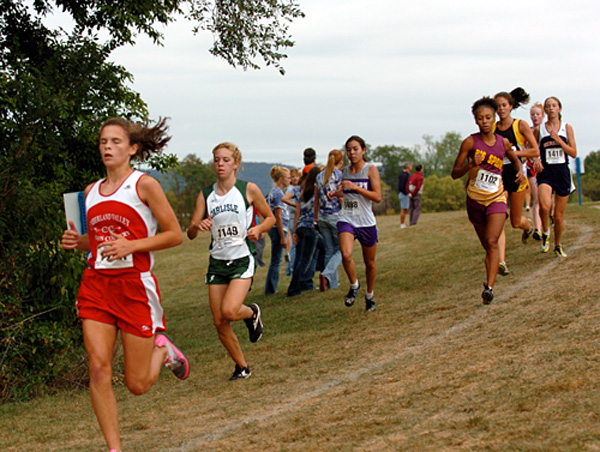 Morrison never hit the pedal. She just
maintained and pulled away.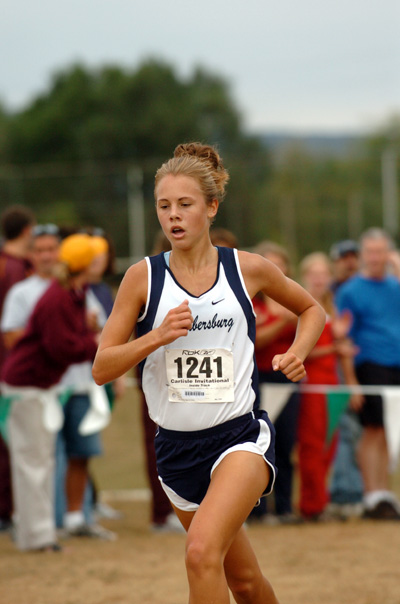 Timmy Getz, Lampeter-Strasburg, 16:41 to win Varsity Champions Race.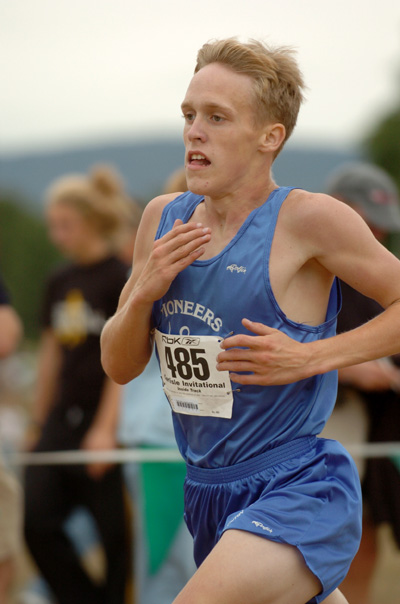 Ryan Painter, 11th, led York Suburban to the team win in the Varsity Champions Race.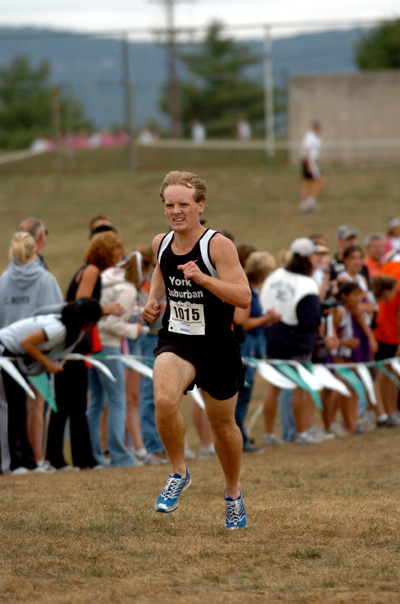 Emily Perina won the Varsity Champions Race in 19:20.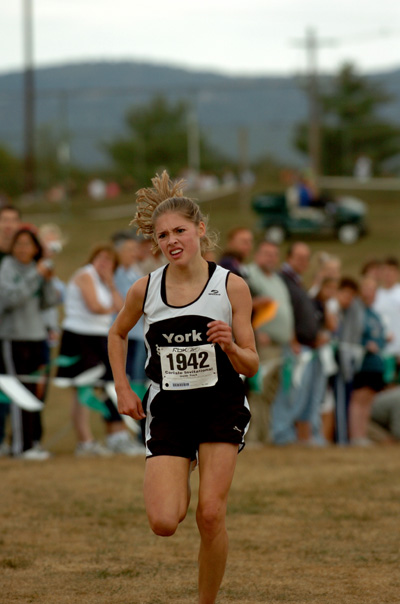 Sara White led Gettysburg to the team win in the Varsity Champions Race, going 20:21 for 15th.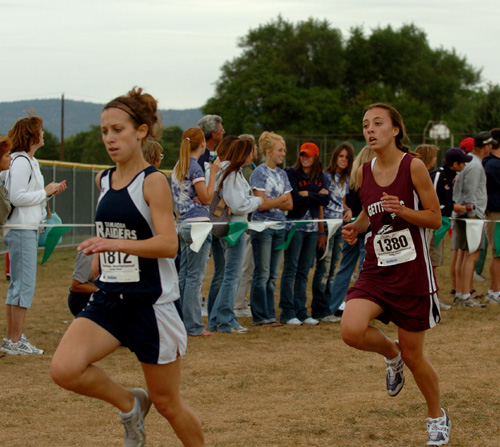 Adam Penney, a Hatboro-Horsham sophomore, won the Boys JV Race in 17:25.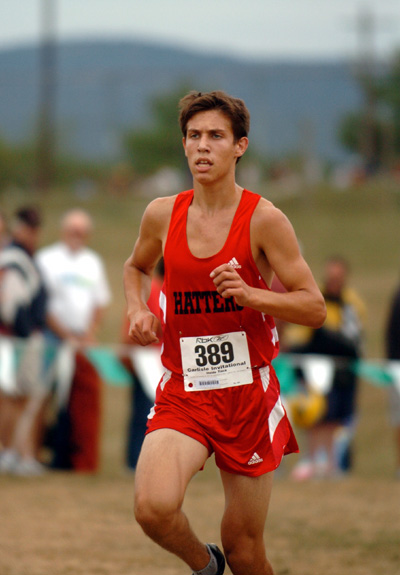 Kristen Connelly, a Mount Lebanon sophomore,
captured the Girls JV Race in 20:32 with front-running the whole way.