More than 400 photos coming this week.

Reading's Jessica Forrest won the two short sprints, taking the 100 in 12.94 and the 200 in 26.55.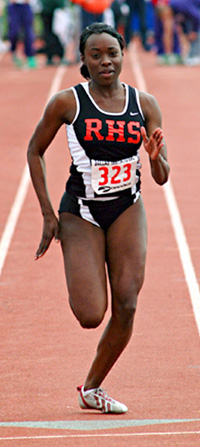 Cumberland Valley's Holly Travous set a big PR in the Shot Put with a state-leading throw of 40-04 to lead the girls' performances. Travous also won the Discus with a throw of 117-03. Both marks were meet records. Highlighting the boys action was the 4x800, with Central Dauphin, Cumberland Valley and Lewisburg battling to the last straightaway, going 7:59.48, 7:59.82 and 8:01.52 respectively in a fast 4x800 on a cold, windy day. Ryan Whiting, Central Dauphin, went from the Discus to the Shot, and set meet records in both. His throws were 170-11 and 62-01. And Lewisburg's Chris Spooner took off from the gun and cruised to a 4:18.53 win in the 1600. In the sprints, Reading's Kalise Cook took the 200 in 22.78, with Shamokin's Dan Wilk's 2nd in 23.00. Wilks had previously taken the 100 in 11.44, with Cook 2nd in 11.46. Three guys busted 2 in the 800. Cedar Crest's Andy Miller looked liked he could have gone faster after unleashing a blistering kick at 500 meters to pull away and hold on in 1:58.49. Central Dauphin's Ryan Jones was less than .5 back, with CV's Jon Fulginiti 3rd in 1:59.18. Jon Gries, Upper Merion, tried to break away from Sam Luff, Emmaus, and Curtis Bixler, CV, after the mile, but they reeled him in and pulled away. Luff held off a charging Bixler, going 9:40.46. Bixler posted a PR of 9:40.74. Cedar Crest's Pete Habegger long-jumped 23-00.00, easily the top PA performance of the young season. And teammate Tobias Robinson won both hurdles in 15.57 and 41.07. Central Dauphin's Sotonye Imadojemu set two meet records, a 35-07.50 Triple Jump and a 16-05.00 Long Jump.
Central Dauphin anchor Ryan Jones holds off CV's Jon Fulginiti and Lewisburg's Chris Spooner in a hot 4x800.