Scroll down for Frosh, Soph and Seeded Pennsylvania pix.
Post race interviews with Jeff Weiss and Craig Miller
McGuffey's Weiss, and Manheim Township's Miller help
each other get out well at about 400 meters.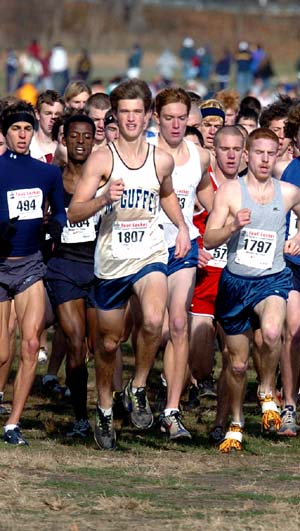 Jeff Weiss and Craig Miller, the two boys state champions in 2004, are in the Foot Locker finals set for December 11th at Balboa Park in San Diego, California. Their 6th and 8th place performances highlighted a great day for Pennsylvania athletes on the venue known simply as Vanny in New York\'s Bronx. The 14 points Weiss and Miller contributed, were backed up by more strong performances by Brandon Pomerantz, Council Rock North, Sam Luff, Emmaus, and Jake Walker, Ellwood City, all in the top 22 to give PA a remarkable 2nd place finish to New York, 40-75. Pomerantz was 18th in 16:03, Luff a second back in 21st, and Walker just a second behind him in 22nd. Weiss and Miller started near each other, and remained together through the first part of the course. Heading into the woods, they were perfectly positioned behind the eventual winner Chris Barnicle of Massachusetts. Also in great position at that point was Luff, who was mostly recovered from a case of food poisoning suffered at the Mid East Regional Nov 20th in Ohio. Luff was just 30 meters off Miller\'s back at the 2.25 mile mark, but faded over the final 500 meters from 10th to 21st. Pomerantz caught Luff in the stretch and was 3rd on the team, with Walker gaining ground as well. Weiss said he had to make a major move in the woods to get into 8th place to ensure his trip. And surprisingly, he wasn\'t that impressed with Van Cortlandt\'s vaunted hills. \"The hills weren\'t as big as I thought they were going to be. But other than that, it was what I expected. First mile flat. Second mile challenging. Third mile easy. People were saying the hills were big, but compared to western PA, they\'re just little hills.\" Miller will be missing the first few Manheim Township swim meets with twin Brad next week, thanks to his 8th place finish. Unlike Weiss, Miller found his advance race on the course November 14th to be to his advantage. \"I\'m sure it helped me a lot. To make sure not to kick too early because it\'s quite a long stretch to the finish."
2. 75 PA (15:55.5 79:37.4)
=================
1 6 Jeff Weiss Avella 15:42.6
2 8 Craig Miller Lancaster 15:43.0
3 18 BRANDON POMERANTZ HOLLAND 16:02.7
4 21 Sam Luff Emmaus 16:04.0
5 22 Jake Walker Ellwood City 16:05.1
6 ( 26) Amin Garnett Thorndale 16:15.0
7 ( 30) JOHN MAHONEY RICHBORO 16:16.8

Sam Luff, Brandan Pomerantz, Craig Miller and Jake Walker accept their 2nd place team medals. Absent: Jeff Weiss.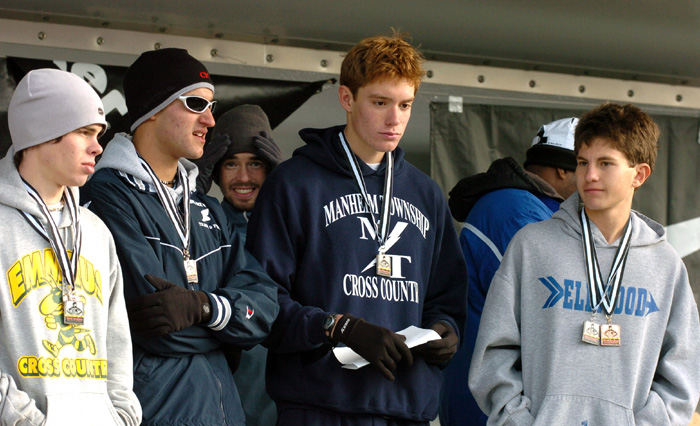 Sam Luff was in the hunt for more than two miles.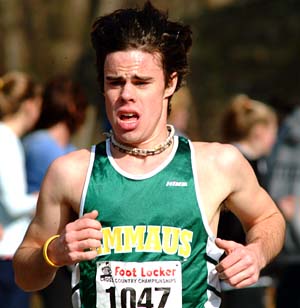 The PA girls didn\'t qualify an individual this year, but the future looks bright. The first PA finisher was 9th grade homeschooled Neely Spence of Shippensburg. Spence was in the mix most of the way, always within striking distance of the 8th and final spot. In fact, she was with eventual 7th place finisher Laura Cummings of Bay Shore NY at the 2.25 mile mark. Spence would finish 14th in 18:48. She led a strong performance by the PA team (top five) with 109 points, finishing 3rd behind the perfect New York squad with 15, and New Jersey with 63. Joining Spence in the top 28 were Mercer senior Nichole Smith, 20th in 29:05; Alycia Woodruff, the West Chester East sophomore, 23rd in 19:18, Parkland junior Erin Roberts, 26th in 19:27, and Upper Dublin senior Lauren Bowles, 28th in 19:29.
3. 109 PA (19:12.9 96:04.1)
=================
1 12 Neely Spence Shippensburg 18:47.6
2 20 Nichole Smith Mercer 19:04.6
3 23 ALYCIA WOODRUFF WEST CHESTER 19:17.2
4 26 ERIN ROBERTS FOGELSVILLE 19:26.4
5 28 LAUREN BOWLES FORT WASHINGTON 19:28.3
6 ( 33) Lindsay Petri Girard 19:46.2
7 ( 34) SARAH MORRISON CHAMBERSBURG 19:47.9

Jake Walker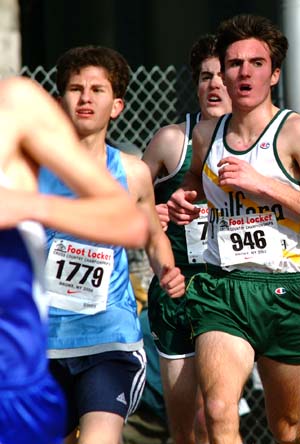 Brandon Pomerantz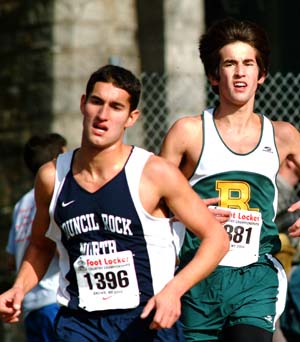 John Mahoney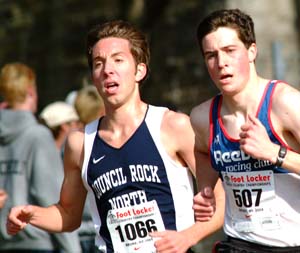 A lot of PA's best runners chose to compete in the class races at the Foot Locker Northeast Regionals, with several getting top ten places. Frosh Mark Dennin and John Lacolla went 2nd and 7th; Kaitlynn Meck of Northern HS, was 10th in her race; Carlisle sophomore Marie Lamparter finished a strong 3rd in 19:50; juniors Meghan Burns and Marcie Sobrinski were 3rd and 6th; and Henderson senior Marissa Murtaugh took 5th.
Freshman Boys
2 Dennin, Mark 9 Gilbertsville PA 17:30.3
7 Lacolla, John 9 West Chester PA 17:46.5
11 Aldrich, Christopher 9 WEST CHESTER PA 17:59.8
Freshman Girls
10 Meck, Kaitlynn 9 Dillsburg PA 20:22.9
Sophomore Boys
11 Wikler, Matt 10 RICHBORO PA 17:24.3
Sophomore Girls
3 Lamparter, Marie 10 CARISLE PA 19:49.4
11 Farkas, Karen 10 West Chester PA 20:16.1
Junior Girls
3 Burns, Meghan 11 Coopersburg PA 20:03.2
6 Sobrinski, Marcie 11 Treichlers PA 20:10.8
Senior Boys
5 Murtaugh, Marissa 12 West Chester PA 20:22.8
Mark Dennin, 2nd in frosh race.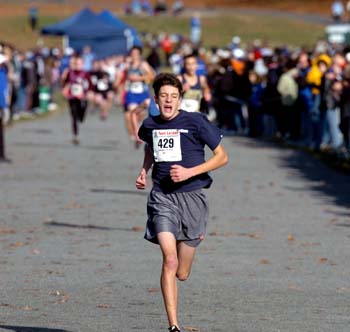 John Lacolla, 7th in frosh race.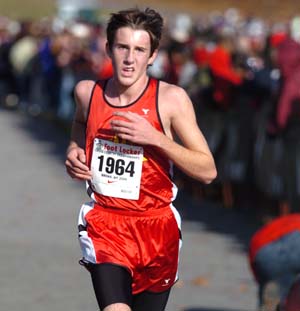 Kaitlynn Meck, 10th in frosh girls race.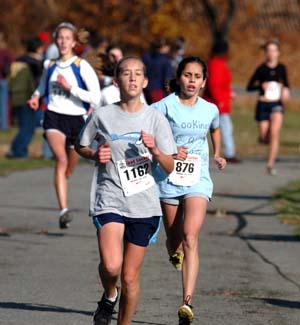 Neely Spence was out well nearing a mile.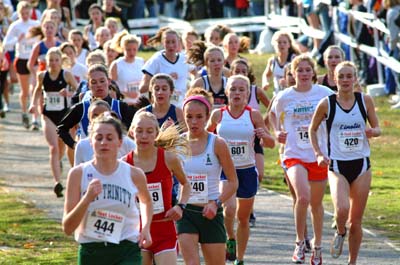 And still in the hunt with Laura Cummings at 2.25 miles.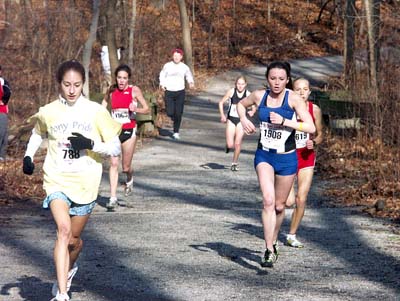 14th was good for first PA runner.

Nichole Smith, Mercer, 25th.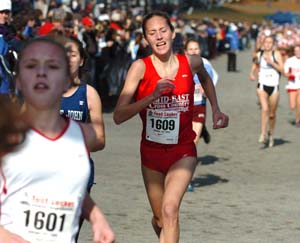 Erin Roberts, Parkland, 41st.