Five Goals. One Dream. The Cedar Cliff boys season in their own words.


The Summer
The summer really flew by. I missed the last two weeks of June for a trip to Germany, and after that I was able to get back into the swing of things without too much difficulty. My goals, which I had posted on my wall to see every morning, seemed attainable. They were to win states, obviously, run sub 16:00, finish in the top 3 at districts, and top 5 at states. For the kind of work I was putting in, it wouldn't be a big stretch. I was 7th and 22nd the year before, and since then I had matured a great deal physically and mentally. The plan was to start the season running around 16:18 (my PR from the previous season) and go from there. With Pat and I in charge of the team for the second year in a row, there wasn't much of a question of what to do every day, and everybody else had been around long enough to know the routine. We all had done everything so many times before that it was basically just like going through the motions. Coach Roseberry entertained us daily with motivational stories, and Coach Waggoner kept us going on the workouts. There's alot to be said for having a coach that's faster than you are– he definately knows how to keep you in shape.
Early meets - Gettysburg and Carlisle
Johnson finishing at the 2004 PIAA state finals.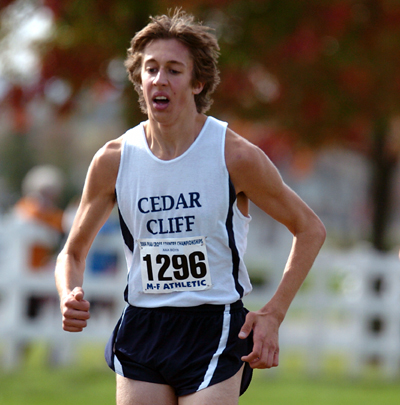 The season began with a shock at the CV dual meet, where we all learned that Curtis Bixler had improved tremendously. This continued the next week at Gettysburg for the invitiatonal, about which I had mixed feelings. I ran around 16:20, which was where I expected to be, but I was 8th overall and 3rd on the team, which was not where I wanted to be. After the better part of a year being our second man, it was difficult to accept anything less.
The next week, at Carlisle, things got back on track. I finished 7th overall in a solid 16:22, was our #2 man again, and we easily defeated the field (note Coatesville was 60 points back in 3rd place). It was becoming clear to me that our team was just as solid as we had thought it to be, but to be a champion on the national or state level, there was still more work to be done.
Great American
To prepare for Great American, we needed to drop in miles so that we would solve our early season fatigues and run to our capability. Coach Roseberry understood that to have a chance to go to Nationals, we had to be competitive on the national scene. Our one chance to do that was in North Carolina. We took our weekly miles down from the 80 we had been holding to 70 and then 60 the week of the race, and mixed in some slightly faster work. Having run the course over the summer, we felt fairly confident, even if our coach didn't. He had told us that the goal was top three, but my teammates and I felt otherwise. On the starting line, I reminded everyone of how bad losing felt, and that we weren't going to have that feeling again. At first it seemed that our race was lackluster, judging by our times (I PR'ed in 16:15, but Pat didn't break 16 for perhaps the only meet of the season), and we scored what seemed to be a very large amount of points (149). But we ran the race the Cedar Cliff way, going out hard, getting in position, and then hanging on. Perhaps the worst part of the weekend was the suspense between finishing the race and finding out the results. But finding out the results, being interviewed by all sorts of important people, and showing our coaches (who missed the awards ceremony for the girls' race) the trophy definately made the rest of the weekend alot more fun. We came home Sunday afternoon as national champions. I knew in my heart that I was still in for my best race. Little did I know it, but I would not improve from there.
Mid-Penns
The period between North Carolina and Mid-Penns definately had its ups and downs. The Carlisle dual meet sent me into a coughing fit that lasted two days; I later found out that I had asthma. Later in the week I won the Central Dauphin dual meet, my only individual XC win of my career, and missed the course record by 4 seconds despite treating the meet like a fast workout. The next week, our week off before Mid-Penn Conferences, I got extremely sick with the flu. I missed several days of school, and my attempts to run were either unsuccessful or absolute torture. On one day, I couldn't make it out of the parking lot for the morning run, then had to come back and do a normal seven-miler in the afternoon. Every time my foot would hit the ground, my head would throb as if it had it's own heartbeat, and then subside. The alternating three seconds of pain and relief made that day, arguably, the most awful training experience of my life.
By the time Mid-Penns rolled around, my sickness had subsided for the most part, save a sore throat, but my last seven days of training had been sporadic. I figured that perhaps, through some act of God, I could pull off a miracle and place in the top three. That didn't happen. I finished in seventh, fourth on the team and worse than my fifth place last year. I didn't feel bad about it, however, since my sickness offered an excuse, and I still had two very important races ahead of me to worry about.
Districts
Districts was probably my legs' last hurrah, although I remained in a tailspin of sorts, which had begun at Mid-Penns. Justin and I ran side by side for virtually the entire race, and finished together in 8th and 9th. Combined with our other three finishers, we tallied 49 points and won by 76. Probably it would be our most packed up race of the year, but the ultimate goal was still a week away.
States
It is very difficult for me to look back on states with regret, since we accomplished our goal. However, if you look at my performance, you can understand why I still feel incomplete. Like I said, I was 22nd last year and had set the goal of top 5 this year. By this point in the season it was clear that wasn't in the cards, so I planned to hold myself to top 10. However, it didn't happen that way. My teammates left me at the mile, and I struggled my way to what would ultimately be a 42nd place finish, 4th on the team. Depressing. Especially knowing that had we lost, it would've been entirely my fault. However, we pulled off the victory by the thinnest of margins, and we finally had closure on the most painful loss suffered the previous season. I didn't know what had made me run so poorly, as I had rebounded the previous week at Districts, and I can tell you it wasn't the pressure. I was about as confident as could be. Eventually I moved on, because I knew we were going to have one more race, regardless of what the rankings told us, and I would be able to prove myself there.
Pre-NTN
Training between states and NTN was anything but a breeze. After a week off, we came back and ran the Harrisburg Marathon relay to qualify our club team for the national race. In the following three weeks, we decided to experiment with speed work on the track, to make the sub-five minute pace we would be running in the race seem pedestrian. This did not go over too well with the team, but after much rebelling and anger, we eventually settled in to do our job. The workouts were easy for me, as I am fortunate to have adequate leg speed, and I hoped that it would equate to a good race. The plan was to finish top two from the northeast, and qualify for Foot Lockers. This seemed attainable until the Wednesday before the race, which also happened to be the day before we left for Oregon. It was a 1600, 1200, 800, and 400, and it hurt way more than it should have. I explained how I felt to Coach Roseberry, and he assured me that how you feel in the last workout before a race does not affect the race itself. Outwardly, I agreed, but inside, I felt as though the race wouldn't go over very well. My gut feeling turned out to be right.
NTN>/b>
The trip to Oregon was a dream come true. Everything was paid for, we got great food, a great hotel, and great Nike gear. We met all sorts of cool people from other teams all across the country, along with various famous athletes, with whom I am now very well acquainted. The experience was designed for us, the athletes, and it was incredible. About as much fun as you could squeeze into four days, and I can't say enough about it.
The race itself did indeed turn out to be a big disappointment. We got out terribly, worked ourselves up to ninth at the 1K, and then just blew up, myself worse than any of my teammates. My 121st place finish, good for 5th on the team and just 20 places from last, was a fitting end to a tumultuous four weeks beforehand. It was not, however, befitting to a team that had vanquished every one of its opponents throughout the course of the season. One can look at the results, and find Mountain View High School, a team we had defeated by 30 at Great American, in fifth place. It goes to show that had we run to our ability, a win was not entirely out of the question. However, things were not meant to be that way. Regardless, we can't hang our heads; just getting there is reason enough to be proud.
Looking Back
Looking back on the season, I find it hard to draw anything positive from it as an individual. I didn't place any higher at any of the post-season races as my junior year, my PR improved by a meager 3 seconds, and I accomplished zero of my individual goals. However, that is all made up for by what we accomplished as a team. Whenever I had an off day, there were 7 other guys out there on the course ready to make up for it. For that reason, I feel that the team is infinately more important than the individual. It means so much more to have a gold medal around your neck, not only to yourself but to everyone else, when you can share that gold with your teammates. This holds especially true for me and my team. We are as close as a family, and do everything together. I could not think of 7 other people who I would be more willing to die for in the heat of battle that is a cross country race. And I know they feel the same way for me.
The Future
A dissapointing season of cross means a lot of motivation for track season.
Goals are as follows:
1:52 800
4:15 mile-medal at states
7:48 4x800- win states
17:40 4x1600- medal at nationals
No small task. But nothing is too difficult when you want it bad enough. I have been accepted to Penn State as well, and plan to run competitively there, with the ultimate goal of building a winning team, much like what I have had for four years here at Cedar Cliff.