Regan clearing an earlier height on the way to a new Indoor State Record of 13-00.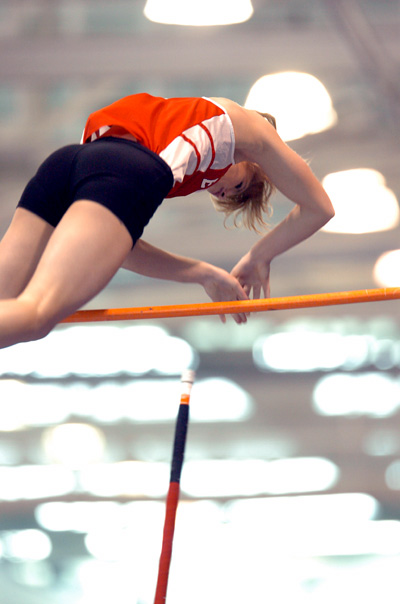 Easton's Lindsey Regan has experienced a lot of things competing in the Pole Vault. But having two inches taken off, and then added back to a new PA state record definitely isn't one of them. Following an investigation of the events and a review of the rules by PTFCA Indoor Championships Meet Referee Ron Lopresti, the last height that Regan cleared will be the official mark -- 13-00. The results had listed the winning height at 12-10, following a manual measurement of bar after the bar had already been moved to 13-03 for what would be Regan's final three attempts of the meet. Regan believed she had cleared 13-00, but the event officials lowered the results to 12-10 after their review. Mistakingly, as it turns out.
Lopresti says the rule is quite explicit. A manual measurement cannot be made after the first competitor has made an attempt at a specific height. Regan had already cleared 13-00, and had made her attempts at the next height when the manual measurement of the bar was done. Lopresti says that the equipment at Penn State is electronic, and has been used for years, including for the Big 10 Championships, without incident. The Pole Vault results were not declared final within the first 48 hours after the event, and Lopresti began his investigation of the re-measurement and review of the rule Sunday morning. "She cleared 13-00, and that's the winning height."
Lost in the confusion is the fact that during the competition, three girls had bettered the existing Indoor state record of 12-06 set by Regan in 2004. Butler's Kendall Butch and Latrobe's Caitlin Hewitt each cleared 12-07, with Butch winning 2nd on misses.

Kendall Butch, Caitlin Hewitt and Lindsey Regan wait for the bar
to be raised after each broke Regan's 2004 record by clearing 12-07.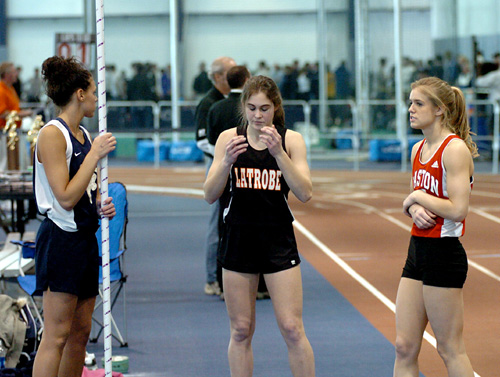 Regan's record-setting jump of 13-00.