Class of 2006 College Signings
2006 Pennsylvania College Signings - Complete List
Lisa Giacometti, Dallas Distance, to Syracuse University.


Sarah Frenette, Cumberland Valley Middle Distance, to Monmouth University.


David Stonfer, Cumberland Valley Sprints, to Penn State University.


April 12, a day after clearing 12-01,50 in a dual meet, Whitehall's Brooke Borso
signed with Boston's Northeastern University. Brooke is pictured with her parents,
Michael and Gina Borso, her coach, Michael Lawryk (back left) and HS Principal (back right)


Aaron Kauffman is headed to UNC-Charlotte NC.
His HS coaches are, l to r, Larry Kell, Jevon Ford, and Mike Zwatty.


Carrington Queen, Chichester, Florida & Kamal Marell, Penn Charter, Clemson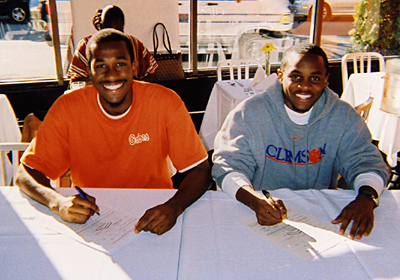 Erin Hannon, Bradford, University of Nebraska. Seated L-R, Ken Coffman,
principal; Erin; Tim Walter, Athletic Director and standing L-R Larry Stillman,
Head Girls Coach; Greg Ambuske, Assistant Coach.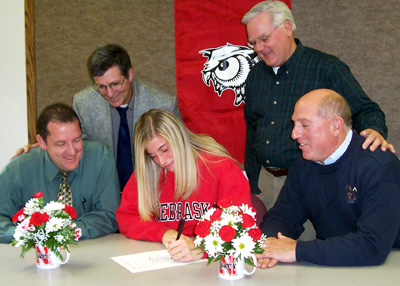 Lindsay Regan, Easton, UCLA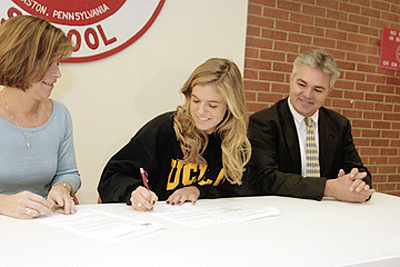 Tim Hickey (coach), Tyeshia (sis), Mark (father), Octavia (mom),
Lenny Jordan (coach), Walter Pegues (club coach), Markeeta (sis), and LaTavia.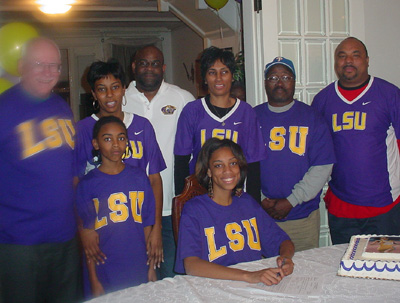 Curtis Bixler, Cumberland Valley, Syracuse University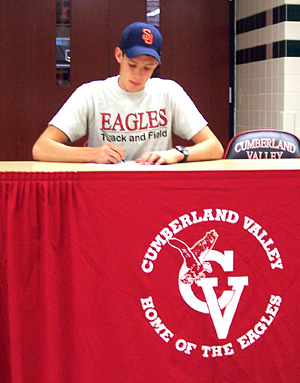 Manheim Township coach Terry Lee, Craig Miller (University of Wisconsin),
Brad Miller (Syracuse University), Manheim Township coach Mark Linn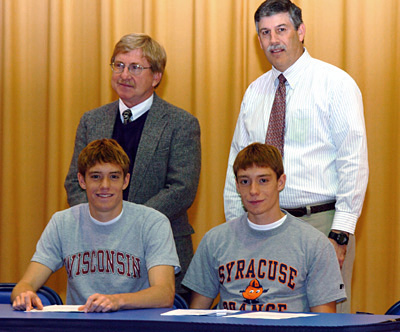 Altoona Area High School senior Rachel Gehret signed a Division I
letter-of-intent with the University of Louisville today. She is flanked by
Steve Rhodes (left), her track and field coach, and her parents, Lisa and Cory Gehret (right)