11/13 Race Photos by Irene Crorfford at end of article.

Neely Spence didn't have high school cross country teammates to call in the summer of 2004 to go on those long training runs required for a successful cross country season. She lives in the Shippensburg School
L-R: Crofford, Millhouse, Lamparter, Muholick, Morrison, Spence @ Van Cortlandt Park. (photo by Irene Crofford)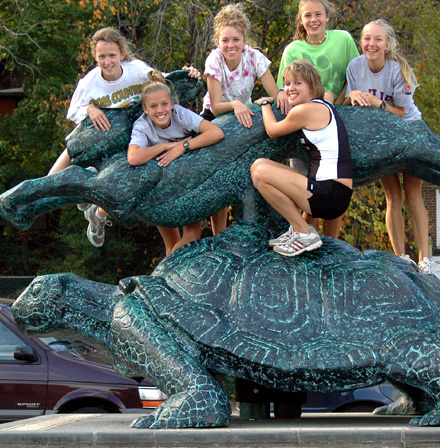 District and is homeschooled. Shippensburg is one of 221 districts that did not permit participation by homeschoolers in extracurricular activities. Neely -- who as a freshman finished 14th in the 2004 Foot Locker Northeast Regionals -- did something about the first problem... and Governor Ed Rendell and the Pennsylvania Legislature did something about the second.
Neely Spence is the daughter of 1991 World Championships marathon bronze medalist and 1992 Olympian Steve Spence, and Kirsten Spence, who still owns the women's 5000 PR in the family at a brisk 17:00. (See PennTrackXC.com feature story, This Frosh is chasing her own big dreams - quickly", October 6, 2004)
Neely mostly trained on her own for the 2004 Foot Locker regional, and came within 14 seconds (18:47.6) of getting the final spot on the Northeast team. But going that road alone is difficult. And Neely noticed that not only did the top eight all have high school teams with which to train during the season, she also observed that there were many great runners from her home area in south-central Pennsylvania who all seemed to be on their own. She also didn't miss the fact that New York girls swept the top eight spots. Her idea? "...if we can work together and focus on a team goal, we can help Pennsylvania compete with New Jersey and New York for the team title... and possible qualify some individuals for Foot Locker Nationals."
No team? No problem. Neely started her own.
She networked the running community, and found five other quality, full-time runners who shared her desire to improve Pennsylvania's performance as a team at the Northeast Regional and to improve their own chances of qualifying for Nationals. (This year, because of an arrangement with the Nike Team Nationals, which is held on the same day as the Foot Locker West Regionals, the Northeast, Southeast and Midwest Regionals will send ten girls to San Diego. As it turned out, even with last year's NTN arrangement, ten Northeast girls qualified.)
L-R: Lamparter, Crofford, Millhouse, Spence, Muholick, Morrison (photo by Irene Crofford)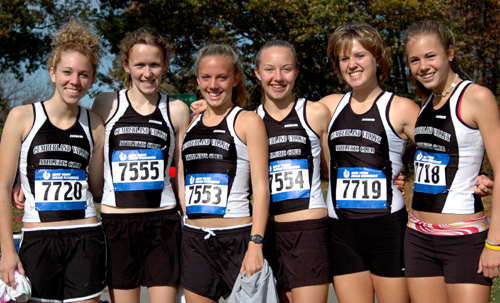 In addition to Spence, the team includes Lara Crofford (JR, Big Spring), 2nd AAA XC States 2005; Marie Lamparter (JR, Carlisle), 15th AAA XC States 2004; Kassie Meholick (JR, Cedar Cliff) 18th AAA XC States 2005; Kara Millhouse (SO, Boiling Springs) 2-time PIAA XC District 3 AA Champion); and Sarah Morrison (JR, Chambersburg), 3rd AAA XC States 2005). This season, Spence was 5th in the College Open 6k at the 2005 Paul Short Invitational, and won the 6k at the Elizabethtown College meet.
To comply with PIAA (Pennsylvania Interscholastic Athletic Association) rules, the five other members of the newly minted Cumberland Valley Athletic Club XC Team (CVAC), trained and raced with their high school teams during the official season from August through the first week of November and the state championships. During the summer though, the six would join together on a weekly basis for running. And following the PIAA State Championships, they resumed training together with the help of volunteer coach Aaron Rich, the head cross country coach at Boiling Springs HS.
The benefits of running together this past summer were immediately apparent, and those benefits are even more obvious during the long three-week stretch from the November 5th state meet to the Foot Locker regional on November 26. Usually, while New York, New Jersey and many New England teams are in the heart of their championship seasons in mid-November, Pennsylvania harriers are left to train alone with their dreams for Foot Lockers. Millhouse says that training with this group "is helping to keep me motivated, because everyone is focused on the same goal." Crofford, who does run for her high school, but doesn't have a full team, says it has given her the opportunity to run with a team for the first time...adding, "they are competitive and have the same interests... it's really a great experience." And Morrison echos Millhouse's sentiments..."being able to train with a group of girls helps me to get motivated. It's so much easier than training alone."
While four of the girls have experience racing at the site of the Northeast Regional in New York's Van Cortlandt Park, neither Crofford or Meholick had been before. Experience on the course is crucial for understanding how the course can be relentless in its terrain change, and how tempting both the opening and closing flats can be for pushing too hard at the wrong time. To give everyone more experience, the team made the trip Sunday November 13th to the New York Road Runners' Cross Country Championships, a 5k event that was open to all.
Spence finished 3rd among the high school girls in the event. The other two just ahead of her on Sunday 11/13 were 2004 Foot Locker finalists Nicole Blood and Caitlin Lane, both of whom have been running on their own this season after leaving their Saratoga Springs HS team in early 2005. Blood ran 18:11, Lane was at 18:21, and Spence finished the 5k in 18:35. Morrison was at 18:37, Meholick at 18:49, Crofford at 19:09, Millhouse at 19:33, and Lamparter at 20:03.
Of course, there are other Pennsylvania girls who can challenge at the Northeast Regional. Several are seniors who were invited to race in the Mid-East Regional November 19th in Kettering, Ohio against other teams of top seniors from Kentucky, Ohio, Indiana, Illinois and Michigan.
As for the homeschool participation issue... well, Neely now has the choice of joining the Shippensburg High School track & field or cross country teams. On November 10th, PA Governor Ed Rendell signed Senate Bill 361 (http://papress.state.pa.us/parelease/data/1051110.002.htm), which, when effective January 1, 2006, makes it mandatory for every Pennsyvania public school to allow homeschoolers to participate in their home district's extracurricular activities, providing they meet the eligibility and try-out requirements.
Spence is undecided on which way she'll go, but short-term, she and her Cumberland Valley Athletic Club teammates have a race to run in New York. Spence says the benefits haven't just been in the training..."CVAC has brought us together, not as competitors, but as friends."
And friends always make the best teammates.
Neely Spence. (photo by Irene Crofford)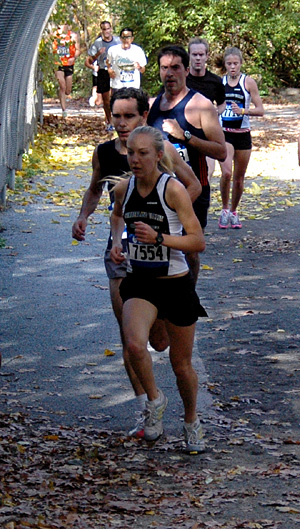 Sarah Morrison. (photo by Irene Crofford)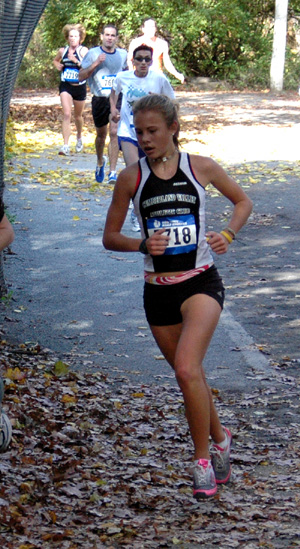 Kassandra Meholick. (photo by Irene Crofford)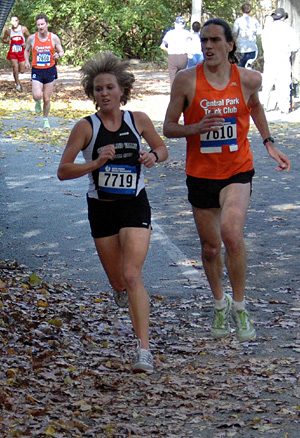 Lara Crofford. (photo by Irene Crofford)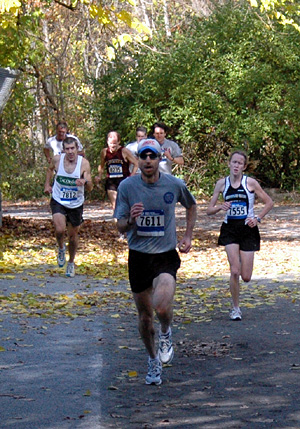 Kara Millhouse. (photo by Irene Crofford)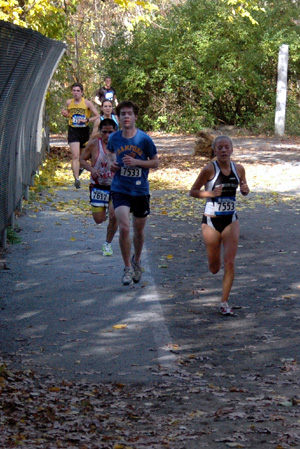 Marie Lamparter. (photo by Irene Crofford)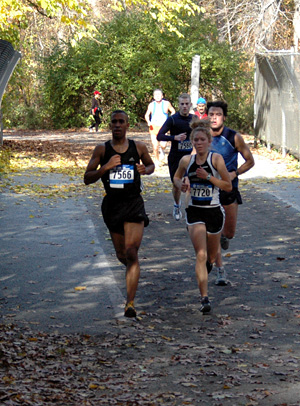 Keith Capecci, 2nd overall in race. (photo by Irene Crofford)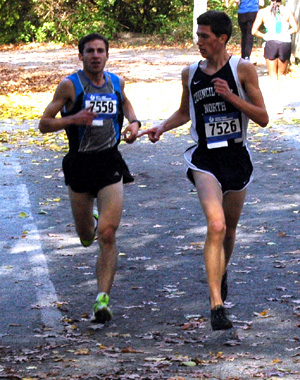 Brad Miller, 3rd overall in race. (photo by Irene Crofford)